The Loop
Tiger Woods on sharp practice round: "I felt like I really needed today"
WINDERMERE, Fla. - Tiger Woods didn't just go through the motions during Wednesday's pro-am at the Hero World Challenge. In fact, he was acutely aware of them.
In good spirits and clearly in good health, Woods traversed Isleworth Golf & Country Club in a breezy 2-under-par 70 that was notable for how easy he made it look at times. He strayed from four fairways and just two greens and never once did he produce a big miss.
In some ways, the golf seemed somewhat blasé -- which isn't necessarily a bad thing.
"I felt like I really needed today," said Woods, who lost preparation time yesterday afternoon due to inclement weather. "It was nice to get out there today and play and see what the greens are. It felt good to be out there."
Several times Woods conferred with his new swing consultant, Chris Como, who occasionally captured video of Tiger's swing on his mobile phone.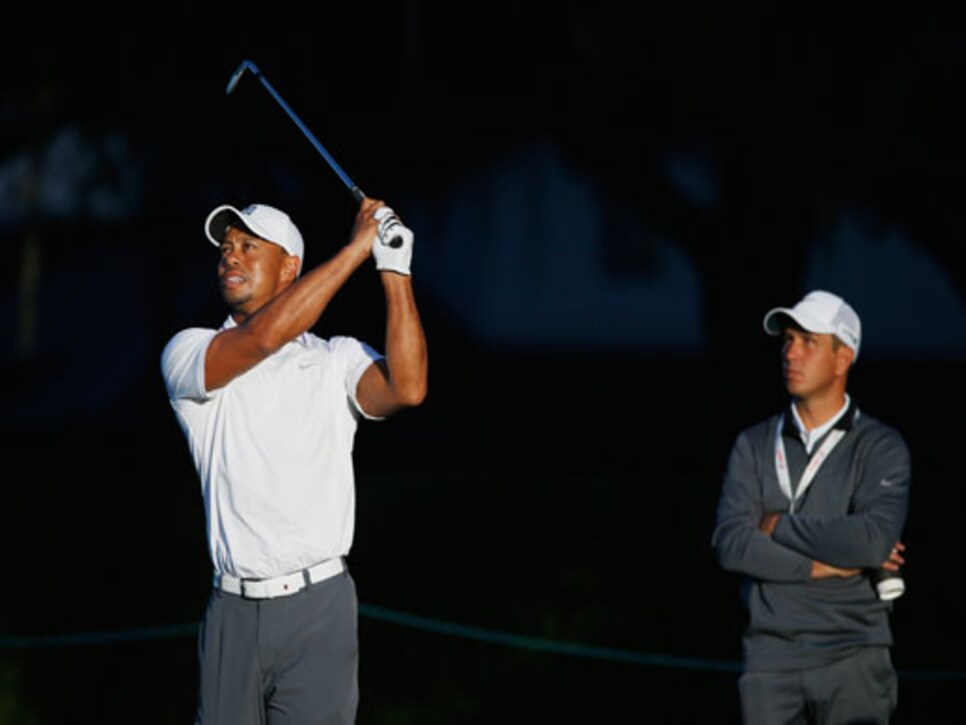 Noticeable was the force with which Woods was able to swing the driver on a couple of holes, including at the par-4 18th, a good sign, obviously, coming at the end of the round. His back also was strong enough to enable him to scramble down from a stone wall behind the 10th tee after hitting his drive so that he could answer a call from nature.
Recall that in August at the WGC-Bridgestone Invitational at Firestone CC Woods stepped awkwardly into a bunker and wrenched his back, a clear indication then that he had returned too soon from microdiscectomy surgery March 31.
"Yeah, that is where I've been, that's the neat thing," he said about his back holding up over 18 holes while walking, which he hadn't done since his last start at the PGA Championship in August. "I took that much time off right after the PGA and built up my body and made a few adjustments on my swing and hit some good shots today."
And they were shots that mattered, he noted.
"Yeah, obviously been playing at home with my boys for a little bit of cash, but still a little bit different [in a pro-am]," Woods said. "Every shot counts a little bit more."
They count for considerably more tomorrow in the first round of $3.5 million event he has won five times. Woods tees off at 12:15 p.m. EST with Jason Day.