The Loop
Tiger Woods on meeting Nelson Mandela: "An experience that I will never, ever forget."
As the world mourns the death of Nelson Mandela, the former President of South Africa who spent 27 years in prison and helped usher the country out of its apartheid era, we think back to the British Open this summer, when Tiger Woods spoke so eloquently of the first time he met Mandela:
The first time I ever met President Mandela was in '98. I went down there to play Sun City, and he invited us to his home. And my father and I went to have lunch with him. It still gives me chills to this day, thinking about it. A gentleman asked us to go into this side room over here and, "President Mandela will join you in a little bit." And we walked in the room and my dad and I were just kind of looking around. And I said, "Dad, do you feel that?" And he says, "Yeah, it feels different in this room." And it was just like a different energy in the room.
We just looked at each other and just shrugged our shoulders and whatever. And maybe, I'm guessing probably 30 seconds later, I heard some movement behind me and it was President Mandela folding up the paper. And it was pretty amazing. The energy that he has, that he exudes, is unlike any person I've ever met. And it was an honor to meet him at his home. And that's an experience that I will never, ever forget.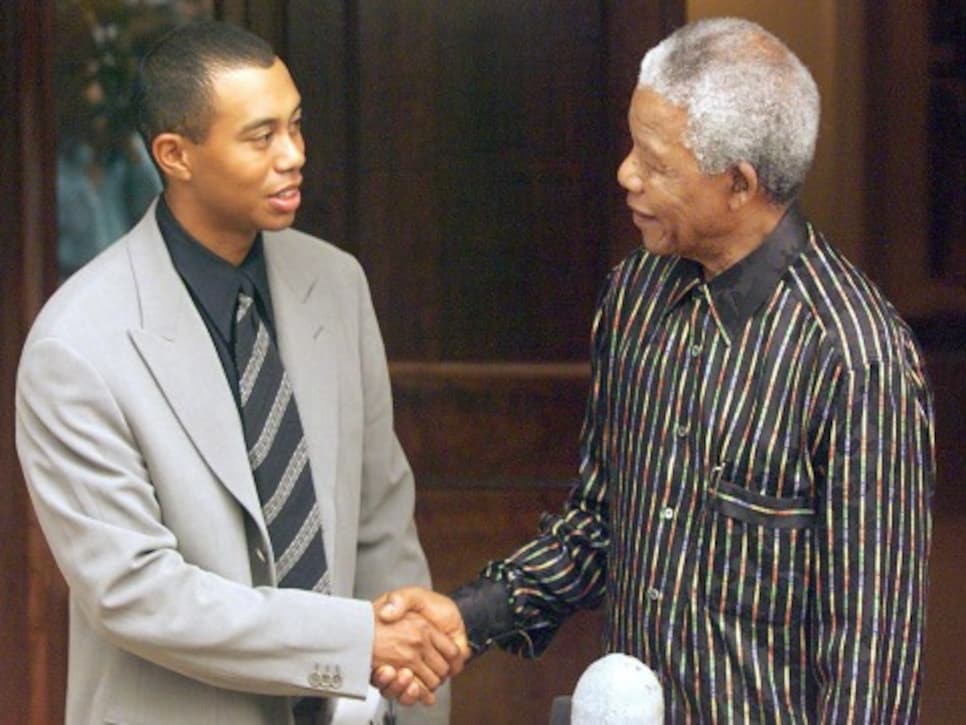 You will always be in my heart Mr. Mandela.
-- Tiger Woods (@TigerWoods) December 6, 2013 And it was at the British Open in 2012, when Ernie Els collected defied expectations to win his second Claret Jug, thanked Mandela in his victory speech:
Q. It's quite something to launch immediately into a tribute to Nelson Mandela after you win The Open. Most golfers thank their caddie.
ERNIE ELS: They're important.
Q. Can I ask what sort of compelled you to do that, and had you been thinking about it for a while? And more importantly, will you take the jug to him and will the pair of you share a drink out of that jug?
ERNIE ELS: I'd love to. My man in front here from Super Sports South Africa, we've been doing some little bytes for the Olympics. And a lot of the Olympic theme this year has got President Mandela in it. So he's been very much in my thoughts.
And believe it or not, this morning I was lying watching cricket and I was just kind of daydreaming, and that thought came through me in a split second. If I win, I told myself, I'd better thank President Mandela because I grew up in the era of the apartheid era, and then changing into the democratic era, and President Mandela was right there. And right after the change, I was the first one to win a major. And so there's a lot of significance there in my life, from the change from that and then President Mandela becoming president and me winning a golf tournament. And then him getting on the telephone with me talking to me when I was in Pittsburgh, Oakmont. So in a way we intertwined together in a crazy way. And I just felt he's been so important for us being where we are today as a nation and as sports people.
ERNIE ELS: Yeah, absolutely. And especially when you've met him personally. It's an unbelievable feeling, and he's a great man.
Q. Will you have a drink with him out of that?
ERNIE ELS: I don't know. I'd love to. As I said, I've got a schedule to run, and hopefully I can shoot back maybe for a day or two after the Olympics. I don't know if he's coming over. I'll go wherever he is. I'd love to see him again.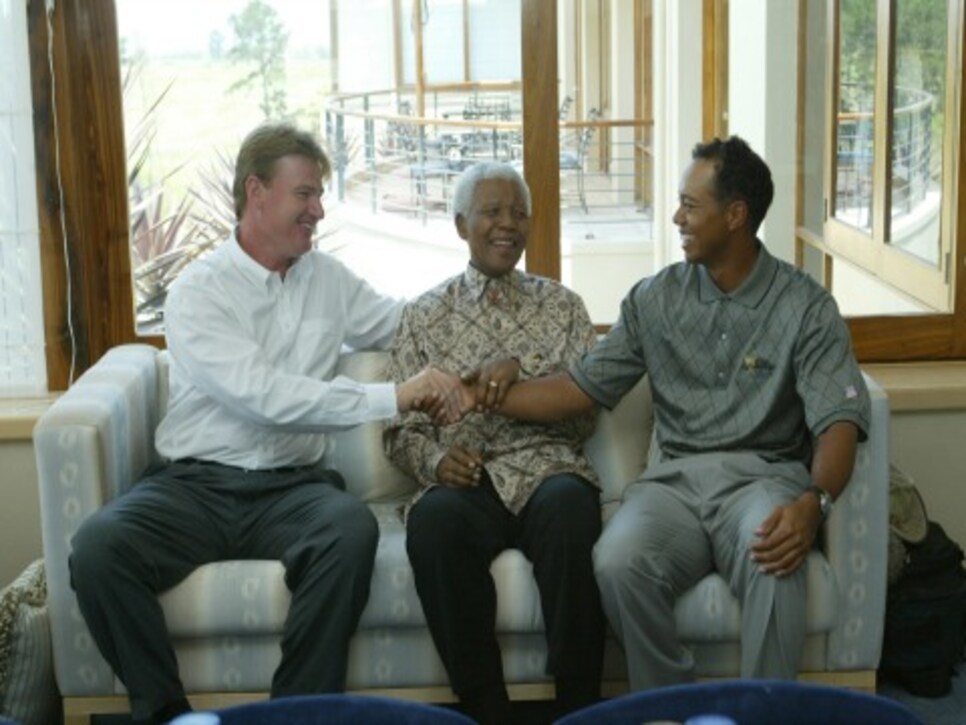 Protesters of South Africa's apartheid policy gave me grief for a couple of years. I didn't believe in apartheid and I surely wasn't responsible for it, but I was a ripe target. They threw crushed ice in my eyes. Hit me with telephone books at the top of my backswing. Threw balls on the green while I was putting. Burned awful statements into the greens where we were playing. I got death threats at my hotel every day. At the 1969 PGA Championship, a guy screamed just as I stroked a 10-inch putt, and I missed and lost by one. At Merion, during the 1971 U.S. Open, we kept guns in the house where I was staying. I struggled through it, and you know something? It's easier to fight than to run away.
It was a tough two years. But Nelson Mandela, who spent over 20 years in prison, had it a whole lot worse.
Condolences to all on the passing of our beloved Father of the South African Nation, Nelson Mandela. Madiba we loved you. Rest in Peace.