The Loop
ESPN.com names Tiger Woods only the third-best athlete of the past 20 years (This is not an April Fools' joke)
Tiger Woods can't even win off the course these days. ESPN.com unveiled a list of the 20 greatest athletes of the past 20 years in honor of the website's 20th anniversary on Wednesday, and Woods checked in at only No. 3.
Whether you like him or not, Woods has been the biggest sports star the past two decades -- recent speculation about where his plane is and whether he'll even play the Masters only confirms that. Woods has also been the best.
With 14 majors and 79 PGA Tour titles and counting (hopefully), Woods has ruled over his sport the past 20 years more than any other athlete has. Yeah, it's been awhile since Woods has won a major, but here's a photo of him at the last one he won to remind you of how good he was: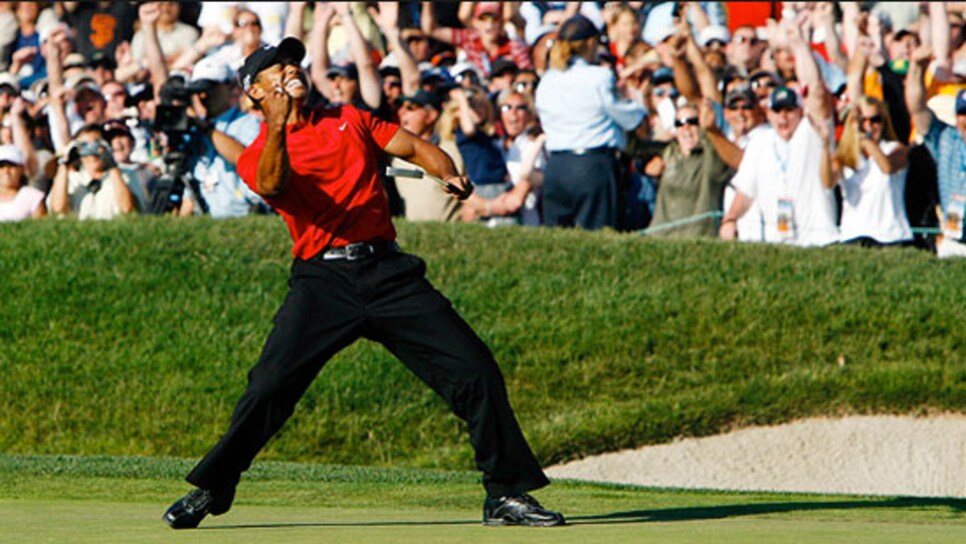 Yet despite all the clutch putts and fist pumps through the years, Michael Jordan was picked first and LeBron James was chosen second by ESPN.com's staff. Thankfully, ESPN personality Mike Greenberg weighed in on the matter. Since he's an avid golfer and "the world's foremost authority on all matters" (according to his Twitter bio), we'll trust him:
Michael Jordan is the greatest player of all time. However, he is not, I repeat NOT, the greatest of the last twenty years.
Tiger Woods is the greatest athlete of the last twenty years. Michael Phelps is second. Serena Williams is third. #MikeAndMike
Our thoughts exactly. If this was a list of greatest athletes from 1985 to 2005, MJ would be No. 1. If this was a list of greatest athletes of all time, MJ would be No. 1. But for the time period that almost perfectly overlaps with Tiger's career as a pro, MJ is not No. 1. Please don't hurt us, MJ.
Yes, Jordan led a dominant Chicago Bulls team to three titles after his first retirement from 1996-1998, but he only played two more seasons with the Washington Wizards after coming out of retirement for a second time. It was Woods who won the AP's Athlete of the Year Award in 1996 and who has won it three more times since. Jordan won that honor for the last time in 1993. Again, we're not knocking Jordan, just the fact that this list only includes about one third of his incredible career.
Then there's LeBron. Perhaps, when ESPN.com comes out with its 30 best players in the past 30 years in 2025 we can have a legitimate James vs. Woods discussion. At 30, James has a lot more time to add to his already impressive resume that includes four NBA MVPs and two titles. But three losses in the NBA Finals will probably always keep him ranked below Jordan and make him less dominant than Woods at his peak. And as Greenberg points out, Michael Phelps and Serena Williams might have a better claim to this particular throne than King James.
Woods is the only golfer on the list, but we're OK with that. Not putting him No. 1, though? That's a mistake. Unless ESPN is playing an elaborate April Fools' Day joke.