News
PGA Tour at Sherwood this week, but everybody wants to talk Masters with Tiger Woods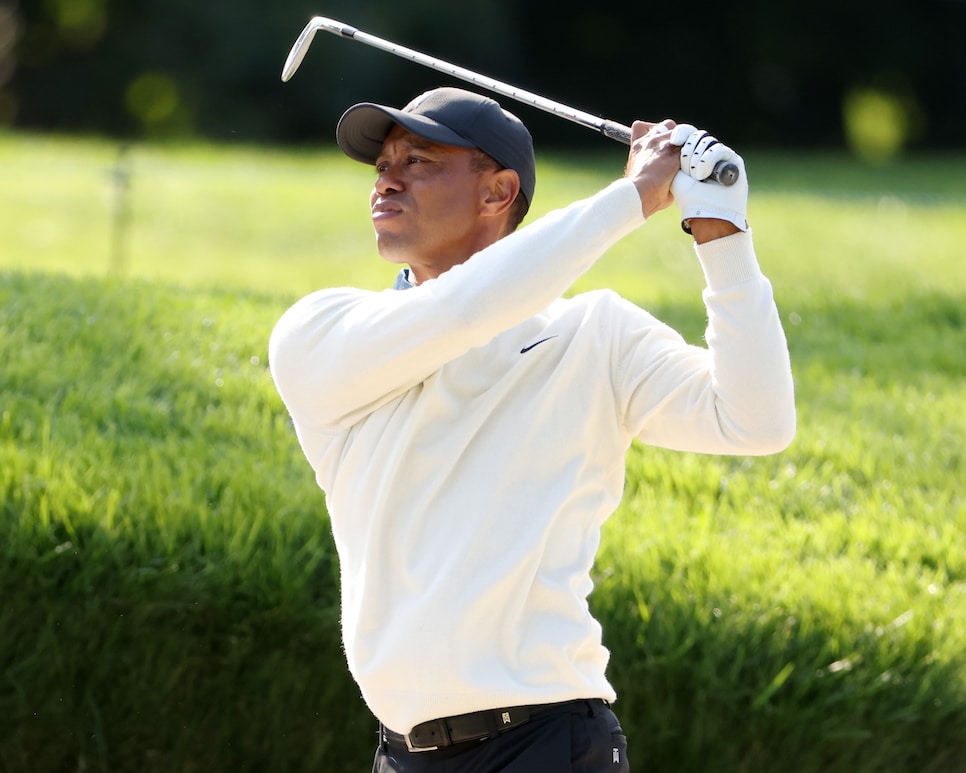 Tiger Woods will play his first competitive golf this week since missing the cut in the U.S. Open at Winged Foot.
Jamie Squire
THOUSAND OAKS, Calif. — Tiger Woods is the defending champion this week at the Zozo Championship, and a win would break the all-time record for career victories on the PGA Tour, but all anyone wanted to talk about on Tuesday was a tournament three weeks away.
The Masters begins in 23 days, and Augusta National has a knack for overshadowing everything else in golf. Nine of the 15 questions in his pre-tournament press conference for the Zozo were related to the Masters in some way. Woods, of course, also will be the defending champion that week after a most unusual 18-month gap between the last Masters and this one.
Woods is back at Sherwood Country Club this week, which hosted his foundation's golf tournament—now known as the Hero World Challenge—from 2000-2013. Woods made 12 starts in that unofficial event, winning it fives times and finishing second five more.
Everyone would rather have this tournament where it's supposed to be, in Japan, because that would mean a world in which it's possible to hold a PGA Tour event in Japan. But as far as one-time Band-Aid venues go, Woods couldn't have asked for a better fit.
"I have played well over the years here," Woods said, before acknowledging the minor asterisk on those five victories. "Let's just say the field is a lot bigger than normally when I have played here."
Bigger indeed. The Hero currently features an 18-man field and many past iterations included just 16 players. This week's Zozo has 78 teeing it up, including eight of the top 10 in the World Rankings—the only two missing are World No. 1 Dustin Johnson, who tested positive for COVID-19 last week and has sat out the past two starts, and Bryson DeChambeau, who's off bashing 48-inch drivers in an attempt to fly every tree at Augusta.
And this iteration of Sherwood isn't the same course he dominated all those years. The club underwent extensive work in 2015, with all 18 greens being reshaped—changes Woods described as "member friendly," which is pro-talk for: They made it easier. Expect plenty of bridies over about 7,100 yards, with five reachable par 5s.
"This golf course is typical Jack," Woods said, referring to Jack Nicklaus, the course architect. "It's pretty open, but the second shots are very difficult, and you have to miss the golf ball in the correct spots. Over the years, my iron game has been one of stable parts of my game, and normally Nicklaus golf courses reward good iron play."
Woods' iron game has indeed been stable in 2020, although the rest of his game has not. Woods has just one top 10 in the calendar year and that came way back in January at the Farmers Insurance Open. In five starts since the post-COVID restart, Woods has no finishes better than T-37 and missed the cut by four in his last start, at the U.S. Open in September.
There were no signs of any struggles during a stress-free nine-hole practice round on Tuesday, however, and Woods seems comfortable with the state of his golf with the Masters inching closer every day.
"My game's definitely better than it was at the U.S. Open," he said. "I feel a little more prepared, a little bit better, and hopefully that translates into playing the golf course."
Interestingly enough, Woods did not shoot down the possibility of playing the Vivint Houston Open the week before the Masters. In normal years, Woods does not play the week before major championships. Normal, however, went out the window seven months ago.
"This whole year's been different for all of us. The fact the Masters will be held in November­—it's unprecedented, never been done before," Woods said. "I can't simulate the ramp-up that I normally have, and I don't think anyone else can either. It will be different for all of us."