Eyes over ball
Masters 2023: The clever fix Tiger Woods was spotted making before his round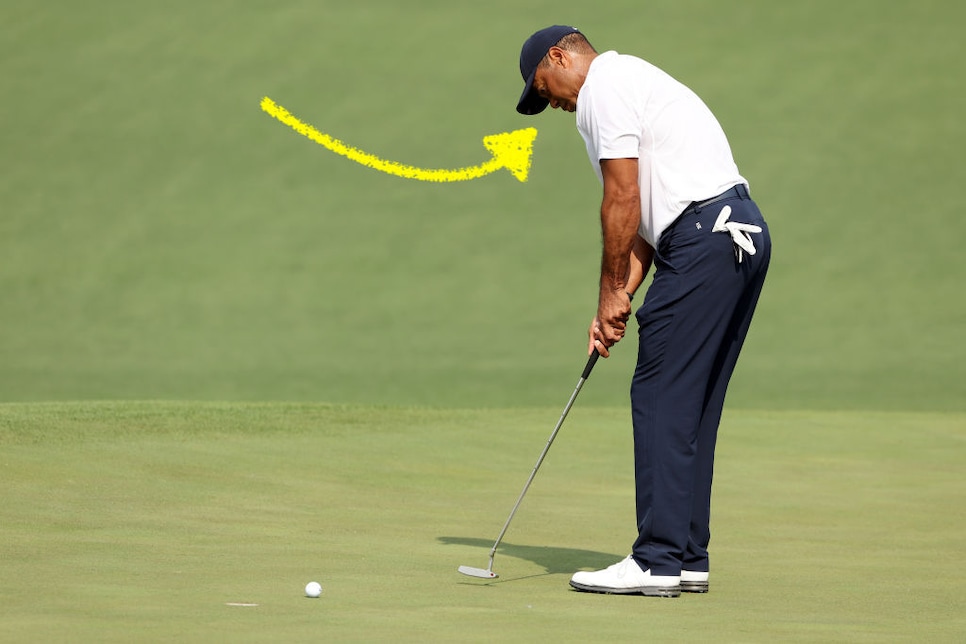 AUGUSTA, Ga. — There was just minutes before his first round, and the swarming crowd was watching Tiger Woods' every move.
He was on the practice putting green, and nothing out of the ordinary. He was drinking some water, talking with his caddie, and rolling a few longer lag putts. After four putts between about 30 and 50 feet, Woods dropped two golf balls about seven feet from the hole.
He dropped two more. And then two more after that.
If you're keeping track, that was four misses in six putts. The panic alarm bells weren't ringing, but even on the practice putting green, missing those putts isn't something that goes unnoticed for a player like Tiger Woods.
That's when Tiger made a subtle adjustment. He gathered both of his golf balls, took his putting setup, and set up to an imaginary ball. He shifted around slightly, then held one of his golf balls directly up to his eyes, and dropped it onto the ground.
He repeated this movement five different times. The process took about two minutes, and he didn't hit one putt. Just setting up, dropping a golf ball, then repeating it.
What was the point of this?
Tiger's eye checkpoint drill, explained
He sits too far away from the ball
His eyes get too inside the ball
Both habits can cause the other, and can pop up more often because of his back and leg injuries.
The drop-a-ball-under-your-eyes is simply a way to quickly correct that. A small, simple checkpoint that gets his putting setup into a better spot, and halts bad habits in their tracks.
Once Tiger started hitting putts again, he dropped four straight seven footers. He hit two longer putts in the 40 foot range to tap in, then made two of his next three seven footers before heading to the first tee.
It doesn't take much. Sometimes, as Tiger knows, it's a little attention to detail that leads the way to better golf.