News
Tiger Woods Live Blog: Woods fails to make move on Day 2 at the Memorial; Justin Rose fires 63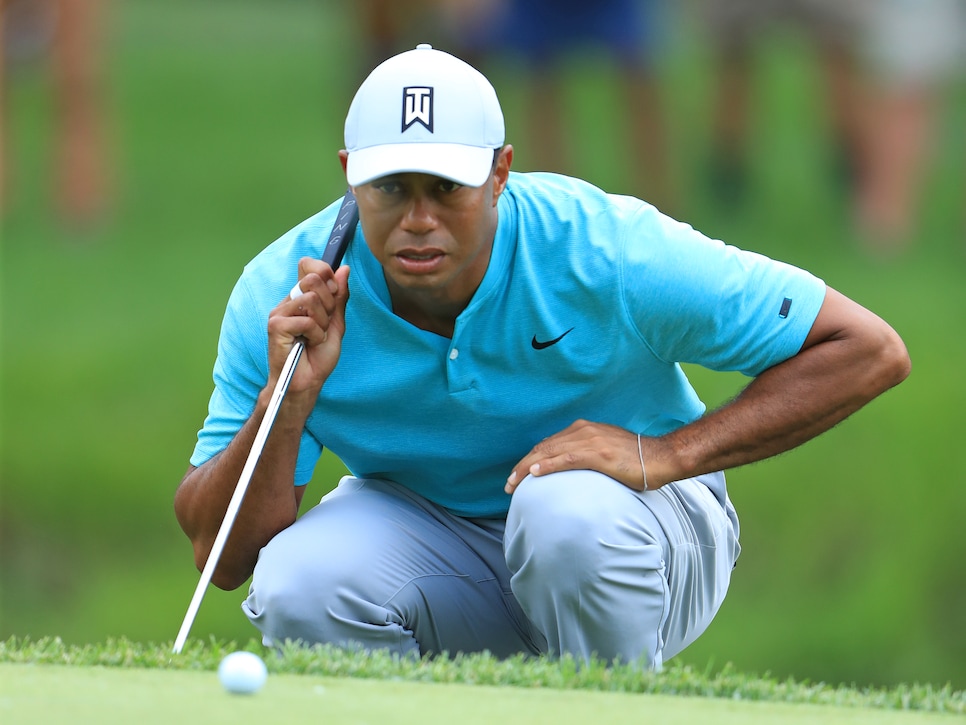 Tiger Woods opened with a two-under 70 on Thursday at Muirfield Village, a solid showing after a quick exit at the PGA Championship two weeks before. However, Woods will need to do some work on Friday afternoon to get into the weekend mix, as a host of players have gone low in the morning wave. Follow the Golf Digest Live Blog to get all your Tiger-centric Columbus coverage as the 43-year-old attempts to capture victory No. 82.
6:15 p.m.: Let's take a final look at the leader board, which changes a bit after a closing bogey by Martin Kaymer:
1t. Martin Kaymer (-9)
1t. Troy Merritt (-9)
1t. Kyoung-Hoon Lee (-9)
4. Jordan Spieth (-8)
5:57 p.m.: Woods nearly salvages a disappointing day with a highlight-reel birdie on 18, but his pitch from the rough hangs on the lip and doesn't drop. It'll be one final par for Tiger, who shoots an even-par 72 to remain at two under entering the weekend. Playing partner Justin Rose makes par as well to shoot 63 and vault into contention. The third member of their group, Bryson DeChambeau, makes the cut at even par.
5:53 p.m.: Tiger smokes a 3-wood down the middle on No. 18, but his approach comes up short of the green. Up ahead, Jordan Spieth capped off another solid round of 70 to put himself in the mix at eight under entering the weekend.
5:44 p.m.: We have a new leader! Martin Kaymer birdies the par-5 seventh, his 16th hole of the day, to get to 10 under par. Kaymer's last win anywhere came at the 2014 U.S. Open at Pinehurst.
5:40 p.m.: Another two-putt par for Woods on No. 17. Rose makes a two-putt par as well, but from about 60 feet to remain at nine under on the day.
5:33 p.m.: Both Justin Thomas and Rory McIlroy will not make the cut at Muirfield Village. Thomas, making his first start in six weeks after hurting his wrist, ejected in spectacular fashion with a back-nine 44. McIlroy, just never got it going. This is his first missed cut of what has been a stellar season.
5:22 p.m.: Tiger Woods makes a solid par on No. 16, but it might feel like another dropped shot after watching Justin Rose roll in yet another birdie. That's 10 in the round for Rose, who has his eyes on a 63 or better and has now moved to within three shots of the lead. Speaking of the lead, Martin Kaymer (Yes, it's been awhile) joins Troy Merritt and Kyoung-Hoon Lee at nine under. Jordan Spieth, who is playing his final hole, is one back.
5:12 p.m.: Oof, that hurts. After a perfect tee shot on the par-5 15th, Woods pulls a 5-wood into the hill above the green. From there, he needs two pitches from the deep rough just to find the fringe. Then he gets frisky with a chip and lips out the five-footer. Add it all up and it's a disastrous double bogey. Tiger falls back to even on the day and two under for the tournament. Playing partner Justin Rose makes par to remain at five under and eight under on his round.
4:50 p.m.: Woods misses a glorious chance for another birdie on No. 14. After an iron off the tee on the short par 4, he hit a wedge to about 10 feet below the hole, but couldn't convert. Woods remains at four under with his final par 5 of the day coming up next. Up ahead, it's been a wild back nine for Justin Thomas. After making the turn at one under, JT made two bogeys and a double bogey over his next four holes. He followed that with two birdies, but just put his tee shot on No. 16 into the water, which makes him making the weekend seem unlikely.
4:33 p.m.: BANG! Woods rolls in a 22-footer for birdie to move to two under on his round and four under for the tournament. The score was especially impressive considering Tiger's tee shot wound up in a divot in the middle of the fairway.
There were no rules officials involved, though, just some grit as he played a smart shot to the center of the green before knocking in the putt. Justin Rose makes a birdie of his own to keep pace at four under. The two stars are currently in a tie for 16th place.
4:18 p.m.: Woods has another two-putt, this time for par on No. 12 after a super safe shot on the dangerous par 3. He remains at three under. In other news, Kyoung-Hoon Lee has tied Troy Merritt for the lead at nine under with a 67. Lee, 27, is currently 88th on the FedEx Cup list, in large part because of a T-3 at the Zurich Classic with Matt Every.
4:05 p.m.: Tiger tugs his second shot with a 5-wood, but he finds the far left corner of the green. From there, he two-putts for birdie. Playing partner Justin Rose also makes a four, but in much more spectacular—and unlikely—fashion. After finding a hazard off the tee, Rose comes up short on his third, but chips in for birdie. Both Woods and Rose are at three under for the tournament.
3:54 p.m.: Tiger's group has to wait a bit in the 11th fairway because Jordan Spieth found some trouble up ahead. After a great drive, Spieth's second shot winds up in the hazard shot of the green. But he continues his short-game wizardry with an up and down for par to stay at seven under.
3:49 p.m.: Tiger pumps a drive down the right side of the fairway on No. 11. He should be in good shape to go for the par 5 in two. Not in good shape? Playing partner Justin Rose. After firing a 31 on the front nine, which included eagles on both par 5s, Rose finds the water hazard off the tee.
3:44 p.m.: Woods hits a nice approach to about 15 feet on No. 10, but comes up short for birdie. The tap-in par keeps him even for the day and two under for the tournament. Here's a look at the current leader board:
3:33 p.m.: Tiger begins the back nine with a perfect drive down the middle on the difficult par-4 10th. Up ahead, Jordan Spieth misses a three-footer for par for his first bogey of the day. After birdies on 8 and 9, he drops back to seven under.
3:27 p.m.: The birdie putt ducks short and left, giving Tiger the par. Despite his driving woes, even par isn't that bad. Will need some birdies on the back, however, to keep him the tournament conversation.
3:22 p.m.: Woods fails to hold the follow through, looking away in disgust. However, the shot still finds the middle of the green. Not what we wanted from 120 yards out, but could have been worse.
3:15 p.m.: Going with the 3-wood again off the tee, Tiger splits the fairway at the ninth. Only his second fairway of the day. On the green, Spieth drops a long piece of nectar for birdie, moving Jordan to eight under heading into the very-gettable back nine.
3:11 p.m.: Tiger's birdie try doesn't come close to scaring the hole, but no shame with par at the eighth. Ahead, Rory McIlroy, with wedge in his hand, flies the green. At two over, Rory will need some birdies on the back to make the weekend.
3:03 p.m.: Woods' tee shot at the par-3 eighth is left and long, finding the safe part of the green. Will have 25 feet or so for his second straight bird.
On the other side of the course, Martin Kaymer is showing yesterday's 67 was no fluke, going three under through his first six on the day. The two-time major winner is now in solo second at eight under.
2:57 p.m.: Tiger's approach comes up just short, and makes a nice pitch to three feet or so to get to even for the day.
And he converts. Also converting: Justin Rose. The Englishman was four over for the tournament after the fourth hole. Since he's gone eagle-birdie-eagle, jumping 47 spots on the leader board.
2:51 p.m.: Spieth makes a birdie to move to seven under, two back of Merritt and in a tie for second. His first-round 66 already moved him into the U.S. Open favorites. Don't be surprised if another low round lowers those odds even further.
2:50 p.m.: Pipes a drive at the par-5 seventh. Stays up in the first cut, but a good lie. May be able to do something with that and starting making a move up the board.
2:44 p.m.: Welp, that's why he's Tiger, and that's why we're writing this blog. From a nasty spot, Woods nearly knocks his chip in at the sixth, his ball an inch away from dropping. As my colleague Alex Myers would say, "Straight wizardry."
2:37 p.m.: Tiger is able to get a clean look at it, but his approach flies the green, giving him little room to operate. Will take some magic to save par at the sixth.
2:33 p.m.: Taking out the Smoke Wagon for the first time this afternoon, Woods again goes left off the tee. Misses the bunker and stays in the rough. Certainly not making it easy on himself.
2:28 p.m.: Woods is able to chop it out of the thick stuff up in the fairway. With a buck fifteen in, Woods hits an abbreviate follow-through wedge. Unfortunately, it checks up before catching the back ridge, leaving 25 feet for bird.
He makes a solid roll, but goes just to the right. A par for Woods, but he's now dropped 16 spots on the leaderboard to T-39.
2:15 p.m.: Unexcused miss from Woods on the fifth. With a fairway wood off the the tee, goes long and left, his ball burying in the deep rough. No chance at reaching the green in two from there.
Looking at the rest of the score board, Martin Kaymer is two under through three holes to get to seven under on the tournament, while Kyoung-Hoon Lee is three under through eight holes on the back to move to seven as well.
2:10 p.m.: Nifty work from Woods, rolling it to a foot or two for another par, his third straight. Ahead, Spieth's attempt to reach the par-5 fifth stays left, getting caught up in some nasty rough. Even for his short-game prowess that's been on display, it will be tough to capture birdie from there.
2:05 p.m.: Whew, Woods bludgeons a 7 iron from 195 yards, which goes just over the green. Man that was smoked. Caught up in the first cut, but a delicate up-and-down remains.
2:01 p.m.: Tiger just misses the birdie putt, slipping short and to the left. Remains at one over for the day.
1:57 p.m.: Woods put a little too much spin on his approach, his wedge nearly rolling back into the water. However, it's on the green, leaving 12-15 feet uphill for a red figure.
1:48 p.m.: Finally, the short stuff. Woods goes with iron off the tee at the short third, and finds the lefthand side of the fairway. Good position to make his first bird of the day.
1:42 p.m.: Tiger finds his ball and punches out to about 80 yards. From there, he nearly spins it back into the hole, leaving a tap-in par. Nice bounce-back that hopefully gets him on track.
1:34 p.m: Again with the fairway wood, Woods goes way left again, this time miles away from the fairway. That could be trouble.
Not having trouble: Jordan Spieth. The Texan gets up-and-down for par on the first, and rolls in a putt from off the green on No. 2 for another save after a duffed shot.
1:30 p.m.: Woods goes with the Texas wedge off the green; alas, rolls it a good five-six feet by.
And he lips it out. Bogey for Woods, dropping him to one under for the tournament, eight back of leader Troy Merritt.
1:25 p.m.: Remarkable recovery from Woods. Despite a restricted follow through due to a tree, Tiger slashes an approach out of the rough that runs just short of the green. Great chance to save par after that tough tee shot.
1:20 p.m.: Woods goes with fairway wood off the first, but overcooks it something fierce, flying left into the rough. Only hope is the ball is in a trampled down area. We are off.
1:00 p.m.: Woods will again be playing with Justin Rose and Bryson DeChambeau. The group was put on the clock yesterday morning, and DeChambeau was given an individual bad time on the fifth hole.
"It's one of those things where it's a group effort to try to get back in position," Woods said. "The group ahead of us, JT doesn't take a lot of time, Rory plays quick, and Jordan was 7 under through 13 holes. So they're obviously playing fast, and we were obviously not."
Expect a few extra eyes on their pace this afternoon.
12:52 p.m.: Though Woods' Thursday performance was a good start, it was a round noted for what could have been. "It was close to being easily a few more under par," the reigning Masters champion, said. "It was soft enough; it was gettable. And I just didn't quite do it. I had a couple of loose irons. But look at the scores. They're all getting after it today. I was close to being out there with them."
Though five back isn't that much of a Day 1 deficit, Woods will be looking up to start his second round. Emiliano Grillo and Troy Merritt both sit at nine under which just a few holes left, while a host of other notables like Adam Scott and Rickie Fowler sit at seven. With five Memorial wins under his belt, clearly few know the Columbus confines like Woods. Nevertheless, he will not be afforded much latitude this afternoon.