The Loop
Tiger Woods' latest tease, O.J. Simpson's return to golf, a WAG's scary b-day moment & an LPGA star's intense workout
Welcome to another edition of The Grind, where we're going to have to pace ourselves if the opening week of the PGA Tour is any indication of what we're in store for this season. There were impressive debuts on the course, impressive performances on the stage and there was Phil (still) being Phil after all these years:
It was quite a start -- and that's before we factor in frightening wildfires, record-breaking performances across the pond and updates on two much-talked-about comebacks. Let's catch our breaths and break it all down.
Defending champs: Brendan Steele made it back-to-back wins at the PGA Tour's Safeway Open and Tyrrell Hatton did the same at the European Tour's Alfred Dunhill Links Championship. Slight edge to Hatton for getting to celebrate on the Swilcan Bridge …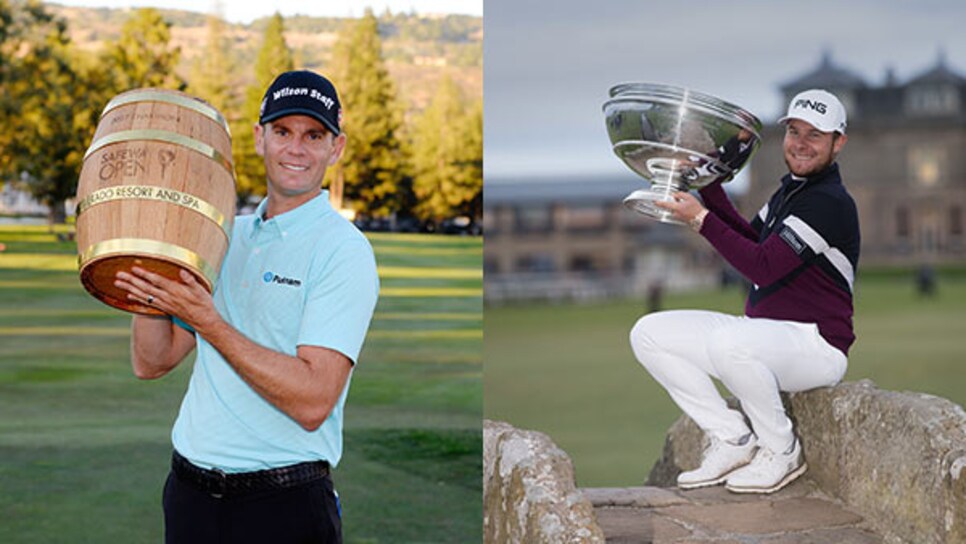 Well done, guys. Now if all of last season's winners can keep this up, I might actually do well in fantasy golf this season.
Record breakers: Tommy Fleetwood and Ross Fisher didn't win the Alfred Dunhill Links Championship, but what they did at two of golf's most historic tracks will be talked about a lot more than Hatton's victory. Fleetwood shot 63 at Carnoustie, and Fisher shot 61 at the Old Course at St. Andrews -- with both scores breaking course records. By the way, Carnoustie is hosting next year's British Open, so based on our new horses-for-courses theory, Fleetwood is basically a lock.
John Daly: Talk about life imitating art. Daly joined Gavin DeGraw on stage to pay tribute to Tom Petty by singing along to "I Won't Back Down" on Thursday night and then birdied his final hole on Friday to shoot 69 and make his first PGA Tour cut in two-and-a-half years.
Actually, we're buying Daly's entire month, from presenting a sport coat to Japan's Prime Minister, Shinzo Abe, to finishing runner-up at a European Senior Tour event in France, to opening a steakhouse in Arkansas. JD seems to be hitting life harder than ever at 51.
Tiger's comeback: Tiger Woods is back! To hitting irons. "Smooth" irons, at that:
Yeah, yeah, I'm getting suckered into another Tiger Woods comeback, but I can't help myself.
Tiger, if you're going to break my heart again, just promise me you'll do it quickly this time. Please?
O.J.'s comeback: On the first full day of the Juice being loose (again), Simpson was seen putting on a backyard green at the Las Vegas home he's staying in:
We're not knocking his effort -- and at 70, he still has a few good years on the course -- but his return to golf isn't exactly great PR for the sport. Also, we're pretty jealous of his backyard setup.
Phil's fall policy: Remember a couple years ago when Phil Mickelson pushed for fall events in the wrap-around season to not count towards a person's Ryder Cup point total? Well, that came back to bite him. Mickelson's T-3 at the Safeway Open was his best finish since a runner-up at the 2016 British Open, but he'll earn as many Ryder Cup points for his efforts as I did for sitting on the couch watching his efforts.
Unmarked golf balls: I'm not accusing anyone of taking advantage of the Rules of Golf, but every time something like this happens, it raises eyebrows and causes an uproar. At least, in the little world of Golf Twitter:
It also probably only seems like it's happening more now because people are making a point to point it out. Regardless, now that it's become an issue, you'd think players would be even more careful about marking their golf balls -- or telling opponents to do it -- just to avoid this sort of controversy.
Silly penalties: This week's "Hey, tour pros are just like us sometimes!" honor goes to David Howell, who teed off from in front of the marker. On No. 18 at the Old Course at St. Andrews. The gaffe resulted in an embarrassing two-shot penalty on one of the most famous holes in golf.
The PGA Tour heads to Malaysia for the CIMB Classic, AKA that event Justin Thomas wins every year.
Random tournament fact: This snake was spotted during last year's tournament:
Players better keep their heads on a swivel …
RANDOM PROP BETS OF THE WEEK
-- Tiger Woods will win a major this year: 1 MILLION-to-1 odds
-- Phil Mickelson will win a major this year: 100-to-1 odds
-- I will have nightmares about that snake: LOCK
VIRAL VIDEO OF THE WEEK (TOUR PRO DIVISION)
The European Tour is up to its old tricks of creating fun videos, this time, getting Edoardo Molinari to take 500 attempts at making a hole-in-one. SPOILER ALERT: He doesn't get it done!
If you sense excitement from me, that's because I'm happy to see another golfer – and a really good one, at that – get frustrated by not making a hole-in-one. It also just confirms that making an ace is 99 percent luck. Thanks, European Tour.
VIRAL VIDEO OF THE WEEK (TOUR-PRO TALENT DIVISION)
If this is really a nun, then she has the swing of an angel:
Talk about a potential ringer to bring to your next member-guest!
"I'm sorry, but f--- cancer." – Cristie Kerr, playing with a heavy heart, after winning the LaCoste Ladies Open de France. No need to apologize, Cristie.
THIS WEEK IN DUSTIN JOHNSON-PAULINA GRETZKY WAGS PUBLIC DISPLAYS OF AFFECTION ATHLETICISM
Things got dangerous at one WAG's 30th birthday party:
There's so much going on here in this quick clip from Ashley Perez's (Pat Perez's wife). First off, why was there a fake cake? Second, why were they sitting on it? And finally, was there really an official videographer for the occasion? Impressive.
THIS WEEK IN TOUR PROS MAKING US FEEL BAD WITH THEIR TRAINING
Apparently, normal crunches aren't enough of a challenge for the LPGA's Gaby Lopez:
That's some Rocky IV-level stuff, and it goes without saying that you probably shouldn't try that at home. Then again, that would require you having a punching bag at home. And actually having the motivation to work out.
THIS WEEK IN CELEBRITIES PLAYING GOLF (NON-O.J. DIVISION)
Soccer star Gareth Bale has a replica of TPC Sawgrass' par-3 17th in his backyard:
Justin Thomas was officially named PGA Tour Player of the Year. It seemed like a lock, but you never know with votes these days. . . . Hunter Mahan's T-13 at the Safeway Open was his best PGA Tour finish in more than two years. Mahan's comeback isn't getting quite the attention of Tiger's (or O.J.'s), but he's got the best chance of the three when it comes to winning this season. . . . Sergio Garcia and TaylorMade Golf are splitting up after 14 years. This one's not quite as sad as Phil and Bones breaking up. . . . And finally, congrats to co-worker Joel Beall getting married over the weekend.
RANDOM QUESTIONS TO PONDER
Why do wedding receptions go by so fast?
Why do playoff baseball games go by so slow?
Does that nun give golf lessons?