The Loop
Tiger Woods' latest comeback, Paige Spiranac's pre-turkey workout, and what we're not thankful for (yet)
Welcome to another edition of The Grind, where we've learned that Thanksgiving break isn't quite the same in your early 30s as it is in your early 20s. This year, there was no trip to the hometown bars for me (probably a good idea) and no tackle football (definitely a good idea). Instead, I spent most of my time off raking leaves and looking for Black Friday deals on refrigerators. Fun!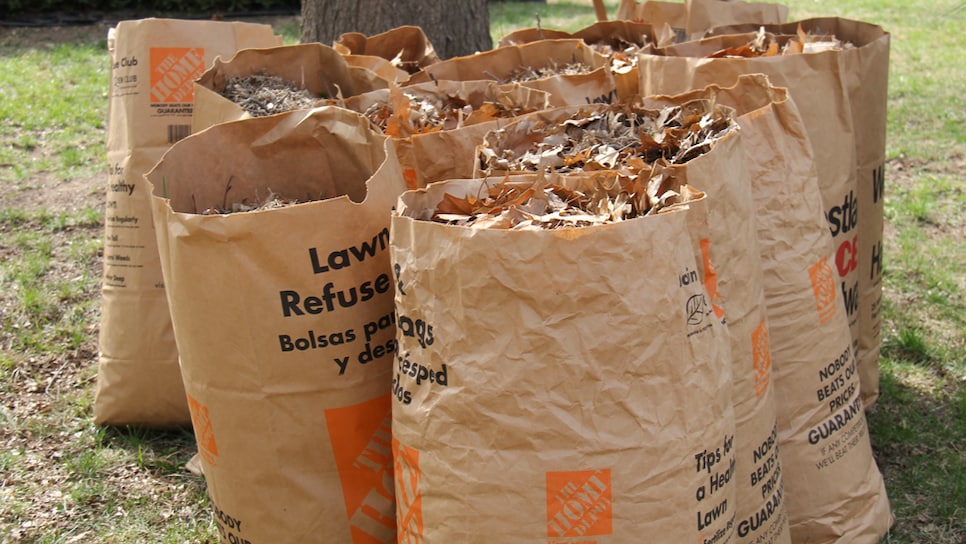 But one thing did stay the same this year. Another golf season in the lovely Northeast passed without me making a hole-in-one. It's a dagger that digs deeper and deeper into my soul, and a chase that has consumed me. But while I still have no ace to be thankful for, I'm very grateful for the return of a certain Big Cat to the golf course. Let's try to focus on the positives as we trade turkey for Tiger.
Tiger Woods' comeback: I promised myself I wasn't going to expect much from Woods' return, but the 14-time major champ's recent comments have me optimistic that this latest comeback has a chance of being successful. "I can hit all the shots now, on call"? Really?! That doesn't sound like a guy who has been written off as a ceremonial golfer by most. Woods is in the Bahamas with a new driver, a new golf ball, new golf shoes and a new sponsor. Tiger! He's BACK!!!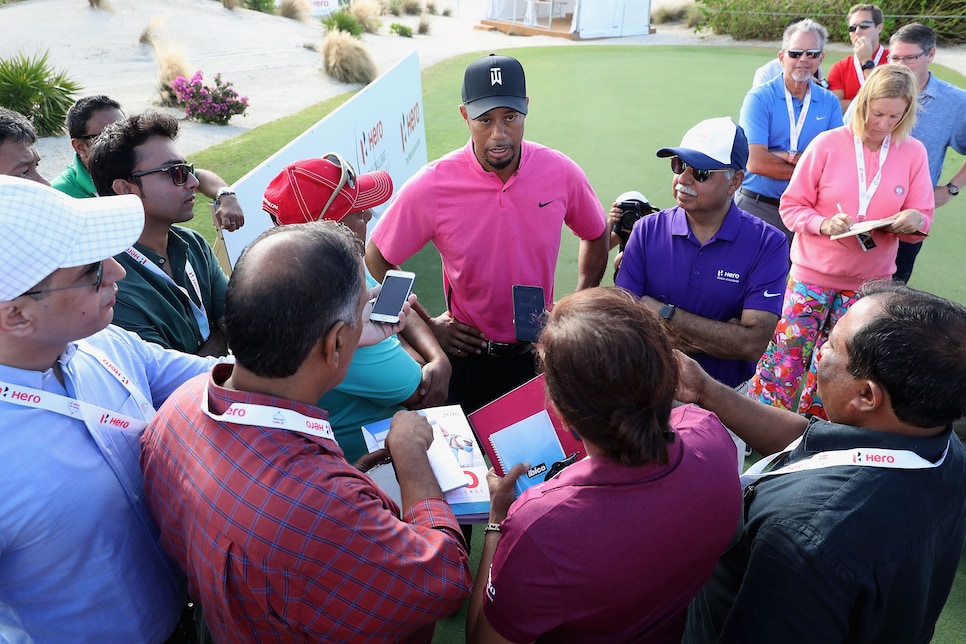 But seriously, I'll settle for him just being able to stand up after four rounds.
Team Denmark: Soren Kjeldsen and Thorbjorn Olesen cruised to a four-shot win at the World Cup of Golf. The Danish duo gave Denmark its first win in the tournament's 58th year, and gave us two more reminders that Europe probably didn't field its strongest possible team for the recent Ryder Cup.
Team China: Wu Anshun and Li Haotong didn't win the World Cup, but they finished tied for second. And they were the undisputed champs when it came to celebrations. The best were their chest bumps:
Not exactly 1990s New York Knicks level, but we appreciate the effort.
The Official World Golf Ranking: No matter how Woods plays, prepare to hear people complain about the OWGR -- and they've got a point. Woods, who will begin the Hero World Challenge ranked No. 898, is set to move up about 150(!) spots just for playing in the limited-field event (Provided he doesn't withdraw, which as we know isn't exactly a lock. . . ). That's right, 150 spots for just finishing four rounds of golf. And if Tiger somehow wins, he could move all the way back into the top 125. That's a lot of respect for the Hero World Challenge.
Golf cart thefts: Apparently, this is the new fad at Cal-Berkeley. In the week leading up to Thanksgiving, six were stolen from the campus, with four eventually being recovered. And we all thought we were rebels at Wake Forest when we used to toilet paper the quad after a big win.
Woman's first "hole-in-one": Another week, another story about someone else making a hole-in-one other than myself. This time, it was the ultimate slap in the face: A hole-in-one during someone's FIRST time on the golf course. It's enough to make me sick. But if you watch the video closely, you notice, it came during a lesson and that it appears the woman has hit a few balls from the same spot.
So. . . it really doesn't count in my book. At least, that's what I'm telling myself to feel better.
In case you haven't turned on a TV or gone on the Internet in the past two months, Tiger Woods will make his return to competitive golf this week at the Hero World Challenge.
Random tournament fact: TIGER! BACK! TIGER! BACK! TIGER! BACK! TIGER! BACK! TIGER! BACK! TIGER! BACK! TIGER! BACK! TIGER! BACK! TIGER! BACK! TIGER! BACK! TIGER! BACK! TIGER! BACK! TIGER! BACK! TIGER! BACK! TIGER! BACK! TIGER! BACK! (Let's be honest, that's all you need to know this week.)
(ACTUAL) RANDOM PROP BETS OF THE WEEK
--Tiger Woods will win a PGA Tour/European Tour event in 2017: 9-to-1 odds (Again, actual odds)
-- Tiger Woods will retire in 2017: 5-to-1 odds
-- Tiger Woods will still wear red on Sunday: LOCK (OK, so we made that last one up.)
It isn't natural for a 61-year-old to look like this, is it?
Henrik Stenson took the claret jug on what is believed to be the sacred trophy's first ride on a jet ski:
Joshua Kelley, aka @holein1trickshots might have the best balance of anyone in the world.
Obviously, do NOT try this at home.
This is like music to our ears, and too good not to mention again:
"I have way more shots now, because I've played way more golf. I only had a handful of shots back then. And you just saw a session where I hit everything. And I had control of everything. I can hit all the shots now, on call." – Tiger Freakin' Woods, ladies and gentlemen.
QUOTE OF THE WEEK (NOT INVOLVING TIGER WOODS)
Pick your Soren Kjeldsen quote from the World Cup of Golf. There's Kjeldsen comparing his game to that of his Danish partner, Thorbjorn Olesen:
"I'm like a train . . . I arrive on time. It's a good combination."
And there's this gem talking about how much he wanted to win for Olesen:
"Today on the back nine, I felt like I would die for my partner. I've never experienced that before."
On second though, making a Ryder Cup team might not be good for Soren's health. . .
THIS WEEK IN PAIGE SPIRANAC BEING PAIGE SPIRANAC MAKING US FEEL BAD WITH HER TRAINING
Check out this crazy exercise routine Paige puts herself through:
And here's a photo she took before enjoying a Thanksgiving feast: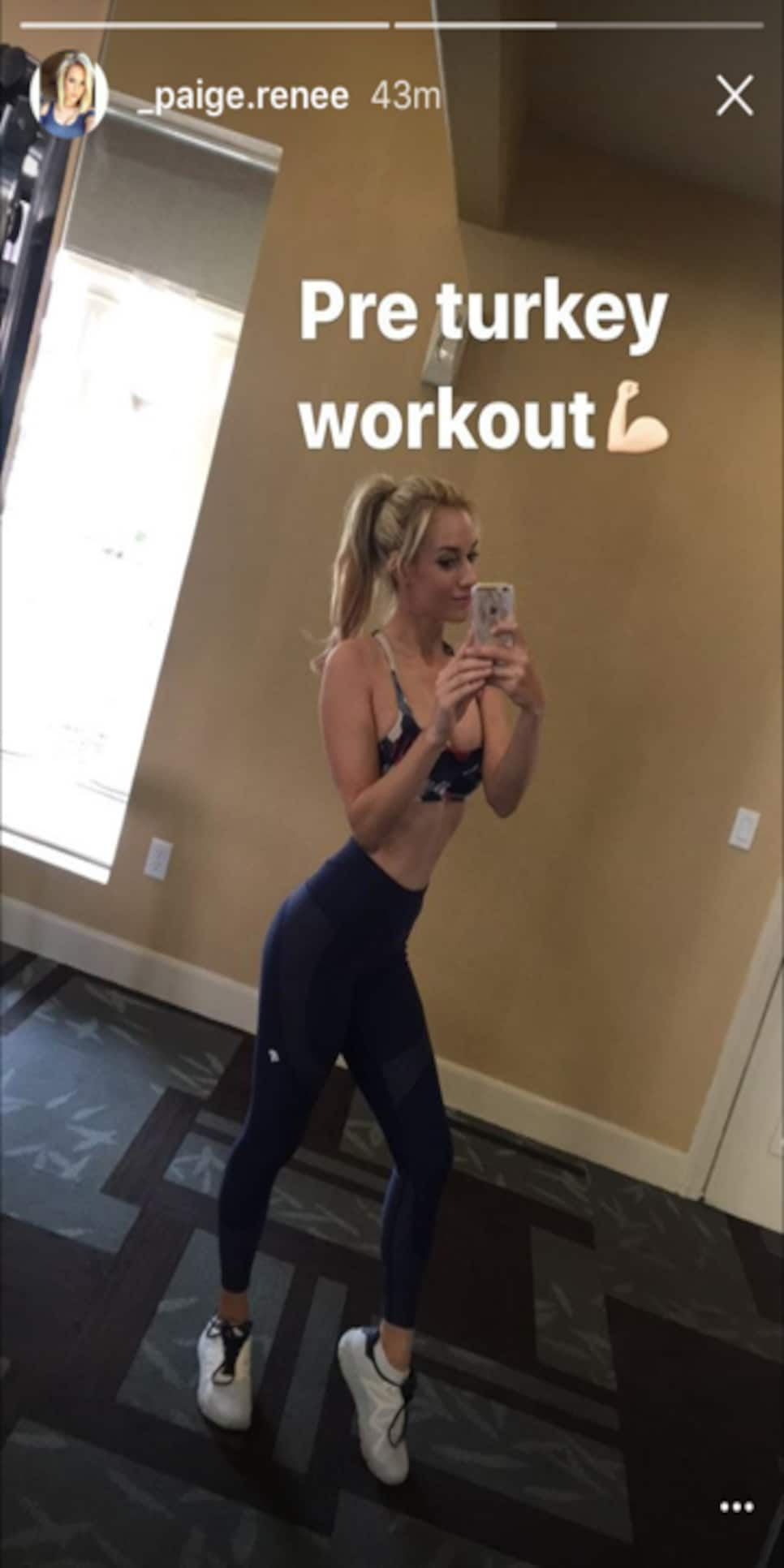 A workout before eating all that food? I knew I forgot something.
THIS WEEK IN DUSTIN JOHNSON-PAULINA GRETZKY PUBLIC DISPLAYS OF AFFECTION
First, a Thanksgiving family photo: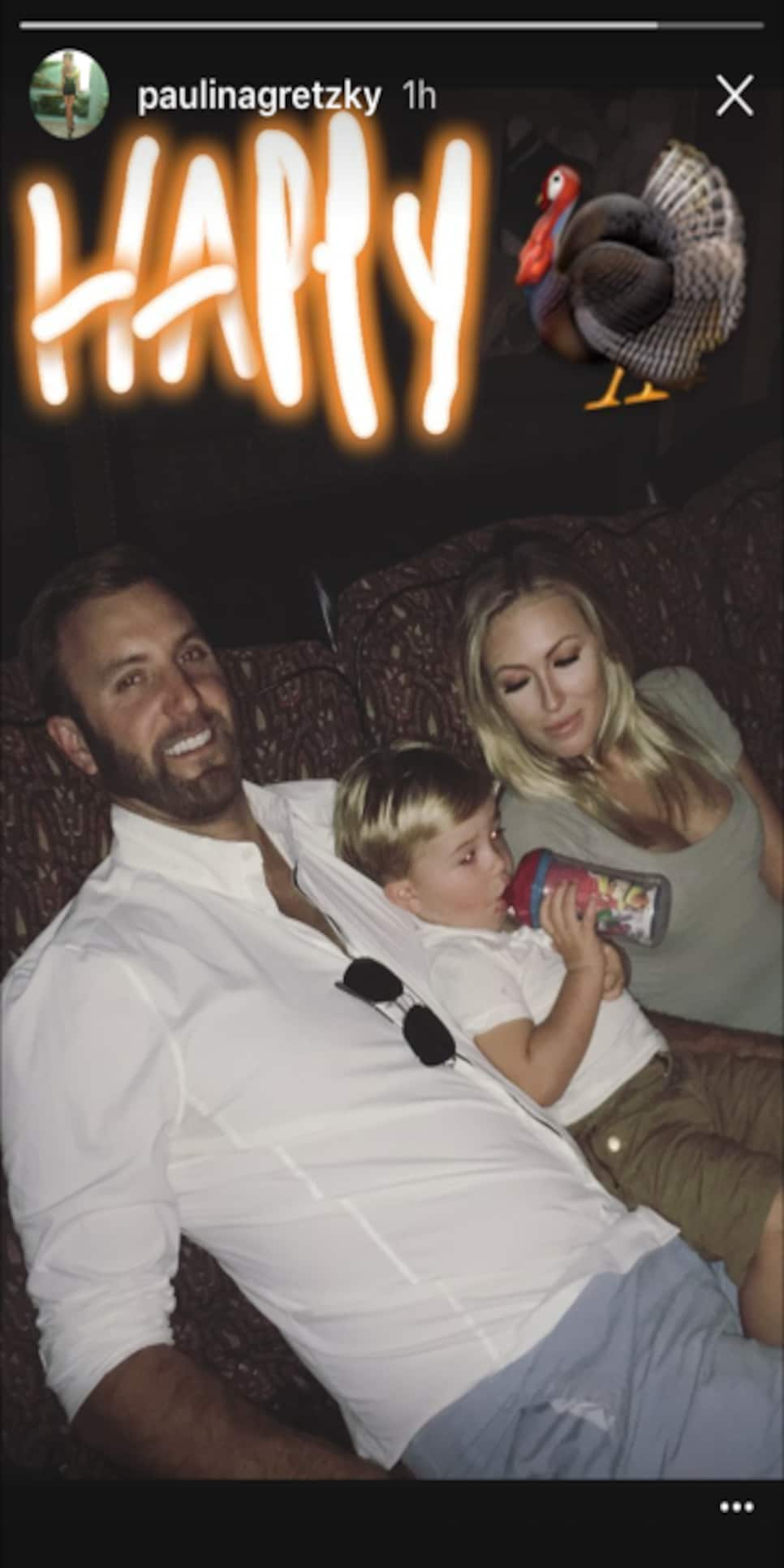 And then another music video from these two! This time, to the tune of Miley Cyrus' "Party in the USA," admittedly, a personal favorite:
Let's hope this becomes a weekly occurrence.
Sadly, golf lost one of its greatest ambassadors in Peggy Kirk Bell. She will be missed. . . . Jeunghun Wang was named the European Tour's Rookie of the Year. Wang just turned 21 and he follows Byeong Hun-An won and Brooks Koepka as the most recent honorees. In other words, watch out for him. . . . Aditi Ashok, an 18-year-old from India won her second consecutive tournament on the Ladies European Tour, claiming the Qatar Ladies Open by three shots. Watch out for her, too. . . . Congrats to Eric Sillies for winning Wilson's "Driver vs. Driver" reality show on Golf Channel. However, the club was shipped to stores to be sold before it was put on the USGA's conforming list. Whoops. . . . And finally, congrats to Christian Iooss for winning Golf Digest's Turkey Putt for the second straight time, and becoming the first champ crowned on our new NYC office putting green.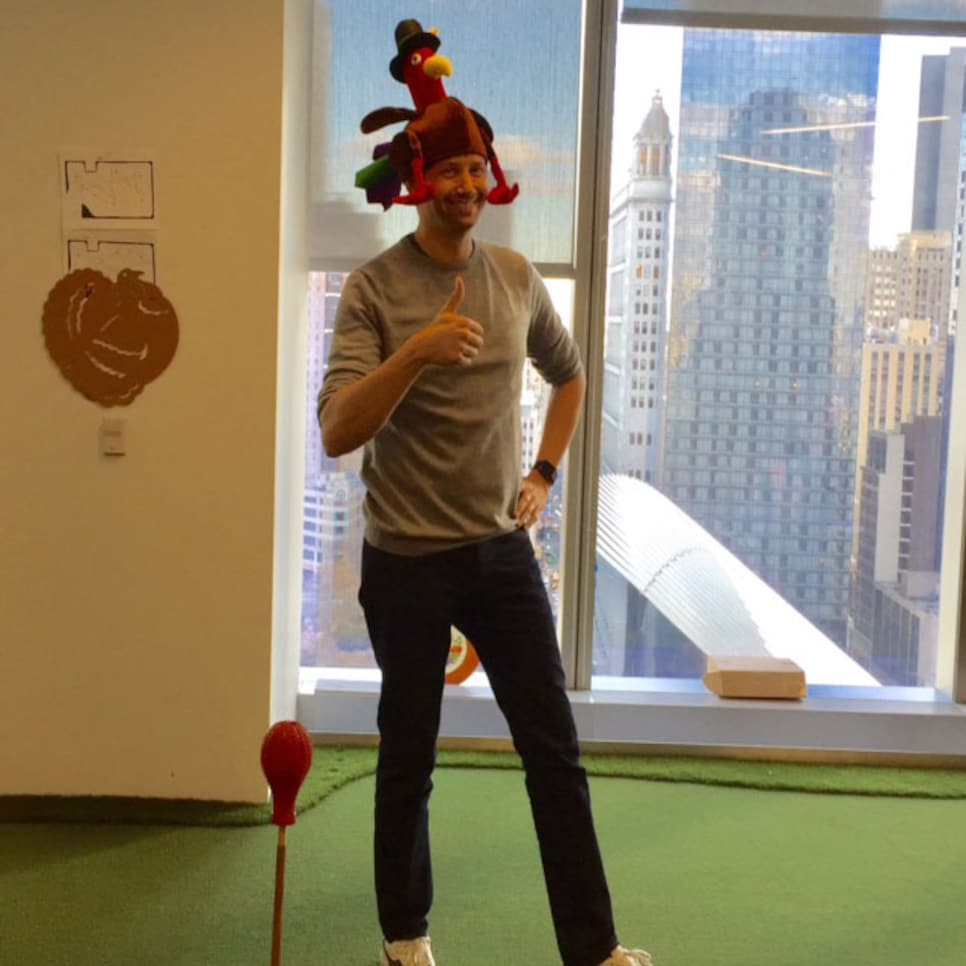 The only drawback of winning the event is having that photo made public.
RANDOM QUESTIONS TO PONDER
What will Tiger Woods do this week?
What will Tiger Woods do next year?
Will we ever stop being obsessed with Tiger Woods?