News
Robbed Of A Race For The Ages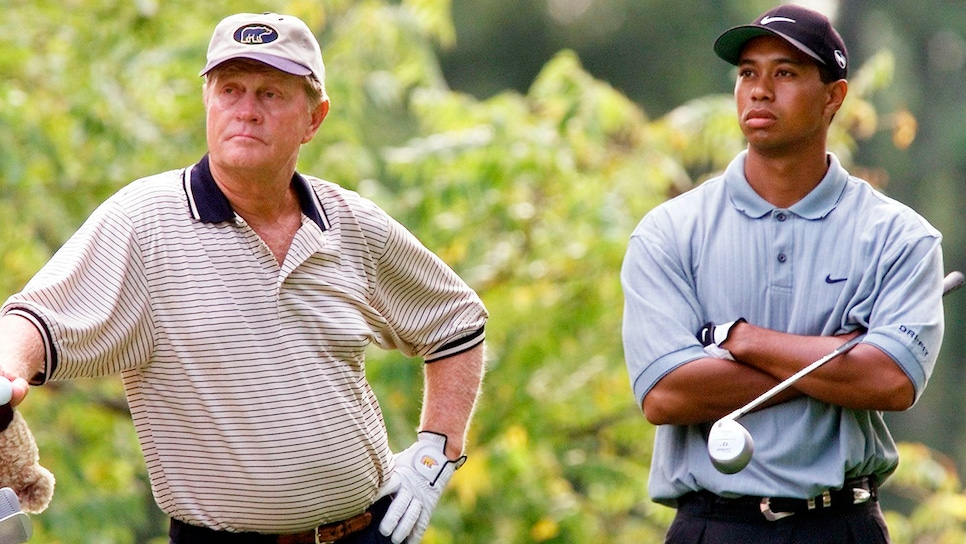 Jeff Haynes/AFP/Getty Images
Transformational eras have been rare in golf, and magical ones rarer still. Perhaps none was more consequential than the early 1960s, when the charisma of Arnold Palmer conjoined with television to send the game's popularity soaring.
Though purely speculative, it can be argued that more recent history might have proved more momentous had events occurred differently after the 2008 U.S. Open. Tiger Woods had just earned his 14th professional major championship with a playoff victory over Rocco Mediate—despite competing on an ACL so severely compromised that he underwent reconstructive knee surgery days later. The victory capped a Hogan-like stretch of six wins and 11 top-three finishes in 14 majors.
A golfer's career sweet spot. And he seemed unstoppable. Jack Nicklaus' record of 18 pro majors, perhaps the most iconic in sports, appeared easily within reach. After all, Nicklaus won seven major titles after 32. Phil Mickelson didn't win his first until he was 33, and Hogan won his first at 34.
For perhaps the first time ever, the world's most famous athlete was a golfer. And the world knew it. Each of the four majors produced record final-round television ratings for one of Tiger's victories. Woods, certain to climb ever closer to Nicklaus' summit, was poised to carry golf to new heights.
Instead, a golden era passed unrealized.
When the 99th PGA Championship begins Aug. 10 at Quail Hollow Club, Woods will be absent. Because of chronic back injuries, he'll sit out his eighth major in a row. He has missed 14 majors since that 2008 U.S. Open and missed the cut in six others. Yes, injuries have robbed him of reps, but there is little doubt that the traumatic events of late 2009, when revelations of his extramarital affairs became fodder for public ridicule and scorn, blunted his competitive preeminence.
'I enjoyed my name being mentioned beside his every time he did something. It kept me relevant.' —Jack Nicklaus
Woods had 22 top-three finishes in majors through 2008. He has had one since the scandal.
"You can't help but almost feel that golf was robbed, and I think we're still shocked that the quest ended so abruptly," says former PGA champion Paul Azinger. "I think we all were looking forward to the next 10 years, to see if he could handle that burden. And the way he had played up to that point, you had to believe he could. I think the world wanted to watch that."
Nicklaus would have watched. "Of course, I would have," says the Golden Bear. "No one wants to see their records broken, but if he did it, I would want to be the first one to shake his hand. I don't know what's going to happen, but I enjoyed my name being mentioned beside his every time he did something. It kept me relevant. More important, it was good for the game. I hope he does get healthy again, and if he does, I still fully expect him to challenge the record."
Nicklaus, 77, remains the last link to the man he surpassed for the major record, Bobby Jones. Nicklaus' ability to add context to Tiger's pursuit of his record would have amplified the narrative exponentially.
Golf today is in a good place, nearly everyone agrees. A few from this next generation will become great. Not one, however, will be the next Tiger Woods, a unique, hypnotic talent.
"The aura about the guy was so special. And I miss that out here," says Jason Day, one of several players who has owned the world No. 1 ranking since Woods relinquished his hold for good in 2014. "I remember once at Augusta he holed a putt at 9 for a par, and the place erupted like he holed out from the fairway. That was the Tiger effect. He made even the simple things seem big and important."
And he did big things that were historic. Perhaps we should be satisfied, as Jim Furyk suggests: "Just be glad for what we got to see him do already."
No, we'll never know what we missed. We just know it could have been grand.
An opportunity lost. For him. For us. For golf.