The Loop
Tiger Woods isn't 100 percent yet, but says he's getting closer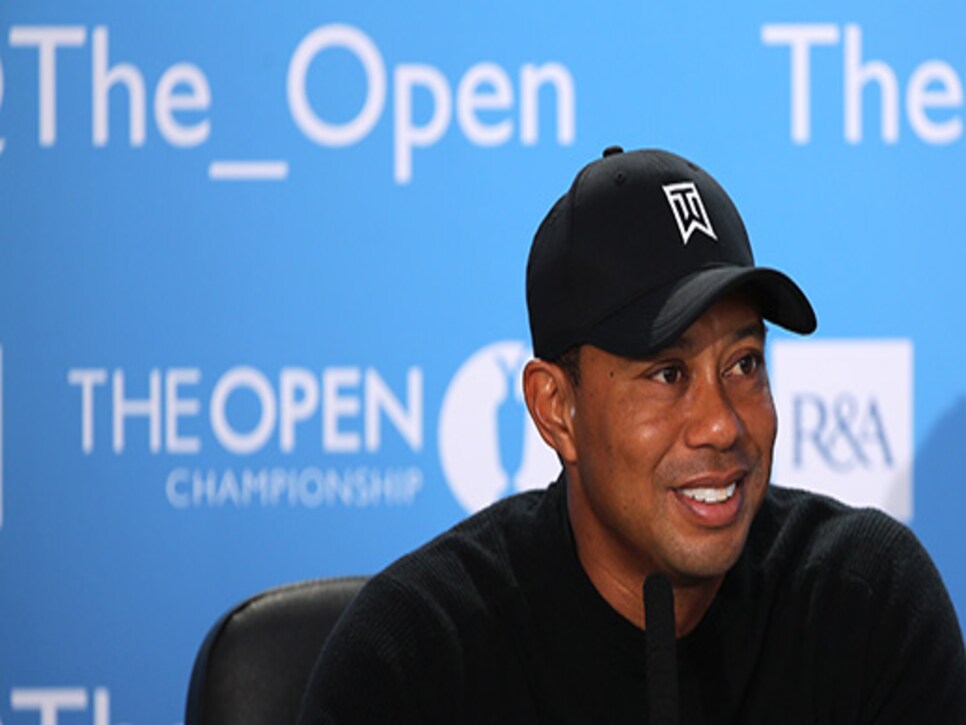 HOYLAKE, England -- It's become almost cliche to hear Tiger Woods say how anything less than winning the title at a major championship would be a disappointment. Yet upon listening to him respond Tuesday during his British Open press conference, Woods' predictable answer carried a little more purpose.
"First," he said, when asked what an acceptable finish would be this week at Royal Liverpool. "That's always the case."
It would seem, then, Woods is back to competitive form mentally as he prepares to play his first major championship in nearly 11 months.
The trickier question is how close is he physically.
Woods hinted he's still not quite 100 percent following his March 31 back surgery, but that he's making progress. "Each and every week I've gotten stronger and faster," Woods said. "I'm probably not quite at the level I think can be at as far as my explosion through the golf ball, but I'm coming pretty darn close."
In his lone start since the surgery, last month's Quicken Loans National, Woods shot 74 and 75 and missed the cut. The result left many concluding that Woods' actions aren't ready to back up his words regarding his personal expectations for Hoylake.
Woods, however, insists he only took good things away from playing at Congressional. "The fact I was able to go at it that hard and hit it like that with no pain was big," Woods said. "I could play out of the rough. I could hit shots. … And I was able to recover each and every day."
Since then, Woods says he's had no setback.
As he continued to work his way back into game shape, Woods acknowledged that adjusting his game to playing links golf has been an additional challenge. It's why he arrived a day earlier than he ordinarily does for the Open. Getting in practice rounds on Saturday and Sunday at Royal Liverpool allowed him the luxury of merely practicing Monday before making a third trip around the course Tuesday.
Discounting the historic import of Woods continuing his quest to match Jack Nicklaus' 18 major championship, Woods has some short-term hurdles he needs to clear that would be helped greatly with a high finish this week. Woods is 212th on the FedEx Cup points list with just six weeks left to try to get into the top 125 and qualify for the FedEx Cup playoffs.
And then there's qualifying for the U.S. Ryder Cup team. Woods is currently 72nd on that points list, sitting humbly between Jim Renner and Bryce Molder.
Both goals are on his mind, but neither he says provide him any more incentive to do well this week.
Woods is playing a major. That's all the motivation he needs.