News
Tiger Woods is back, Paul Casey plays spoiler and a local qualifier hits pay dirt: What you missed this weekend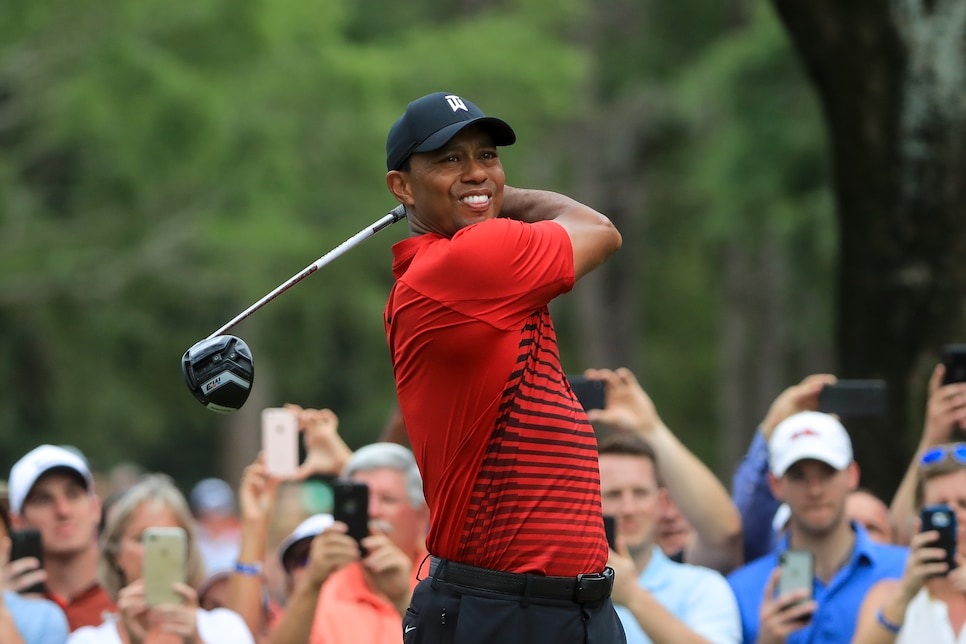 Welcome to the Dew Sweeper, your one-stop shop to catch up on the weekend action from the golf world. From the professional tours, trending news, social media headlines and upcoming events, here's every golf-related thing you need to know for the morning of March 12.
Tiger Woods, officially back
There are no caveats or asterisks attached: Tiger Woods is officially back.
His final round at the Copperhead course was far from flawless. His irons were a tad off and, for 16 holes, Tiger and his putter weren't talking to each other. But then Woods dropped a 44-foot bomb on the 17th and all hell broke loose.
No, Woods didn't win the Valspar Championship, ultimately falling a stroke short of Paul Casey. But 300 days removed from fusion surgery, and five months after admitting he might not play competitively again, the 42-year-old Woods was this close to winning an official PGA Tour event. Golf has wondered if Tiger would ever return. On Sunday, the game got its answer. A loud one at that.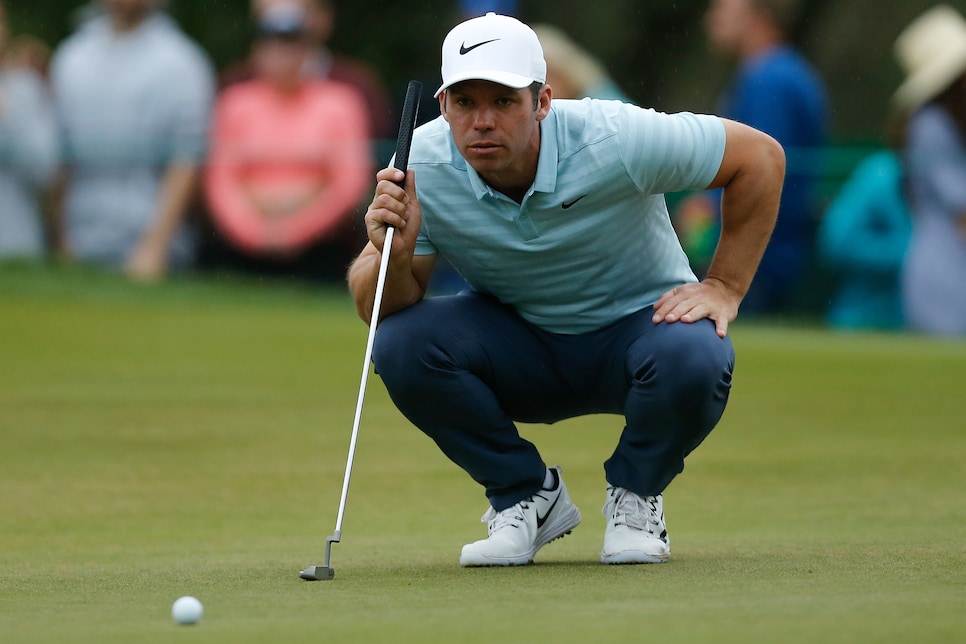 Got to feel for Paul Casey. One of the nicer guys on tour is the most unpopular winner since Stewart Cink at Turnberry. Not that he needs your sympathy. After all, he's $1.17 million richer after capturing the Valspar Championship.
Beginning the day five strokes back of leader Corey Conners, Casey inched his way up the board with a 33 on the front, making his move with three consecutive birdies starting at the 11th. He managed Copperhead's dreaded Snake Pit without incident, finishing with a Sunday-best six-under 65. He then had to wait, finishing more than an hour ahead of Woods, Patrick Reed and Justin Rose. But all failed to match the Englishman's 10-under mark, giving Casey his first PGA Tour win in a decade.
Casey admitted after the round he doubted if he'd ever find the winner's circle again.
"I've reached a very good place in my life where I've got a wife and kids and life is very, very good," Casey said. "To get a victory, another victory it is very much icing on the cake and kind of fills that void and makes me even happier. I was happy before but just happier."
Who needs fan adulation when you can find peace like that?
Tiger now a Masters favorite
When Vegas opened its 2018 Masters odds, Tiger Woods was listed at 100-to-1. His figure has slightly dropped since.
Following his second-place finish at the Valspar, Woods is now one of the favorites at Augusta National, owning 10-to-1 odds. If that number sounds low, it is: only Dustin Johnson and Justin Thomas, the top two players in the world, are below the four-time green jacket winner (8-to-1). Which hey, we're all aboard the Tiger Train. But lower odds than Jordan Spieth (12-to-1) and Jon Rahm (14-to-1)? More love than Phil Mickelson (18-to-1), who has a win and five top 10s this year? Even Sergio Garcia (30-to-1), who won the damn thing last spring? It seems like maybe we're getting a little ahe...
...You're right. Let it ride on Big Cat.
Local qualifier hits pay dirt
Martin Trainer had no full-time status on any tour as of last week. Following his feats in Mexico, the USC alum might be headed to the big leagues.
The 26-year-old Trainer won a three-for-one local qualifier playoff to get into the El Bosque Mexico Championship field, then made the most of his opportunity, turning in a 14-under score to win the Web.com Tour event by two shots.
"I was extremely nervous today," Trainer said afterwards. "I hit a bunch of shots that I was kind of like, 'Where did that come from?' because it was so uncharacteristic, but that's what happens under pressure. It's just a different kind of golf. But thankfully I was able to scrape through and pick up the win."
Trainer, who didn't start playing golf until 12, now has job security on the Web, but bigger ambitions await. The win moves Trainer to No. 5 on the tour's money list, with the top 25 earning promotion at season's end. Trainer said he could barely sleep the night before Sunday's round. We're guessing he's sound asleep following his win, with visions of a tour card dancing in his head.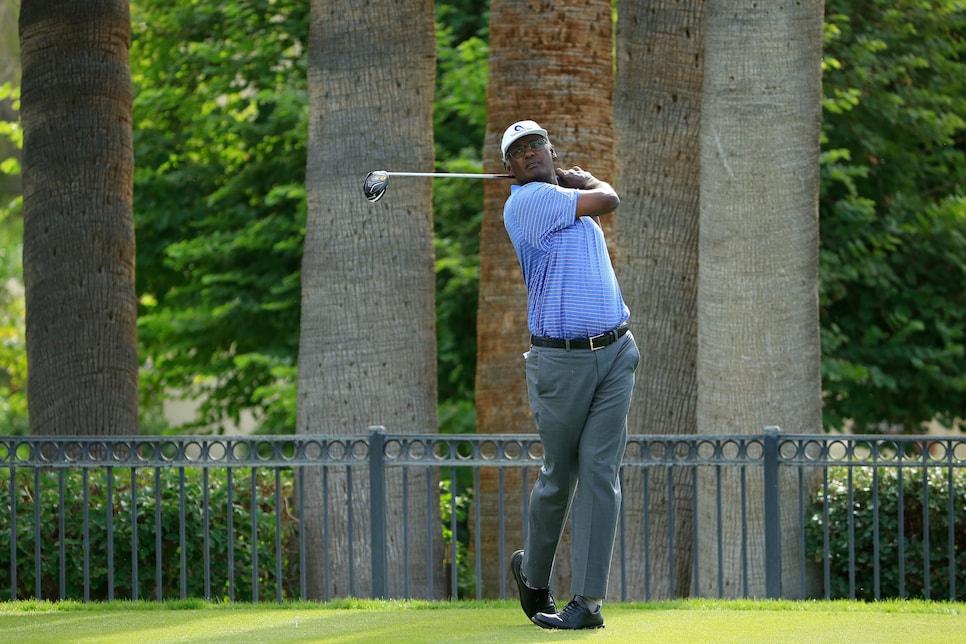 Vijay wins for first Champions title
Vijay Singh is 55 now, not that you would know: the three-time major winner still makes regular appearances on the PGA Tour. Which could explain why, in six seasons of eligibility, Singh has yet to claim a victory on the PGA Tour Champions. That is, until Sunday.
Thanks to a birdie on the final hole at Newport Beach C.C., Singh posted a five-under 66 for a one-shot Toshiba Classic victory over Tommy Tolles, Tom Pernice Jr. and Scott McCarron.
"Every time I tee up here I put so much pressure on me that I have to win," Singh said. "It's kind of the wrong way to approach it. Like this week, I just went out there, just play and enjoy it. If you win you win. If you don't there's always next week."
Though Singh has 34 PGA Tour career wins, it was the first time he's won an official event since 2008. Singh said afterwards that, while he sees himself gravitating towards the seniors as the summer goes on, he still plans on making outings to the PGA Tour. We're sure that's no way impacted by the success Tiger and Phil are enjoying.