The Loop
Tiger Woods' hype train picks up steam, Pat Perez's Thanksgiving cooking disaster, and Meghan Markle's connection to golf
Welcome to another edition of The Grind, where we'd be lying if we said our heart didn't skip a beat when we saw Tiger Woods trending on Twitter the Friday after Thanksgiving. On that day eight years prior, Tiger and a green-topped fire hydrant teamed up to wreck Woods' car -- and my weekend. But this time, thankfully, it was just Woods playing golf with an orange-topped President. No biggie. Tiger played with Donald Trump last year. Well, Mac Daddy Santa did, that is.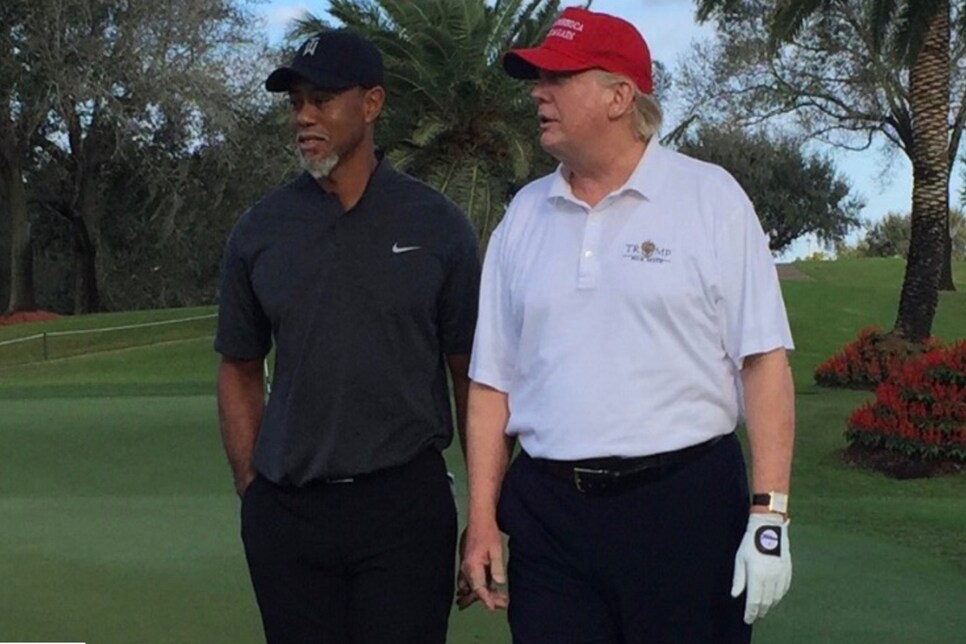 Of course, the most important news from last week's Tiger-Trump-Dustin Johnson pairing came from the fourth member of the group, Brad Faxon. The eight-time PGA Tour winner gave a detailed scouting report of Woods' game and drew headlines himself for saying Tiger out drove DJ on half the holes. Oh, baby. In other words, the Tiger Hype Train is full steam ahead as we approach this week's Hero World Challenge. And it's going to take a lot more than a little fire hydrant to stop it.
Wade Ormsby: It took 264 starts, but this 37-year-old Aussie finally won his first European Tour title at the UBS Hong Kong Open. And the journeyman tour pro certainly looks like he made the most of it:
Cameron Davis: It took a lot less time for this Aussie to pick up his first win on a major tour. Despite only being ranked No. 1,494 in the world (Hey, he's ranked even below Tiger at 1,199!), the 22-year-old held off a group of PGA Tour winners to claim the Australian Open. Just as impressive is his ambidextrous warm-up routine:
Tiger hype: It was one thing for Ian Baker-Finch to say Tiger looked good from afar last month, but now the 14-time major champ has gotten endorsements from Rickie Fowler, Dustin Johnson, Justin Thomas and Patrick Reed in addition to Faxon's rave review. I promised myself I wouldn't get sucked in again, but. . . it sounds like Tiger is back, back, backity-back!
Meghan Markle: Congrats to the actress on getting engaged to a real-life prince, but to golf fans she'll always be that girl Rory McIlroy dumped a bucket of ice on:
Jason Day: Talk about a lost year on the golf course. The Aussie looked like he'd finally snare that elusive victory in 2017 after grabbing the 54-hole lead at the Australian Open, but he faded with a final-round 74.
Bono: The U2 frontman had some interesting disturbing things to say about golf in an interview with the Irish Mirror. "I asked if she wanted me to play golf, but then we made a pact never to play golf because both of our parents played golf."​ Ouch. Then he added this: "The only thing you can be fired for from U2 is playing golf." To The Edge and the rest of the band, we're pretty sure you can file a discrimination lawsuit for that kind of policy.
Kitchen disasters: Did you cook on Thanksgiving? Well, things probably went smoother for you in the kitchen than they did for Pat Perez and his wife.
Hope the sides were good.
Snakes in a garage: This video from former NHL star Jeremy Roenick is both impressive and horrifying:
Of course, we'd expect nothing less from Roenick, who once tried to tackle a gator on the golf course. This is a nutty/brave dude. If I found a snake in the garage, I'd probably burn the entire place to the ground to make sure it was safe.
For the second consecutive year, the Hero World Challenge has broken the record for the most anticipated December golf event ever. Tournament host Tiger Woods is making another long-awaited return and NBC/Golf Channel executives are doing back flips. Tiger Woods, however, has definitely been advised to not do back flips.
Random tournament fact: Woods has earned $2,320 per shot hit at this event in 15 starts. That's even more than what he's averaged for his entire career ($1,282). Imagine making $1,200 for every shot you hit? Crazy, right? Now imagine actually making about 15 times that when you factor in Woods' off-course earnings. #GOAT
RANDOM PROP BETS OF THE WEEK
-- Tiger Woods will win this week: 45-to-1 odds
-- Tiger Woods will withdraw this week: 3-to-1 odds
-- We will all overreact no matter what Tiger Woods does: LOCK
Check out this old pic of Augusta National's 12th hole:
I'm amazed that place let that unsightly chain-link fence stand for that long.
To Instagram handle MacDaddy36, well done. This is hysterical. Especially Justin Thomas' face as Tiger Woods comes for his throne.
VIRAL VIDEO OF THE WEEK (TRICK SHOT DIVISION)
Check out this incredible "Putter Stinger":
Even Tiger himself would be impressed.
"He has nothing else to prove," Reed said. "People are putting all these expectations on him. Is he gonna come back? Is he gonna play well? Who cares? We're just glad to have him back. We all want a healthy Tiger." -- Patrick Reed.
Amen, Patrick. But it would still be nice if he played well. . . "If [he] stays healthy ... I wouldn't be surprised if he came back and started winning a lot of tournaments again. If he stays healthy." That's better! Woo!
THIS WEEK IN DUSTIN JOHNSON-PAULINA GRETZKY PUBLIC DISPLAYS OF AFFECTION
Paulina didn't even wait until Thanksgiving dinner was over to put up her Christmas tree and decorations: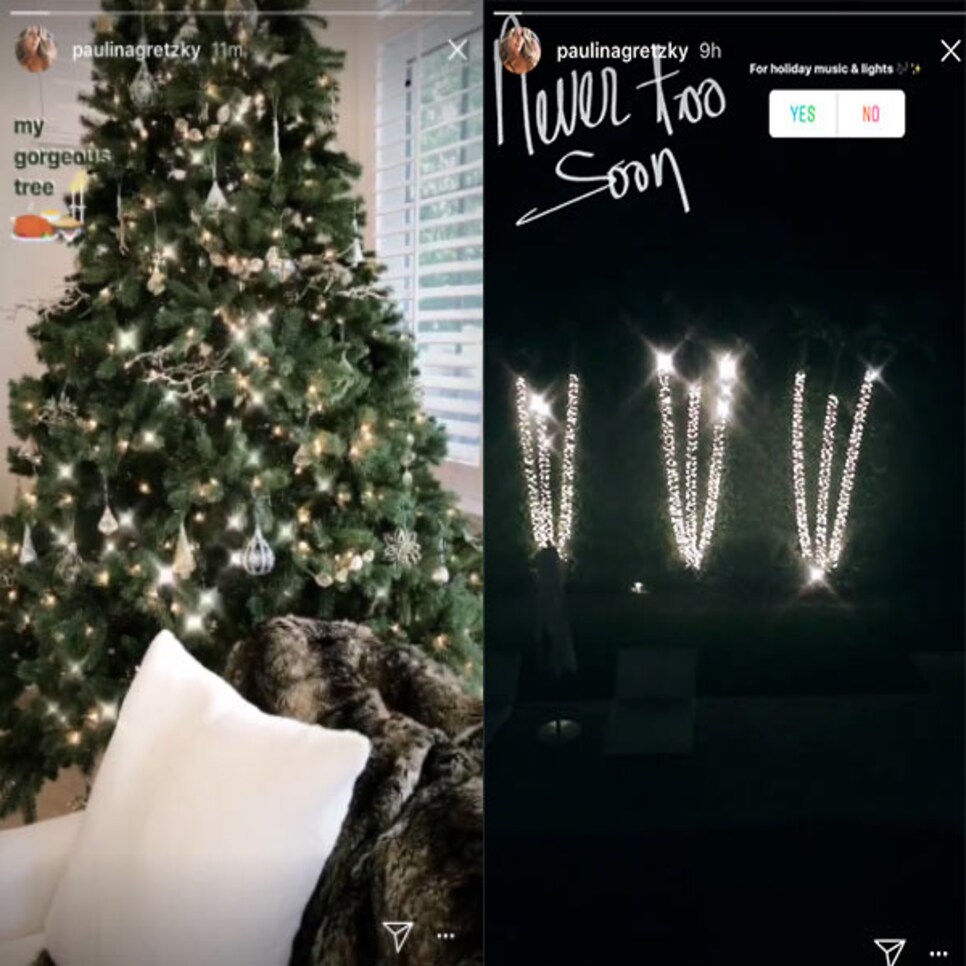 I always thought you should wait until at least December for that stuff, but I guess if it's good by Paulina, it's good by me. Just don't tell my wife. I'm not ready to go up to the attic just yet.
THIS WEEK IN BELEN MOZO NATALIE GULBIS POSTING BIKINI PICS
THIS WEEK IN GARY PLAYER DANCING
Reminder: This man is 82.
Miguel Angel Jimenez shot a Sunday 63 to finish sixth in the European Tour's opening event. Not bad for someone who turns 54 in about a month. . . . Michelle Wie started a foodie Instagram account called "whatdowieeat" (get it?):
Mmm. That looks good. . . . . And finally, Michael Jordan recently wore this outfit on the golf course.
We hope Michael Jordan will NOT be starting a golf style Instagram account anytime soon.
RANDOM QUESTIONS TO PONDER
Is Cameron the most popular name for boys in Australia?
Is this the best season of "Curb Your Enthusiasm" ever?
Is there any way this Tiger comeback has a happy ending? (Please?)