News
Tiger Woods hopes a few days away, and maybe a new putter, can recharge his short game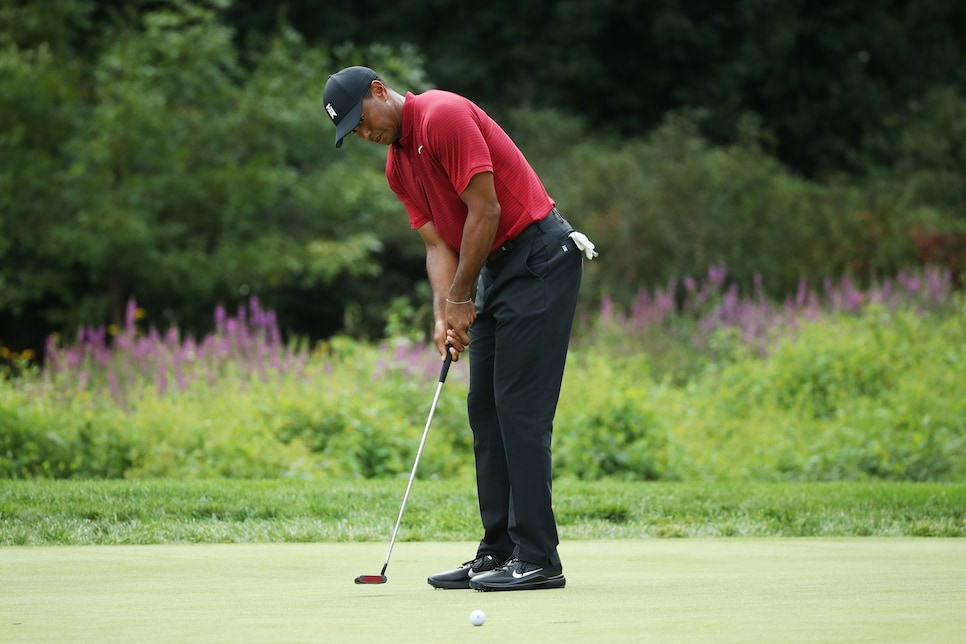 Gregory Shamus/Getty Images
NORTON, Mass. — Tiger Woods has been busy since flaming out at last week's Northern Trust, where he endured an abysmal four days with the putter and was never in contention in the opening leg of the PGA Tour's FedEx Cup Playoffs. Just not the way you might think.
"I've just been with the kids, doing all their after-school curriculum and all those activities," he said Thursday from TPC Boston. "So I really haven't done much golf."
Such is the life of a parent of two little ones, not to mention a 42-year-old who has undergone four back surgeries and is in the midst of playing more golf than at any time in the last six years.
This week's Dell Technologies Championship, a tournament Woods won in another lifetime—2006—marks his 16th start of the year and more notably comes in the middle of the busiest part of the season. Presuming Woods qualifies for the season-ending Tour Championship (a near certainty) and is picked for the U.S. Ryder Cup team (a bet-the-mortgage lock) he will have made seven starts in a 10-week span, including five in six weeks.
In a vacuum, that's not an overly taxing regimen. Except you have to consider that in the last four years Woods has made a combined 24 starts, including just three last year and one in 2016. This part of the season, with two majors, a World Golf Championship, four Playoff events and a Ryder Cup jammed into a short window, is also as much of a grind mentally as it is physically, even for Woods.
"The hardest part is I didn't have any inkling of what this year might be," he said. "Normally if I have a good off-season or a good practice or feel healthy, I can reasonably expect what might happen the following year. This year was a complete unknown. I didn't know if I was going to play. I didn't know how many events I was going to play. What swing I was going to use. I didn't know any of these things. And [there were] a lot of adjustments on the fly."
Among those tweaks were ones to his driver and now it appears to his putter, with Woods practicing on Thursday with a TaylorMade TP Juno. The anser-style putter was overnighted to him on Wednesday, and more reminiscent of the Scotty Cameron he used to win 13 majors before swapping it out for a TaylorMade mallet putter in July.
That original change at the QuickenLoans National produced positive results: three top-six finishes over his next five starts. Then came last week.
Woods ranked 79th out of the 80 players who made the cut in strokes gained/putting. He took 120 putts for the week, including an abysmal 35 during the third round, and ranked 68th in total putts as well as ranking dead last in distance of putts made, having converted a measly three putts from outside 10 feet all week.
All of which led to what he actually did work on, golf-wise, between last week and this week, with an extra day off because of the usual Friday start and Monday finish at TPC Boston, along with the addition of the more traditional blade of the Juno to the bag on Thursday.
"I putted a little bit," Woods conceded of his work at home. "Not a lot. More than anything was just getting rest, doing my lifts."
At this point in the year, that matters as much as anything.