The Loop
Holes in his game remain, but Woods is good enough to lead
SAN FRANCISCO -- To sum up: he started steadily enough and finished with a nice wee par save from the front bunker at the last. But the stuff in the middle was a bit of a mixture; some of it good, the rest, well, not so good. It all added up to a level par round of 70, though good enough to give Tiger Woods a share of the halfway lead in this 112th U.S Open.
Closer inspection of those brief and bald statistics uncovers what have become the usual questions, however. On the greens, Woods looks like nothing more than a man in his mid-30s, one once capable of extraordinary feats of putting, but who now has oh-so human doubts as to his current capabilities. And through those same greens, there were certainly hints that the 14-time major champion is, to use his own hackneyed phrase, "close."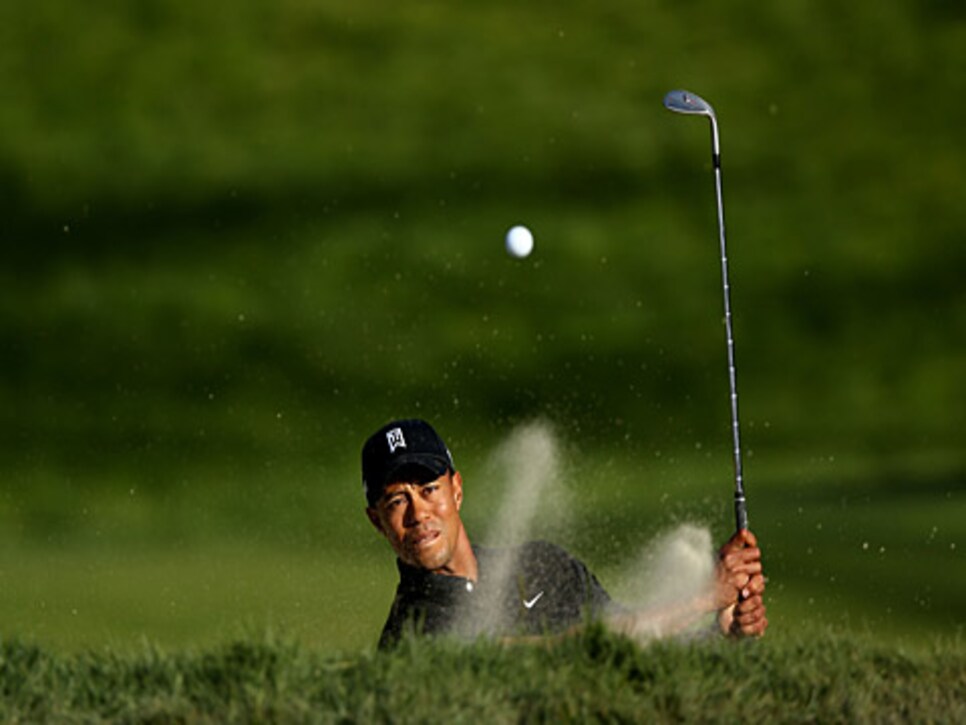 Tiger Woods saves par from the greenside bunker on 18 at Olympic on Friday. Photo by Ezra Shaw/Getty Images
On the other hand, Tiger's full swing only rarely lived up to its name. More than occasionally he relied on what cheerleading television commentators love to call "the stinger." In reality, that is nothing more than an old-fashioned punch shot, the swing restricted slightly on both sides of the ball. At times, in fact, it looked like Tiger was practicing for next month's Open Championship at Royal Lytham.
So it is that, ignoring for the moment the fact that no one has scored better over the first 36 holes at the Olympic Club, valid questions remain of the man who may just be the best golfer the world has yet seen. Is Tiger going to the stinger because he actually feels that is the best way to keep his ball on the severely-canted fairways? Or does he, even after so many months under the tutelage of Sean Foley, remain reluctant to release the club fully through impact?
In other words, is he "steering" too many of his shots? When Woods did make a complete backswing and follow through -- which wasn't too often -- those full finishes more than once sent his ball into the sorts of heavily-grassed spots that must be avoided in the national championship.
Not that you would have gleaned any of that insight from Tiger's post-round press conference. Publicly at least, he is a man in complete control of his technique, his mind and his faculties. Asked if he was "trusting" his swing, he was quick to answer: "Absolutely."
"The two best swings I've made all week ended up in just terrible spots," he continued. "I 'flagged' it there at six today. It was a beautiful little soft 4-iron from about 230. I took something off of it and held it up against wind. It was right at the pin but hopped left. If it goes in the bunker it's an easy up-and-down, if not holing it. But all of a sudden I've got no lie and I'm struggling to make bogey.
"Then I hit just another beautiful soft 4-iron up in the air on 17. I thought I threw it up high enough to land it soft enough but evidently it didn't. I ended up down the bank in a spot where it's tough to get close."
Still, if Woods is to creep within three of Jack Nicklaus' all-time record of 18 major championship victories, his work on the greens will have to improve over the upcoming weekend. On the evidence of this round, he is less than sure of himself over the short ones. The "dribbler" he missed for par on the fifth green was but one example of the at least occasional indecision that clearly lurks within the Woods' psyche. So were the three putts from little more than six feet two holes later. As ever though, he had an explanation for all of the above.
"It was a different golf course today," he reflected. "We had moisture on the greens and fairways yesterday. They were fast. But at least we had little bit of moisture in there.
"But today there was none. The greens were getting crusty enough where the ball was wiggling if you were coming down the hill. So you try to leave yourself below the hole. But it's really hard to do that when the surfaces are so springy."
All in all then, it would be churlish in the extreme not to acknowledge the startling difference in Woods' play since the Players last month. At Sawgrass he was a man searching in the dark. Here at Olympic Club his sun is peeping over the horizon. The next two days will tell us if it continues to rise to former heights.