The Loop
Tiger Woods has "no timetable" for a return and 7 other things we learned from his (mostly sad) press conference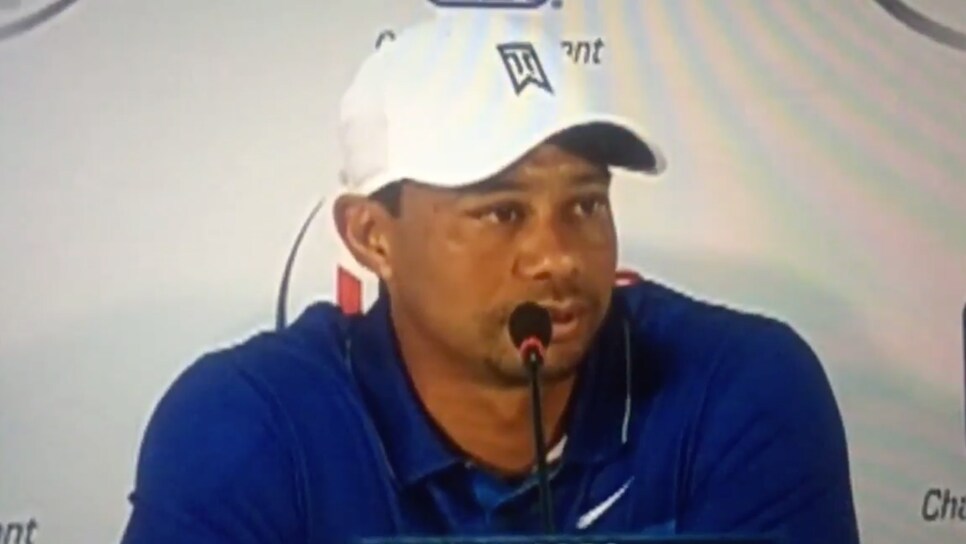 On Tuesday, Tiger Woods had his first press conference since undergoing a second surgery on his back in the off-season. Woods answered a number of questions about his current status, and if you're a big fan, his answers probably weren't what you wanted to hear. Here's a summary of what we learned from a presser that was downright depressing at times:
1) He has no clue when he'll play golf again.
"I don't have an answer as to when I will be back. I have nothing to look forward to. There is no timetable."
Woods was also asked if he'd be surprised if a year from now he still hadn't returned. "I don't know." Wow.
2) But he is doing a lot of walking.
Woods said he hasn't even started rehab yet. When asked about his functionality, he replied: "I walk. I walk, and I walk some more."
3) And playing a lot of video games.
"I'm really good at video games. That's how I pass a lot of my time." We hope for Woods' sake whoever the governing body of video game competitions is still counts scores recorded as a solo player.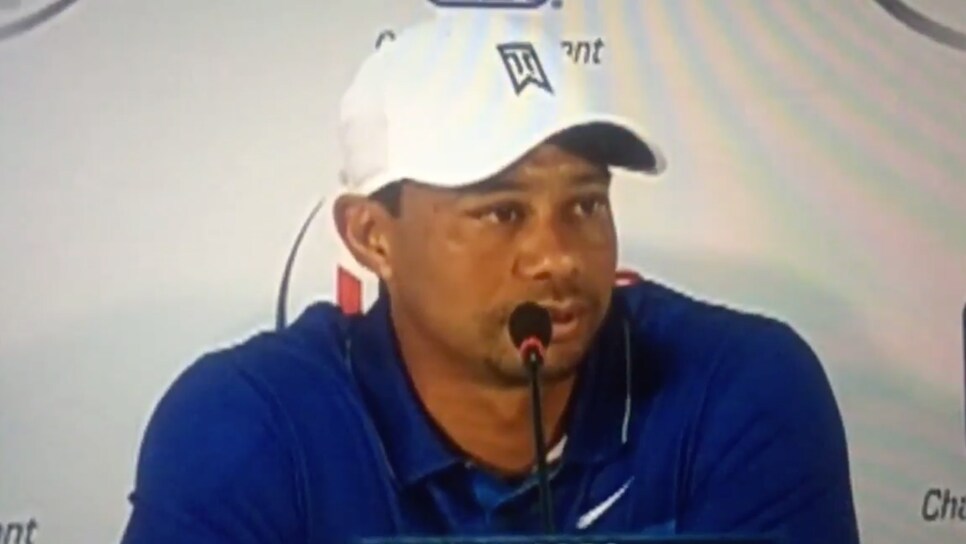 4) All three surgeries were on the same spot.
Tiger confirmed he's had three microdiscectomies on the same spot in his back. However, he said the two most recent procedures surprised him because he thought the discomfort he was feeling was in his hip.
5) He's really excited about the Ryder Cup.
About being an assistant captain at the Ryder Cup, that is. Woods didn't sound too confident about playing at Hazeltine next fall.
"I certainly feel like I can help . . . to be picked to be an assistant captain by Davis is truly an honor."
6) Chris Como is still his coach.
Tiger said his Wyndham Championship performance in August was his most enjoyable week of the season, since he was finally able to see some of the things he's been working on with Como come together. But Woods said his last time swinging a golf club was a one-handed chip shot he hit lefty about two months ago, so he hasn't been able to work on any of those things since. Unless, that's one of Como's drills.
7) He's not retiring. . . yet.
Tiger said he still has "the drive," but also that "the body can only take so many jumps." OK, so that last quote was in reference to Kobe Bryant announcing his retirement from basketball, but it also applies to the 14-time major champion, who will turn 40 at the end of this month.
8) He's happy with his career.
"I think everything beyond this will be gravy."
"If that's all it entails, then I've had a pretty good run."
Oh boy. That doesn't sound too promising.
Here's a sample of how people reacted to Woods' mostly somber presser: