The Loop
Tiger Woods has his tooth fixed, but what about his game?
SCOTTSDALE, Ariz. — Tiger Woods can smile again, though whether his golf game will allow him to do so won't be known until later in the week.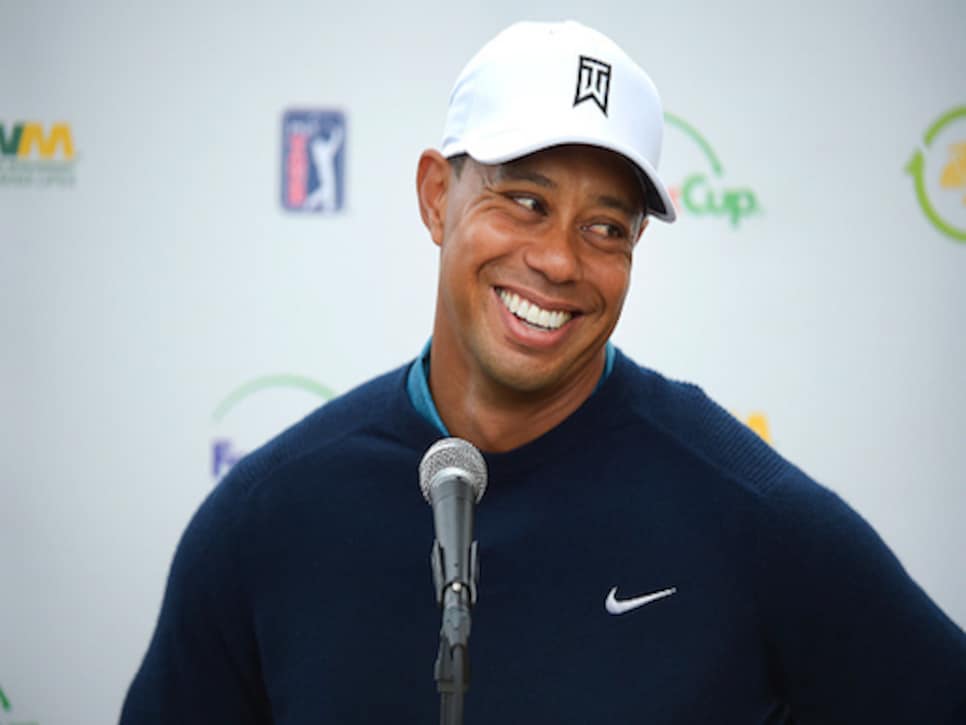 Woods made his first public appearance Tuesday morning at the TPC Scottsdale, site of the Waste Management Phoenix Open this week, and the tooth that went mysteriously missing in Italy recently has been replaced. Only the story of how it happened is unchanged.
It occurred in the media melee after girlfriend Lindsey Vonn set the all-time record for World Cup ski victories.
"I had my mask on so no one knew who I was," he said. "That was the whole idea of the mask. I was looking down and all the camera guys were below me on their knees trying to get a picture [of Vonn]. Dude with a video camera on his shoulder, right in front of me, stood up and turned and caught me square on the mouth."
Woods said the camera chipped on tooth and cracked a second tooth. "I'm trying to keep this thing so the blood is not all over the place," he said. He was fortunate that the chipped tooth was the one on which he had had a root canal, he said.
Whether his answer is a satisfactory one apparently is open to debate.
"So many people are not believing your story," he was asked.
"Dude, you guys, it's just the way the media is. It is what it is," he said.
And that's that. Whether he has restored the teeth to his golf game in the wake of back surgery last year is another matter and a question that won't be resolved until he tests it in competition.
He last played in his own tournament in December, when he finished 17th in an 18-player field and battled chipping issues. He also was fighting a flu virus, he said, that plagued him for three weeks afterwards.
"I lost a lot more weight," he said, "but I was finally able to start gaining weight again and started training. I started practicing with Chris (Como, his new instructor). We've done some really good work. We have a game plan we need to get to. We're ahead of schedule on each stage of the game plan. That's a good sign.
"Overall I'm very pleased to go out there and hit shots. As you saw, I'm cranking up speed. The speed's coming back up. It's going to be a fun year. Chipping, I was caught between techniques, between my old release pattern and body movement, when I was working with Sean [Foley, his former instructor], and my new release pattern. We had to basically just hit thousands upon thousands upon thousands of chips and just get it out of there. Now it's better."
He has made the quickest progress with his driver. "I'm a lot longer than I thought I ever could be again," he said. "My speed is way back up and that's fun. I'm touching number that I did 15 years ago, so that's cool."