The Loop
Recalling that time Gary McCord was banned from the Masters (Oh, and Tiger Woods won his first of three straight U.S. Amateurs)
Twenty years ago, two noteworthy golf-related events overlapped. CBS announcer Gary McCord was banned from covering the Masters and Tiger Woods won his first of three straight U.S. Amateurs. The two shared the spotlight (sort of) on the September 2, 1994 cover of Golf World: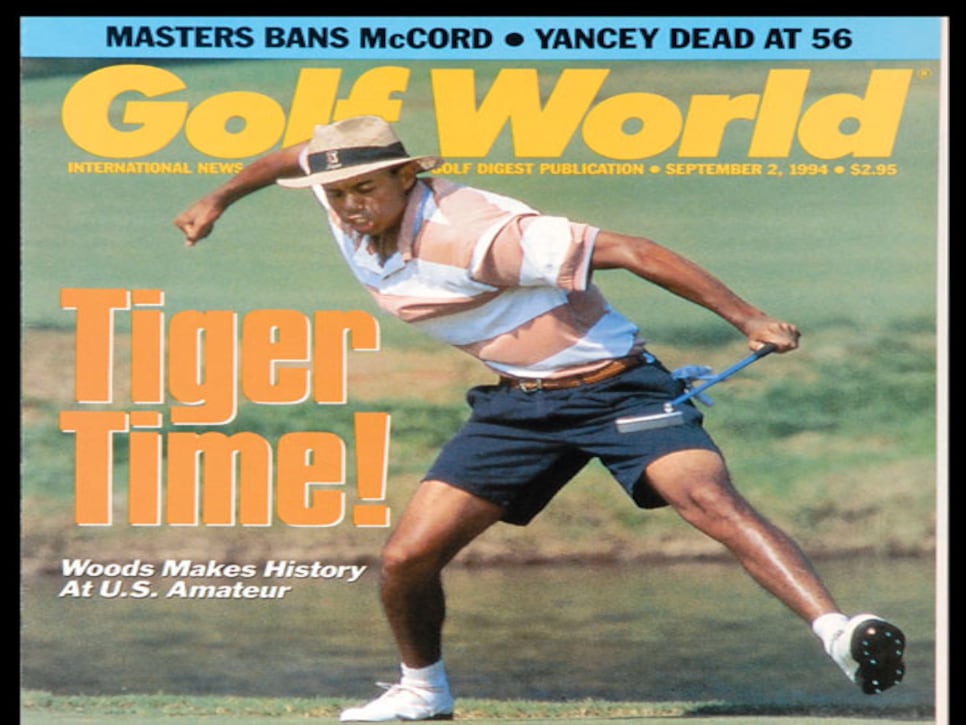 Both were important for different reasons. We'll start with Woods, who made a lot of history that week at TPC Sawgrass. The 18-year-old Californian became the youngest winner of the U.S. Amateur as well as the first golfer to win the tournament in addition to winning the U.S. Junior.
Woods also made the biggest comeback in the history of the event, rallying from six down in the final match to Trip Kuehne. In the cover photo, Woods reacts to making a 14-foot birdie putt on TPC Sawgrass' famed 17th hole -- the 35th hole of the match -- to take his first lead of the day.
The thrilling victory gave Woods his first of three straight U.S. Amateurs (he won three straight U.S. Juniors from 1991-1993), an accomplishment that might trump anything he's done as a pro. But Woods nearly didn't have a chance to make that putt when his tee shot on the island green landed about a foot from the water, but spun back to stay dry.
"That was divine intervention," said Ernie Kuene, Trip's dad and caddie, in Brett Avery's story for the magazine. "And (Tiger's) had it for three years."
Whatever you want to call it, it's fair to say Woods had a better week than McCord. In that same issue, Golf World reported CBS confirmed the broadcaster would not be allowed to participate in the following year's Masters telecast. No one at Augusta National commented in the story, but Susan Kerr, then CBS director of programming, said the network's decision was made because Masters officials "were not comfortable with his style."
The reported quotes that got McCord in trouble? Saying "there are some body bags down there if that keeps going," when a ball was rolling toward a water hazard, and joking that "bikini wax" is used to make Augusta National's greens so slick. The incident seems minor, but it was another example of the immense power the club wields. Two decades later, CBS still televises the Masters, but McCord, still an otherwise vital part of the network's golf broadcasts, remains banned from being part of the coverage.
"There's no going back in time. That's who I am. That's what I did," McCord said in an interview with USA Today last year.
There's no going back in time for Tiger, either -- but it's fun to look back. Draining a clutch putt to win a huge tournament? That's who he was. That's what he did. Twenty years later, it's just as impressive.