News
Tiger Woods, Ernie Els named Presidents Cup captains, one of whom is interested in being a playing captain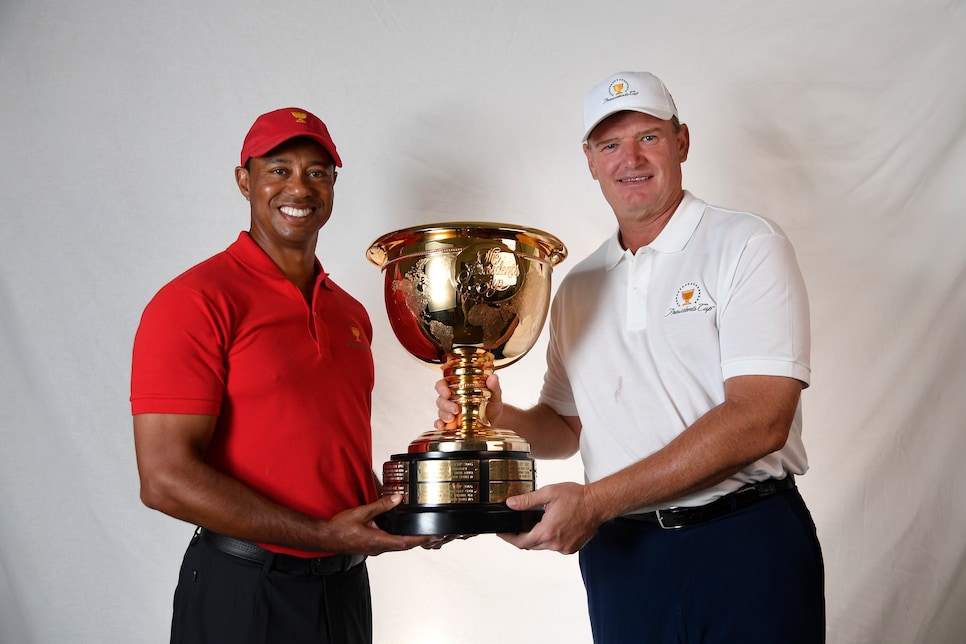 ORLANDO, Fla. – A wild-card pick by captain Fred Couples in the 2011 Presidents Cup, Tiger Woods validated his inclusion on the U.S. team by capturing the clinching point at Royal Melbourne Golf Club in Australia.
He could well find himself with an opportunity to reprise that moment when the Presidents Cup returns to Royal Melbourne next December. If he doesn't qualify for the American squad on points, he'd have to engage in a serious conversation with the captain being one of four picks. And he'd prefer to avoid that.
"I would like to get to a point where I'm playing well enough where I could make the team on points," Woods said. "I wouldn't want to have the conversation and go, 'Self.' I don't really want to have that conversation, so let's just see how it progresses."
That intriguing scenario – and one he could envision only in his most optimistic aspirations – could present itself to the former World No. 1 player after he and Ernie Els were introduced officially Tuesday at Bay Hill Club as the Presidents Cup captains for the 13th edition of the biennial matches.
The youngest captain in the event's history, Woods, 42, subtly lobbied PGA Tour commissioner Jay Monahan for the position after America swept to its 10th win in October at Liberty National Golf Club. That was at a time when he was uncertain of his competitive future after undergoing spinal fusion surgery last February.
But Woods' comeback, which continues this week at the Arnold Palmer Invitational, has gone exceedingly well, capped thus far by his tie for second place last week at the Valspar Championship in nearby Palm Harbor, Fla. While the 2019 Presidents Cup isn't until Dec. 12-15, Woods already has to address the prospect of becoming only the second playing captain after Hale Irwin pulled double duty in the inaugural edition in 1994.
He knew it was possible, and he addressed it with Monahan when he began talking to the commissioner about the role after serving as an assistant captain to Davis Love III in the 2016 Ryder Cup and to Steve Stricker in last year's Presidents Cup. He also will serve as an assistant captain to Jim Furyk in the Ryder Cup this fall in Paris.
"It was just a natural progression to one day become captain," said Woods, the 14-time major champion, who will be just a few weeks shy of 44 when the matches conclude in Australia.
"Hale did it in the first year. And I know it was the first year, the inaugural event, but he still did it. So, I just wondered if that was an opportunity and he [Monahan] said that there's nothing in the bylaws that say that I can't do it," said Woods, who has competed in eight Presidents Cups for the U.S. and scored the clinching point in 2009, '11 and '13. "It's going to be dependent on myself, my assistants and the players, if I happen to get to that point. That's a bridge that's a long way away from now to be crossing, but if it does come to that point, it won't just be just my decision, it will be a collaborative effort, what is best for the team."
Irwin was ranked 28th in the world and qualified automatically for the U.S. team by finishing seventh in the points standings, when he played for the U.S. He won two of his three matches at Robert Trent Jones Golf Club in Virginia, including a 1-up singles victory over Robert Allenby of Australia. Paul Azinger handled the captain's duties when Irwin played.
It will be more difficult for Woods to qualify on points. A change to the qualifying process was announced Tuesday with an increase in captain's picks, from two to four, for each team in filling out the 12-man squads. Qualifying will end after the Tour Championship scheduled for early September, 2019, with automatic berths going to the top eight Americans on the points list and the top eight International players in the world rankings.
While Woods is a surprise selection – he didn't even consider himself a candidate until nudged by Love, Stricker and others – Els was a logical successor to Nick Price as the International Team captain after serving as an assistant last year. A four-time major champion, Els, 48, has competed eight times in the event, but his only winning experience came in the 1998 matches at Royal Melbourne.
The Big Easy doesn't believe he'll find himself in the same quandary as Woods. "No, I think I'm going to be captaining," he said flatly.
The selection of Woods and Els brings a third dynamic pairing of captains to the Presidents Cup after Jack Nicklaus and Gary Player of South Africa each served four times and Fred Couples and Greg Norman of Australia squared off twice. But Woods and Els bring a new dimension of relative youth and competitiveness.
"I think it's a huge impact," Monahan said of the pair. "And I think it's a huge impact because for two reasons, one, they're going to bring the world at large to the Presidents Cup as they have done every time that they're competing on a global stage. And in doing so they're likely going to be bringing forward future stars."
Of course, Woods and Els share a special Presidents Cup bond. When the 2003 competition in Fancourt, South Africa, ended in a tie, Nicklaus selected Woods and Player picked Els to compete in a sudden-death playoff. The pair went a nerve-fraying three holes, the last in near darkness, before Nicklaus and Player decided to end the playoff and share the cup rather than have the duel continue the next morning.
"We were talking about that then and there that night for a very long period of time with certain libations," Woods said, "and we couldn't believe the amount of pressure we felt. We both had won major championships, but nothing felt like that."