The Loop
Woods sticks to conservative game plan, but ends with a bang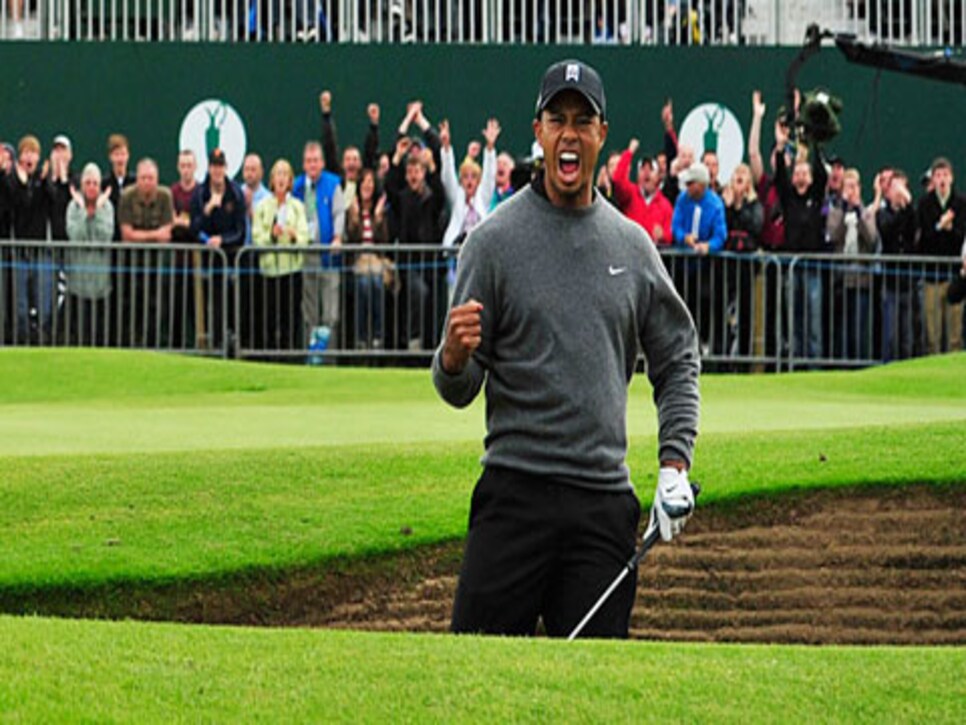 Photo: Glyn Kirk/Getty Images
LYTHAM ST. ANNES, England -- Tiger Woods, to use his words, is "right there in the mix" after 36 holes of another major championship.
The question is, how will the cake turn out this time?
Following another day of conservative, calculating golf -- he hit one driver Friday after using it twice Thursday -- that ended with a bang, a holed bunker shot for a birdie on the 18th hole, Woods is in strong position to contend for his 15th professional major title.
With rounds of 67-67, Woods is at six-under 134 in third place, trailing non-major winners Brandt Snedeker (10 under) and Adam Scott (nine under) midway through the 141st British Open at Royal Lytham & St. Annes.
It is a strikingly similar spot to the one Woods occupied in last month's U.S. Open at Olympic Club, where he shared the 36-hole lead. Woods' play was uneven over the closing two rounds there, however, and he shot 75-73 to finish T-21.
As at Olympic, Woods' play has been solid to the halfway point. His only trouble Friday came on the par-5 11th, where his 4-iron tee shot went in the rough and led to his lone bogey of the round. With the exception of a driver on No. 2 and a 3-wood on the third hole, Woods wore out his long irons getting the ball in play -- a strategy reminiscent of his approach during his 2006 Open triumph at Hoylake.
"I figured I had a game plan I thought would fit well on this golf course, and I figured I could execute it," Woods said. "And I've done that so far. It's just patience on a course like this. I'm hitting the ball in the fairway, and that's the thing around this course you just have to do. You can't control it out of the rough. And obviously the pot bunkers -- you can't do anything but come out sideways."
After missing the 18th green with his approach, Woods deftly executed his 30-foot sand shot, his task helped by being on a slight upslope that allowed him to more easily clear the steep face. "I just threw it up there, and I played about a cup outside the left and it landed on my spot and rolled to the right," Woods said.
It was a consummate Woods' spectacular, indicative of the type of short game that has buoyed him so well throughout his career but that was somewhat lacking at Olympic, where he struggled to save pars from greenside bunkers.
Does the dramatic hole-out signal that his scrambling karma in the majors, when it's needed, will be like old times over the weekend at Lytham? That plot will unfold over the next two days, but for the first two he has followed an old, successful recipe.
"Overall, I'm very pleased with where I'm at," said Woods, perhaps aware that he has never won a major when outside the top five at the midway point. If he somehow finds a way to be leading the Open on Saturday night that would be good news for him, too, because he has never won a major coming from behind after 54 holes.
The golfer who has achieved so many firsts could of course come up with another, but Saturday will still be a big day for a man who has enjoyed so many of them.