The Loop
Tiger Woods doesn't seem to be Merion's biggest fan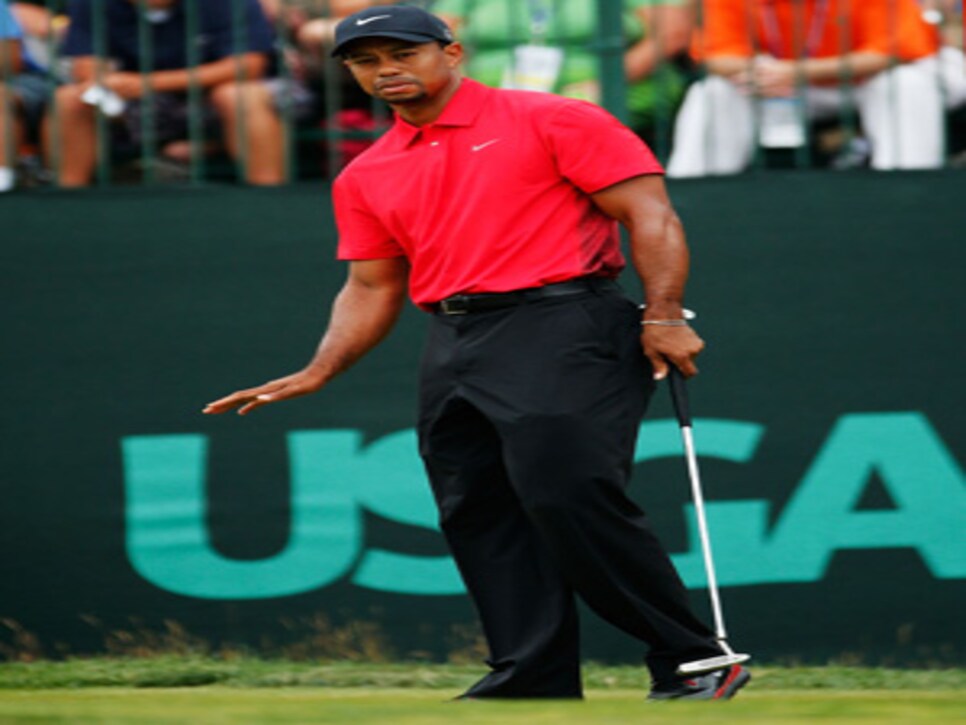 Tiger Woods made a bit of history at Merion this week -- just not the type of history he had hoped for. Rounds of 76 and 74 over the weekend left the World No. 1 at 13 over for the U.S. Open, the worst score in relation to par he's ever had as a pro at a major championship.
Not surprisingly, Woods' appraisal of his golf game following his round on Sunday wasn't great. His feelings about Merion and the way the USGA set the course up was lukewarm as well.
"It played tricky," said Woods, who only hit six fairways in the final round. "The rough was up. They were raking the rough up every morning into the grain.  And the pins were really tough."
When asked if he'd like to see Merion host another U.S. Open, Woods gave this non-comittal response:
"I'm sure it will come back. Obviously there are some vendors that are going to make more money with hospitality and that nature.  But I think that overall as a golf course, yes, it can be played," said Woods, who doesn't have to worry about this tournament coming back until at least 2021. "They moved the tees back, and they give us some pretty tough pins this week. But certainly as a golf course wise, it could definitely host another major championship. But I don't know if USGA wants to -- they make a lot of money on other venues."
Ah, yes. Back to talking about what the USGA wants to do. After a particularly difficult Sunday, Woods was pretty candid on that topic.
"I can understand what Mike and his staff are doing, because it's soft out there. And trying to protect par, even though they say they don't," Woods said. "The hard holes played really, really hard. And obviously the short holes we could get after it a little bit. But some of these pins, they were a step over some of the lumps.  And that's a little bit tighter than we were all expecting going into the week."
Woods will try to put this week behind him before his next tournament, the AT&T National at the end of the month. His next chance to end his five-year drought in major championships will come at next month's Open Championship at Muirfield.
"There's always a lesson to be learned in every tournament whether you win or lose," he said. "I'll look back at the things I did right and the things I did wrong."