News
Tiger Woods: 'Genie out of the bag' when it comes to scaling back distance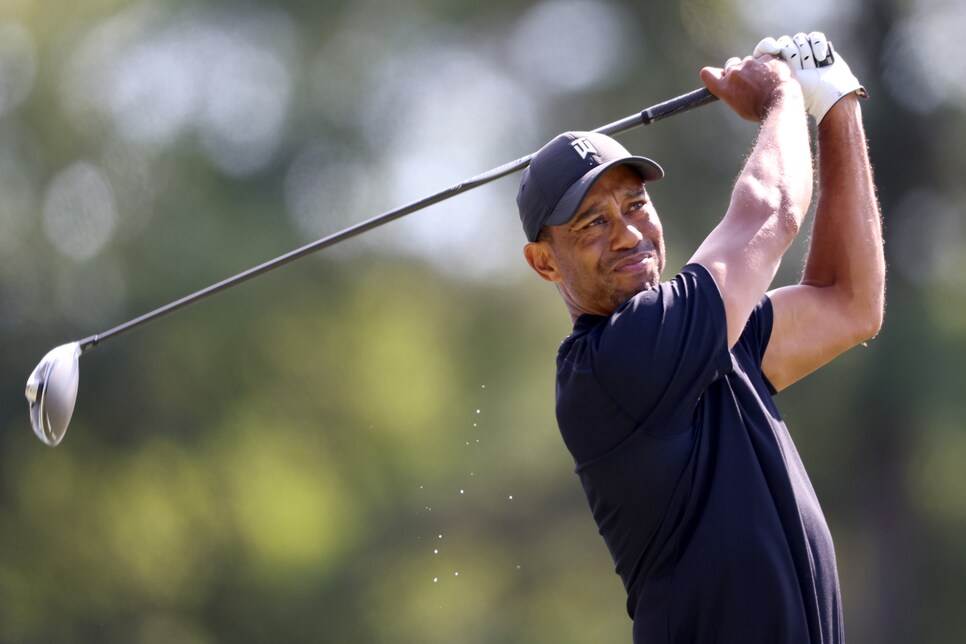 Tiger Woods says numerous factors have contributed to growing distance gains in the modern game.
Rob Carr
THOUSAND OAKS, Calif. — Tiger Woods' U.S. Open ended with a missed cut on Friday afternoon, but it was the events of that weekend that triggered vehement debate in the golf world. And, for once, it had nothing to do with Tiger.
It was exactly one month ago that Bryson DeChambeau put the finishing touches on a dominant performance at Winged Foot, where he blasted driver after driver en route to a six-shot victory. DeChambeau hit 23 of 56 fairways that week—slightly better than the field average—and just nine of 28 in the final two rounds, which is supposed to be a death sentence in the USGA's signature championship. But DeChambeau—thanks to his new, 40-pounds-heavier body—was able to muscle his way out of Winged Foot's punishing rough all week, winning a U.S. Open like no one else has before.
The tournament felt like an inflection point in the ever-intensifying distance debate. That bomb-and-gouge won a U.S. Open at Winged Foot, one side posits, proves the essence of the game has been lost—that power now reigns supreme, that accuracy isn't as important as it used to be, and that the governing bodies need to do something about it. DeChambeau's success also has motivated other golfers to chase distance; both Rory McIlroy and Dustin Johnson posted videos to social media showing launch monitor readings of 190-plus mph ball speeds.
Simply put, distance is all the rage in golf. On Tuesday, ahead of his title defense at the Zozo Championship, Woods was asked about the phenomenon.
"Distance has always been an advantage," Woods said. "Now that we have the tools, that being the launch monitor, the fitting of the golf clubs, the adjustability, I think all that plays into the fact that you're able to maximize the capabilities of a driver. There's no reason why you can't pick up more yardage, and guys have done that. They've changed shafts, they've changed lofts, they've changed weights on their heads and length of clubs. Driving is such a huge part of the game, and it's so advantageous if you're able to get the ball out there. It just makes the game so much easier."
Woods was then asked if the game's governing bodies should be worried about the direction golf is heading.
"They should have been worried a long time ago, but the genie's out of the bag now. It's about what do we do going forward, and how soon can they do it. I don't know if they're going—you're not going to stop the guys who are there right now. Guys are figuring out how to carry the ball 320-plus yards, and it's not just a few of them. There's a lot of guys who can do it. That's where the game's going.
"There's only going to be a small amount of property that we can do, we can alter golf courses. I just don't see how they can roll everything back. I would like to be able to see that, as far as our game, but then we go back down the road of what do you bifurcate, at what level? So that's a long discussion we've had for a number of years, for 20-plus years now, and I think it's only going to continue."