News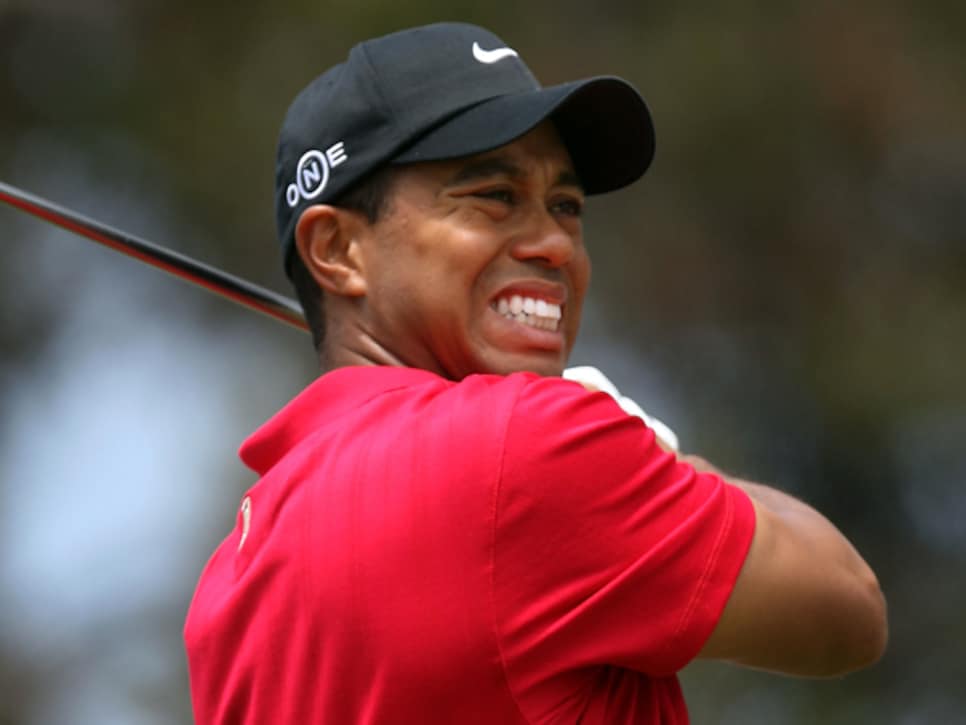 After undergoing back surgery March 31, Woods will be forced miss the Masters for the first time in his career. (Getty Images)
At his best a decade ago, nobody ever was better than Tiger Woods. At his best now, nobody is better. But at next week's Masters we will see neither History's Tiger nor Today's Tiger.
At age 38, after surgery to remove floating pieces of a disintegrating spinal disc, he will miss the Masters for the first time since he was a senior in high school.
The tournament will be the lesser for it. Woods is the game's most compelling character. For two decades, he has done things few players dared dream of let alone accomplish. There also remains for millions of golf fans the hope, inevitably fading with time and injury but not yet gone, that he can again be the player he once was.
Those fans now must wait for his return from the kind of surgery that no golfer wants to endure. The golf swing puts extraordinary pressure on a professional's entire body. Hands, wrists and knees may grow achingly numb from the wear and tear of repetitive motion. But the spinal column is especially vulnerable to the swing's twists and turns, perhaps never more so than in the millions of shots that Tiger Woods has hit on the range, in practice rounds and in competition.
I say that because, with no more science than what my eyes told me, I can't believe any player ever put more pressure on his back than Woods did. In 1997, when he won the first of his four Masters and did it so spectacularly that had he never won again he would yet have been a Masters legend, Woods was an athletic wonder. From the top of his swing to impact, Woods brought the club back to the ball with a spin of his hips done so quickly that he might have moved his belt buckle at, guessing a speed here, and being silly here, and maybe being right here - let's say his belt buckle turned at 110 miles per hour for the two feet of its travel back and around.
Is that even possible? I don't know. But that's what I saw, or, it happening so quickly, almost saw. I thought, "How long can he do THAT?" For 10 years? Or 10 minutes? Maybe those questions were in Dan Jenkins's mind when he wrote of Woods that only two things could derail the prodigy's rush to greatness: "A bad back and a bad marriage."
It's possible to play well with a bad back. Of the great ones, maybe Lee Trevino did it best. He was 35 and the winner of five major championships when struck by lightning in 1975. After the resulting back injury, he won nine PGA Tour events and the 1984 PGA Championship. On the senior tour, he won four majors, the last at age 53.
I say the Masters will be the lesser for Woods' absence, and it will be, because Woods, more than any player since Arnold Palmer, has created a fan base of people who'd otherwise have no interest in golf. What Palmer did with charisma, Woods did with virtuosity.
Before Woods had won any of his 14 majors, the veteran pro Mark O'Meara told me, "This kid hits shots I've never seen anyone hit." I was stunned. "You've played with Palmer, Nicklaus, Watson," I said, and O'Meara repeated himself, "This kids hits shots . . . " Turned out, of course, that O'Meara had seen what we would see for the next 20 years.
So, with Woods sitting uneasily on a couch somewhere, there'll be a feeling on the grounds at Augusta National Golf Club of not-quite-the-Masters. Along with those fans to whom Golf Without Tiger Might As Well Be Croquet, we can add to the list of disappointed people the executives at CBS who count on Woods as the dramatic center of its Masters programming every year. (I can see a split-screen now. Jim Nantz in Augusta, Tiger on his couch.)
If all those folks will be dismayed by Woods' absence, who, you may ask, will be happy to see him at home? Let's start with everyone else in the field, to name a few dozen players who come to Augusta knowing they won't have to beat Tiger Woods to win a green jacket.
Among those pleased we might add the Jack Nicklaus fans who have watched, with rising apprehension, Tiger's progress toward the Nicklaus record of 18 major championships. Back surgery at age 38 for a player who hasn't won a major in five years might be the final piece of evidence that he will finish somewhere short 18.
Short term, the surgery likely means this is a lost year for Woods, at least in the majors, the last of the four coming in August.
Long term, it is foolish to dismiss anyone who is ranked No. 1 in the world and won five times last season, especially if, not that long ago, he was History's Tiger.