The Loop
It could have been even better, but Woods content with solid start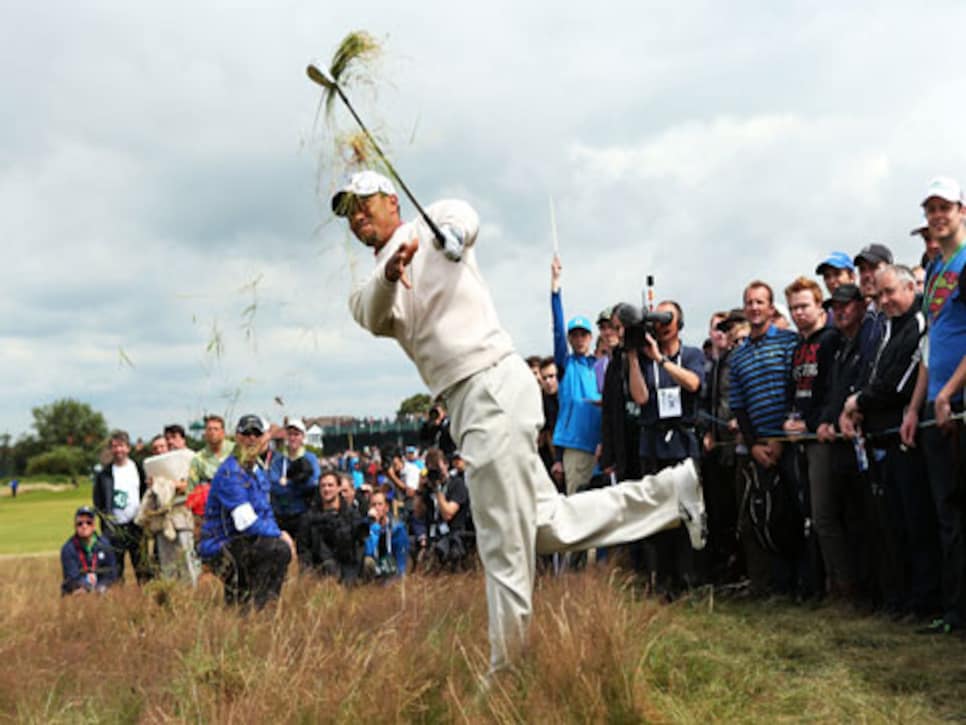 Photo: Andrew Redington/Getty Images
LYTHAM ST. ANNES, England -- If Tiger Woods was upset by squandering an opportunity Thursday at Royal Lytham & St. Annes, he certainly didn't show it. The 14-time major winner flashed a smile and joked with caddie Joe LaCava often over the final few holes, then playfully fired a ball at friend Robert Allenby in a practice bunker as he walked away from his post-round press conference. It was all evidence that Woods could live with an opening 67 in which he birdied four of his first seven holes, but then played one over the rest of the way.
"I got off to a positive start today," said Woods, whose last eight starts are comprised of three wins, two missed cuts, two T-40s and a T-21. "And as I said, we've got three more rounds. We've got a lot of golf to play."
Woods isn't the same player who started strong at both Pebble Beach and St. Andrews in 2000 and then cruised the rest of the way. But while he wasn't able to keep the early momentum going Thursday, it was another encouraging sign for a player who leads the tour in wins, and contended at least through two days at last month's U.S. Open.
"I hit the ball well all day. I was just lacking a little bit of pace on the greens coming home," said Woods, who trails Adam Scott by three shots. ". . . But every putt was right on my line, they were dying off the front of the lip. So I needed to hit the putts a little bit firmer."
Woods hit 13 of 14 fairways on Thursday, in part a byproduct of only hitting driver twice, but also due to a much-improved accuracy off the tee that has placed him near the top in the all-around driving statistic all season. This week, Woods' strategy is to do everything possible to avoid Royal Lytham's 205 bunkers and thick rough, but he doesn't plan to always sacrifice distance.
"Well, I'm playing to spots. So whatever the spots are," said Woods, a three-time winner of the claret jug. "And some holes depend. We've had two different winds here that I played. I played practice rounds on Sunday, Monday, Tuesday, and they were completely different clubs based on the winds. And I was just playing to my little sections and I had my game plan to those sections."
One place where that game plan seemed to backfire was on the 592-yard 11th, where Woods hit an iron off the tee and showed frustration when he didn't catch it cleanly. He was forced to lay up and could only manage a two-putt par from 30 feet on one of only two par fives at Royal Lytham.
His lone missed fairway came on No. 15 and led to his only bogey -- but it could have been much worse. From the thick stuff, Woods barely advanced his second shot with a full swing. Still playing from the tall grass, he somehow knocked his third shot onto the green and walked away with only a bogey.
"I was just trying to hit the ball 80 yards in the front. . . . Unfortunately it didn't grab just the hosel, it grabbed the shaft and just turned it down," Woods said.
Unpredictability is a big part of the British Open and no one knows that better than Woods, who was asked about the drier conditions predicted for the rest of the week.
"I think that's the forecast, but the forecast hasn't been right all week," Woods said before musing. "Nice job to have, huh?"
Predicting what Woods is going to do next isn't exactly a science anymore, either. Whether we see the good or the bad from him tomorrow, though, we at least know he'll be a big part of the story.