News
Tiger Woods closes with even-par 72, ties for 23rd in return to PGA Tour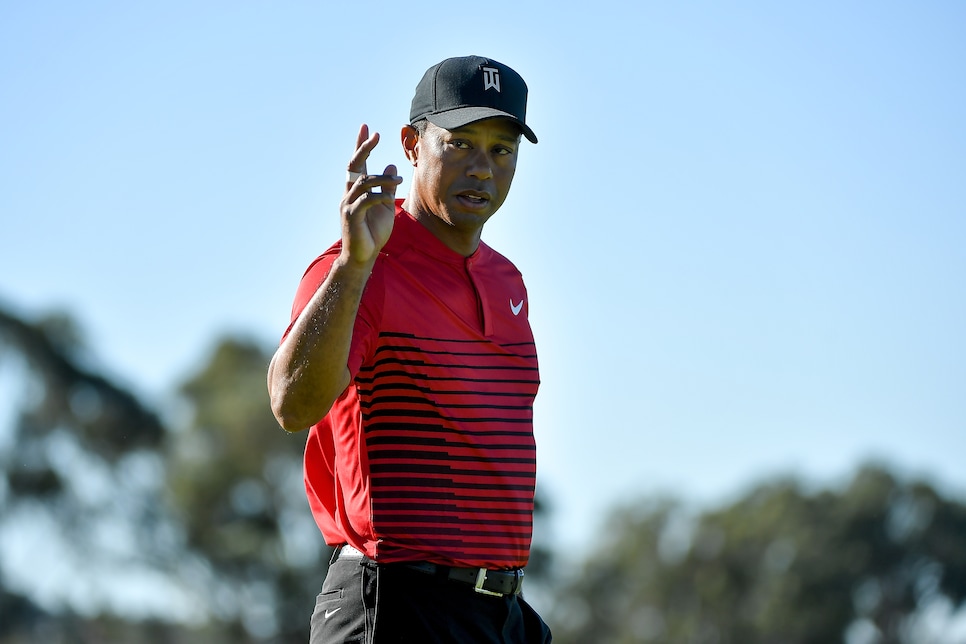 Donald Miralle/Getty Images
LA JOLLA, Calif. — Tiger Woods rode the wind up the leader board on Sunday, but reality eventually brought him back down.
Woods, who began the final round of the Farmers Insurance Open tied for 39th, climbed as high as a tie for 16th before two bogeys on the final six holes resulted in his finishing tied for 23rd.
An even-par 72 on the South Course at Torrey Pines was a good one on a day in which strong Santa Ana winds blew in during the morning. They're called devil winds for a reason, in this case bedeviling most in the field.
Woods was among the few assisted by them. After he made a birdie at his 11th hole, the par-4 second, Woods moved into a tie for 20th.
There was a backup at the par-3 third hole, so Woods took a seat. Moments later, he had moved up to a T-19. A few minutes later, he was up a T-18.
He finally played the par 3, made a par and jumped to a T-16, as several of those ahead of him stumbled. He seemed poised to launch an assault on the top 10 in his first PGA Tour event in a year and second in 2½ years.
But the euphoric mood of another huge and supportive gallery ultimately was tempered by Woods' continued difficulty locating fairways. For the third straight day, he hit only three of 14, and for the week hit only 30 percent, last among those player who made the cut at Torrey.
"Game-time speed is very different than hometown speed," Woods said. "These are some of the narrowest fairways on the whole tour. So when I don't have my best stuff and on these narrow fairways, now it's windy. It just compounded it. It made it very difficult for me."
He finished at three-under-par 285 and was even par or better in all four rounds. By any measure, even his own, the first stage of his official return to the PGA Tour from his fourth back surgery was, at minimum, satisfactory.
"Very pleased," he said. "After not playing for a couple years and coming out here on the tour playing a solid four days, I fought hard for these scores. They weren't like drive it down the middle, hit it on the green, two putt, one of those yawners. This was a lot of fight."
A positive takeaway had to be Woods' shortHis putting was spot on; he was 16th in the field in strokes gained/putting. Given the overall quality of his putting, he missed two putts that he might have made had fans not disrupted him in mid-stroke, one them yelling, "get in the hole."
The best news for Woods is that he experienced no discomfort in his back. "It was nice," he said. "Some of the shots I had to hit out of the rough, out of the trees, shaping them both ways, and a few times I had to jack up the speed and had no issues at all."
Woods is headed home to Florida, where he'll work out some of the kinks in his game before getting back out on tour in three weeks at Riviera Country Club and the Genesis Open in Pacific Palisades, Calif.