The Loop
After a frustrating week at Hoylake, many questions remain for Tiger Woods
HOYLAKE, England -- His mood was light, he smiled easily, and he exchanged a couple of palm slaps with playing partner Jason Dufner. Tiger Woods appeared to be enjoying his Sunday stroll in the final round of the 143rd Open Championship.
But when the former No. 1 player in the world fanned an easy wedge shot at the 11th hole at Royal Liverpool GC, he had to stop himself from angrily burying the offending club into the rain-softened turf. He bogeyed the hole, and the next one, and when he holed out at the par-5 18th, Woods had completed his first full tournament since March and first major of the year with a 3-over 75 and 6-over 294 aggregate total.
"I got four rounds in. Unfortunately, I didn't play very well today," Woods said, still more upbeat than beat up after his sixth round of golf following his recovery from back surgery. "I just made too many mistakes."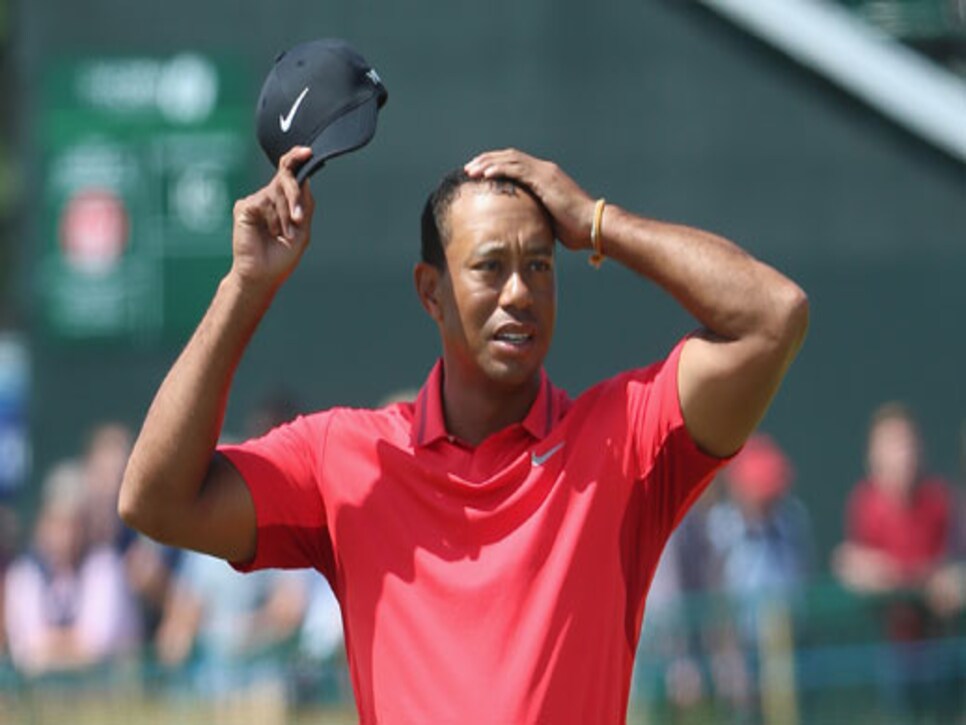 What's next for Woods is uncertain beyond commitments to the World Golf Championship Bridgestone Invitational at Firestone CC in Akron, Ohio, in two weeks and the PGA Championship the following week at Valhalla GC in Louisville, Ky.
Woods, 38, has won the former eight times, including a seven-stroke victory last year, the most recent of his 79 PGA Tour titles. His four PGA titles include a playoff win over Bob May at Valhalla in 2000, though the Jack Nicklaus course has undergone two revisions since then, including prior to the 2008 Ryder Cup, which Woods missed because of reconstructive knee surgery.
His performance in those two events likely determines his whereabouts in the weeks that follow. He'll need strong finishes to qualify for the FedExCup playoffs after missing nearly four months following back surgery in March. He entered this week's Open Championship ranked 212th.
Now seventh in the world, Woods would not entertain the question of adding events should he not qualify for the playoffs after the PGA Championship. "Well, if I win the next two tournaments, I'm in," he said. "That should take care of that."
If he did manage to climb into the top 125 in FedExCup points, he'd need to continue to excel for a deep run into the playoffs. Perhaps, then U.S. Ryder Cup captain Tom Watson would give serious consideration to expending one of his three wild-card picks on the 14-time major champion.
But Watson was clear that Woods is not an "automatic pick." He repeated the assertion that Woods would have to be healthy and playing well. Watson, who closed with a 68, was not aware that Woods was struggling a few groups behind him. "Well that isn't good," Watson said when told that Woods was, at the time, eight shots higher on the day than the 64-year-old Watson.
"He's not in the mix. He needed to get in the mix to get some points, to get some money and get in the FedExCup," Watson said. "That was what I was hoping he was doing this week."
Meanwhile, if Woods were in Watson's shoes -- and you know one day he will be -- he said he'd have no problem picking himself.
"I got picked by Corey back [in 2010]. I was coming off an injury as well there with my Achilles and I sat out for most of the summer, and I felt like I was able to contribute to the team," Woods said. "And that's all you want as a pick -- you want someone who can contribute to the team, whether it's in support or it's in play. I did it then and, hopefully, I can actually earn my way onto this team."
All will be known in a few short weeks. As Tiger intimated, it's all in his hands.