News
Tiger Woods better on Day 2 at the Hero, but undone by a bizarre sequence at the finish line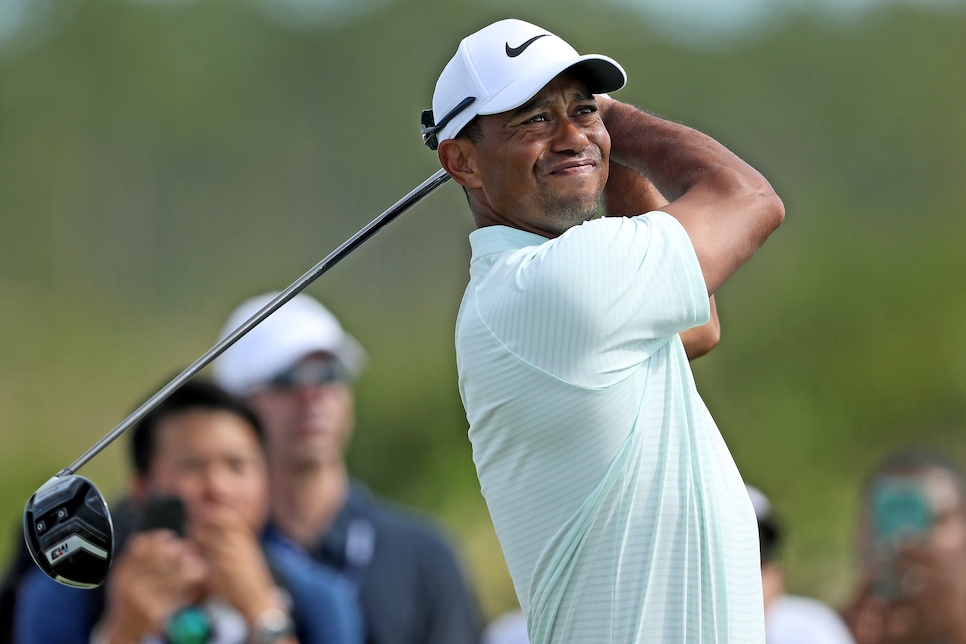 Tiger Woods owned the first tee time on Friday. His pairing with Hideki Matsuyama served as a Scarlet letter for an inauspicious start to the Hero World Challenge, his opening-round 73 the second-worst score of the day. At first glance, that figure mirrored his holiday performance against Phil Mickelson, where the soon-to-be 43-year-old trekked around Shadow Creek in a tryptophan-induced daze.
In truth, aside from an unseemly triple bogey—as if a triple could be described in any other fashion—Woods played alright on Thursday. He hit 12 of 13 fairways, 14 greens; simply undone by some shaky work on the greens (31 putts).
Better yet, Friday had all the makings of a fine bounce-back effort. Woods kept a clean card for 17 holes. Though his putter still wasn't talking to him, he kept the bogeys at bay. More importantly, he capitalized on the par 5s—an Achilles' heel for Woods last season—carding four birdies on the long holes, with a birdie at the par-4 14th for good measure.
Unfortunately for Woods, that effort was undone at the last by a bizarre finish that featured a brush with the rule book.
Woods sailed his drive at Albany's 18th in the native area, the ball coming to rest in the shrubs. On his knees, Woods was able to chop the ball out and into play. From there, Woods missed the green and failed to get up and down. The result was a double bogey, leaving Tiger with a three-under 69 for the round.
However, that number came into question when replay appeared to show Woods hitting the ball twice. There was also a matter of whether Woods scooped the ball, also a violation. But after meeting with rules officials, Woods' 69 score held true, for a slightly strange reason.
"First of all, I didn't feel like I violated any rules. I felt like I was trying to play a shot. But the rules committee pulled me aside and said 'Hey, there may be a violation there' so we took a look at it," Woods told Golf Channel's Steve Sands. "I didn't feel like I hit it twice, it happened so fast and it was such a short motion, but under high def and super slow-mo, you can see it. I made contact twice, but there was no, they'll explain it to you. There is no violation, I guess, so I shot what I shot today."
While he escaped further penalty, the double dropped Woods, who at one point was as high as T-6 on the leader board, to a tie for 15th. He will begin Saturday eight shots behind the leaders.
Woods noted, had he any semblance of a short game, he could have posted a nine-under score. "I hit the ball close, close enough to really have a shot at a low number today, just didn't do it," Woods said. "Just didn't hit the putts hard enough. Just the way it goes." While he ranks third in both driving accuracy and greens in regulation through two rounds, Tiger is last in putting.
Despite the standing and finish, Woods seemed happy with his day.
"Today I played much better. I finally hit my irons the way I normally do," Woods said. "Other than the last tee shot, I felt I really hit the golf ball well."
Eight shots is a lot of ground to cover in 36 holes. But as his 2018, including Friday's first 17 holes, has attested, Woods is still capable of pulling off the improbable.