News
Tiger Woods battles to the finish for third-round 75, sits 10 back of Charley Hoffman at the Hero World Challenge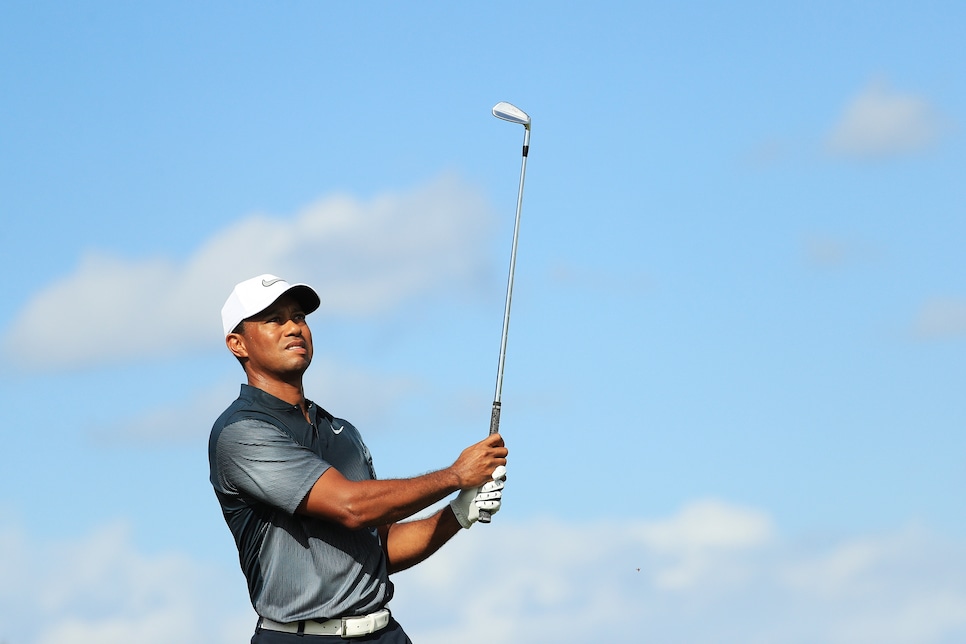 After Tiger Woods shot rounds of 69 and 68 to start his comeback at the Hero World Challenge, trying to manage expectations on the weekend became a little more difficult. He was in contention, and had a legitimate chance on Saturday to get within striking distance of the leaders. At some point though, he had to come back to Earth, and he did in windy conditions in his third round, posting a three-over 75 at the Albany Resort in the Bahamas. Woods sits at four-under 212, 10 shots off Charley Hoffman's 54-hole lead.
Unlike his second round, Woods stumbled out of the gate on Saturday, making bogey at the first and then another at the par-5 third after hitting a 3-wood over the green on his approach shot. It was struck too well, and ended up rolling up against the rough, leaving a testy chip shot that lead to another bogey. It was a sign of things to come.
"Anything that I did right ended up in a bad spot," Woods said. "And everything I did wrong, it was really bad. It was just one of those days."
He added two more bogeys at the sixth and seventh, and finished with a four-over 40 on the front nine. At the 10th, he made another bogey, and it quickly went from "one of those days" to disastrous territory. But Tiger fought back on his way to the clubhouse, finishing his last eight holes in two under. His first birdie came at the 14th, and Woods jokingly took a bow to the crowd, as if he was relieved.
"It's ridiculous that it took me 14 holes to make a birdie," he said, smiling. "I had already played four par 5s and nothing happened, but hey, it's just one of those days."
The par 5s have been Woods' kryptonite this week. Save for an eagle at the ninth on Friday, he's played the rest of them in one over par. Despite a lot of missed opportunities, he stayed strong coming home on Saturday, an encouraging sign heading into the final round.
"Got to keep fighting, that's one of those things I've done my entire career is just keep fighting and try to post the best number I possibly could," he said. "I really didn't feel like I was that far off, that's the crazy part."
The old Tiger might have walked off disgusted after a three-over 75, but the 14-time major champion seems to be enjoying everything that is coming with this latest comeback, the good and the bad.
"It feels good, it feels good to be out here fighting again. I've missed the fight and getting out there and competing against the golf course and the rest of these guys. It's so much fun."
One of those guys he's fighting against is Hoffman, who extended his wild streak of holes without a par to 11 on Saturday with a bogey at the first and then back-to-back birdies. Finally, he made a par at the fourth, and then three more before dropping a shot at the par-3 eighth. After making a birdie at the ninth, Hoffman ran into some problems at the 10th, which lead to a costly double bogey. But he was able to play his final eight holes in three under to card a two-under 70, one of just five under par rounds from the field of 18 on Saturday.
Playing in the final group with Hoffman was Jordan Spieth, who finished with a even-par 72 to stay at nine under for the week. He'll play in the penultimate group on Sunday with Francesco Molinari, who sits at eight-under 208.
Justin Rose's one-under 71 puts him in the final group with Hoffman, and he's tied with Spieth at nine-under 207.