Auction
Another Tiger Woods backup Scotty Cameron putter is up for auction. How high will the bidding go?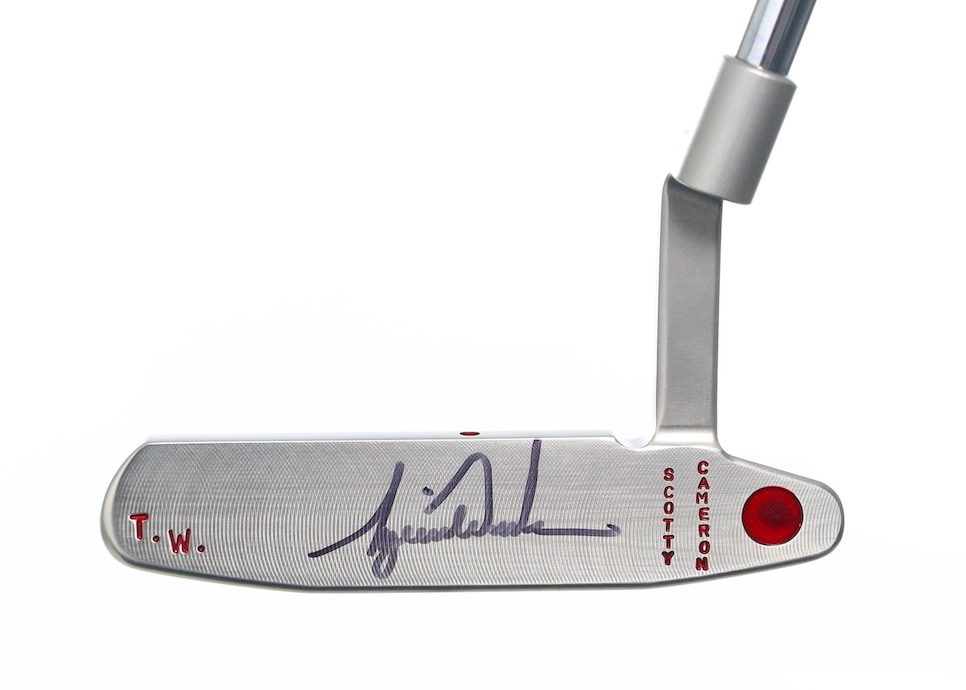 Stop me if you've heard this before: One of Tiger Woods' backup Scotty Cameron putters is up for auction. Despite the fact this is the fifth such club to be on the market since 2015, it does not diminish its importance given the history of Woods' previous backups at auction.
To wit, one backup sold in 2015 for $29,000. Another in 2018 for $44,000. Those would turn out to be bargains in retrospect as in 2020 yet another garnered $154,928. Then last August, a fourth such club fetched a mind-boggling $393,000.
How high the current auction goes is anyone's guess. Officials at Golden Age Auctions, which is hosting the sale, once asked an industry-leading collector if a Woods backup would ever garner $1 million. The reply was "100 percent." As of early Thursday afternoon, roughly 24 hours since the auction went live, there have been 28 bids on the putter with the current high bid at $49,248.
According to Golden Age co-founder Ryan Carey, the background of this putter dates back to a 2005 charity event to raise money for his TGR Learning Center campus in California. The family that won the auction has held the putter ever since, making this the first time it has reached the collector market.
"As Tiger Woods enters the final act of his career, memorabilia related to him is becoming its own collecting category," said Carey. "Collectors are starting to finally appreciate Tiger like they do Michael Jordan or Mickey Mantle or Tom Brady."
A view of Woods' backup putter up for auction from the back.
The putter comes with a certificate of authentication from Scotty Cameron himself, who says he produced one or two backups for Woods each year. Such paperwork is nice, but in this case, hardly necessary as Woods autographed the face of the putter, which also contains the "T.W." stamping on the toe that Woods has had on all his putters.
Of course, the eventual price tag for this putter is nowhere close to what Woods' "gamer" that was used to win 14 of his 15 major championships would fetch. Although that putter almost certainly will never see anything outside of Woods' bag or home, Carey said in a 2019 interview that it would go for $3 million to $5 million if ever available. Carey inserted a note into the current auction listing that he believes now the estimate to be closer to $10 million today.
That might be a bit generous, although irons associated with Woods' "Tiger Slam" sold for more than $5 million. Woods' putter is likened by Golden Age to Babe Ruth's bat (the one used to hit his 500th home run sold for more than $1 million), Muhammad Ali's gloves (a pair brought just shy of $1 million) or Michael Jordan's shoes (a game-worn pair brought $1.47 million). Still, it should be interesting if a mere backup will net close to $500,000.
Given the history of Woods' backup putters at auction, it's not out of the question.
The auction is scheduled to end on Sept. 18 at 7 p.m. Eastern. Click here to link to the auction.