The Loop
Tiger Woods announces he's splitting with coach Sean Foley
Tiger Woods is splitting with Sean Foley, his coach of four years, the former world No. 1 announced on his website Monday. Woods said he has no immediate plans to work with another instructor.
"I'd like to thank Sean for his help as my coach and for his friendship," Woods said. "Sean is one of the outstanding coaches in golf today, and I know he will continue to be successful with the players working with him. With my next tournament not until my World Challenge event at Isleworth in Orlando, this is the right time to end our professional relationship."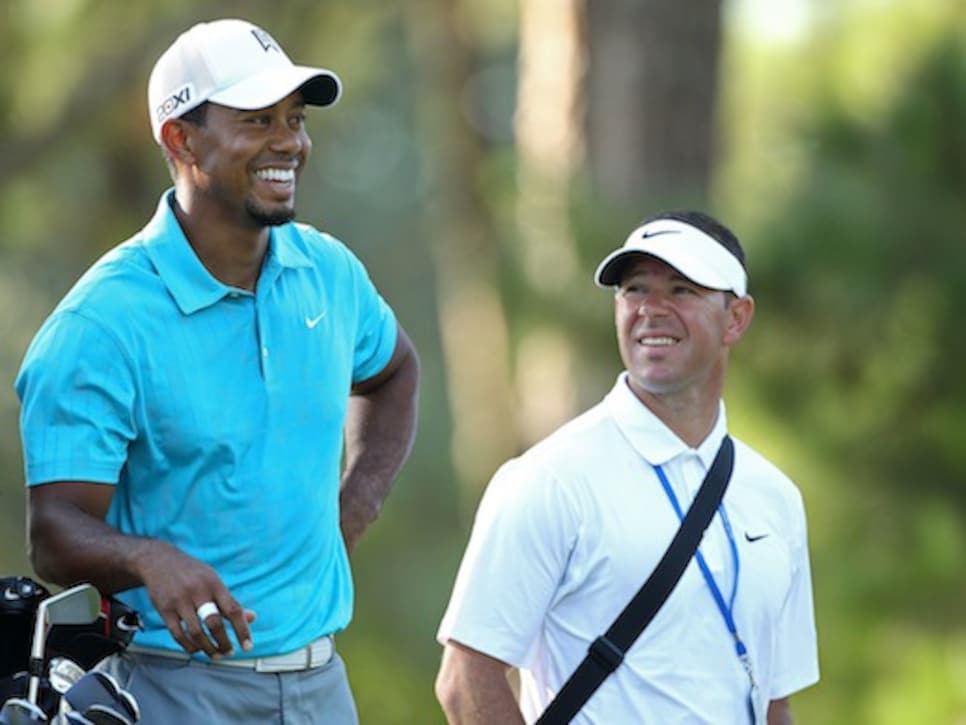 Woods, winless in majors since the 2008 U.S. Open, has been hampered by a back injury for most of 2014, having played just seven events, and completing all four rounds of just two. After re-aggravating his back at the PGA Championship, Woods, 38, removed himself from consideration for the U.S. Ryder Cup team and said he would not play again until his own tournament in December in order to focus on recovery.
The Orlando-based Foley, a Golf Digest Teaching Professional, was Woods' third coach as a professional, following Butch Harmon and Hank Haney. Woods and Foley were first seen working together at the 2010 PGA Championship.
Coincidentally, news of Foley's split with Woods comes a day after another of the teacher's students, Hunter Mahan, won his sixth PGA Tour event at the Barclays.
"My time spent with Tiger is one of the highlights of my career so far, and I am appreciative of the many experiences we shared together," Foley said in a statement. "It was a lifelong ambition of mine to teach the best player of all-time in our sport. I am both grateful for the things we had the opportunity to learn from one another, as well as the enduring friendship we have built. I have nothing but respect and admiration for him."
Although Woods enjoyed some success under Foley, most notably in a five-win Player of the Year season in 2013, the relationship has been under intense scrutiny, particularly of late. Among Foley's sharpest critics has been Golf Channel commentator Brandel Chamblee, a former PGA Tour player who says Woods has regressed as a driver under Foley.
"Watching a guy swing that short and that quick and develop the yips -- and there is no other word for it, the yips -- with his driver, is really sad to see," Chamblee said July 29 on Golf Channel. "And he is never, ever going to dominate with this move unless he changes it, because he still has between his ears what made him the best player of all time perhaps."
A former Foley student, Parker McLachlin, also gained attention when he urged Woods to leave Foley on Twitter earlier this month.
Dear Tiger, Please turn off your brain and leave Foley on the range. You'll stop missing it both ways. Sincerely, A Player Who's Been There
Foley's current students, however, have been quick to defend the teacher.
"It's comical," Hunter Mahan told GolfChannel.com. "It frustrates me and kind of angers me a little bit. But you know, that's the world we live in and that's just kind of the way things are, and Foley is better for it because he can handle a guy like Tiger -- a lot comes with that and I think he's done a pretty good job of containing himself and not letting it bother him. He just does his job every day and does it better than anyone."
Said 2013 U.S. Open champion Justin Rose, another Foley student: "I think with Tiger, they've had to work around a lot of things. It's probably very frustrating for Tiger and it's probably very frustrating for Sean. . . . There are definitely moves that Sean is trying to get out of there that are compromising his health."