The Loop
Tiger Woods and the good, the bad and the ugly in his return to competition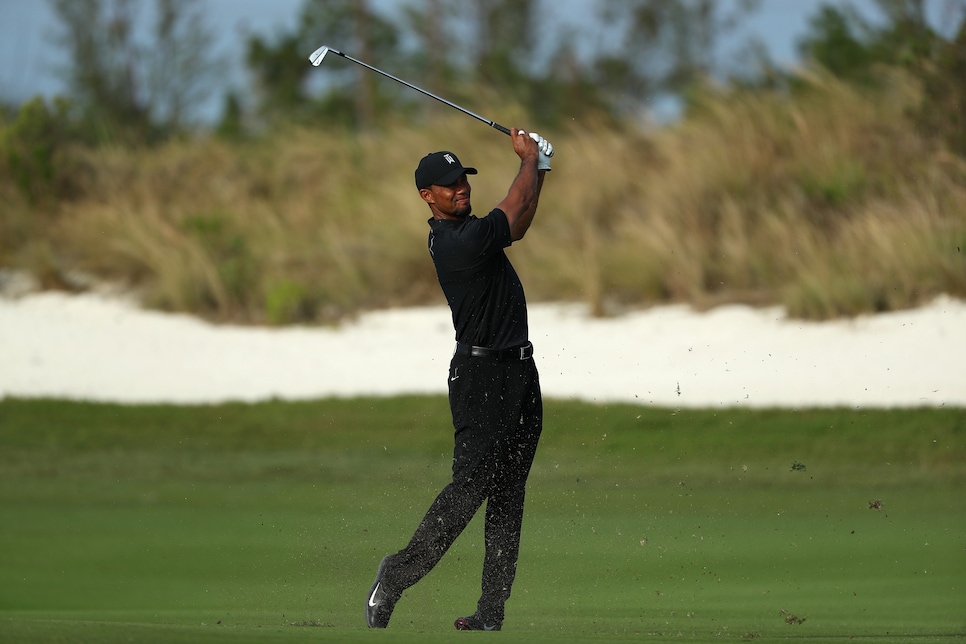 NEW PROVIDENCE, Bahamas -- Tiger Woods, dressed head-to-toe in black, blew past close friend and Golf Channel reporter Notah Begay as he strode to the first tee Thursday just before noon at Albany.
His conversation with playing partner Patrick Reed was minimal.
And 90 minutes into his first competitive round in 15 months, Woods had a share of the lead at the Hero World Challenge.
He was back, even if just for a moment.
After making four birdies over his first eight holes, Woods played his final 10 holes in five-over with two bogeys, two doubles and just one birdie to shoot a one-over 73. He trails leader J.B. Holmes by nine strokes.
As quickly as Woods rose to the top of the leaderboard, he sank just as fast, going from the top of the leaderboard to 17th in the 18-man field.
"I hit the ball in three bushes and a water ball today," said Woods, the latter referring to his tee shot on the final hole. "It could have been something really good."
Instead, it was a bit of everything for the 14-time major champion and former World No. 1 who has dropped to 898th during his time away.
There was the good: A handful of times Woods got up-and-down from tight, grainy spots around the greens. He also hit a terrific 5-iron from 231 yards to set up a near kick-in birdie on the par-3 eighth.
"That was nice because it was a number that we thought that it was questionable whether or not I could get it to the front edge and that was the play," he said. "But to hit it that flush that early in the round, that felt good, gave me a little bit of confidence. I had to step on it to get it there and I did and I flushed it."
There was the bad: He hit just six fairways in regulation -- many of those misses going to the left -- 11 greens and closed in 40. Woods also stubbed a tricky chip on No. 9, airmailed the green with a pitch he caught thin from a waste bunker at 14 and finished with 26 putts.
And there was the ugly: Woods had to take a drop after knocking his second shot at 11 into a bush, and on 16 he was forced to play a pitch shot from a bush backwards away from the green, going on to make double bogey. Two holes later, he overcooked his final tee shot of the day and the ball splashed into the edge of the water on the left. Woods slammed his driver in disgust and made another double.
"The first eight holes he played he played really well," playing partner Patrick Reed said. "I was like, wow, he seemed like he had complete control of what he was trying to do with the golf ball. There's just a couple loose swings here and there, but it was kind of hard to see really a lot of his shots because I was too busy going in the bushes, going in bunkers.
"His swing looked good. When he hit it well, it was really, really good, and when you mis‑hit it, it was kind of, you know, they weren't very good misses."
Fatigue, be it physical and/or mental, certainly could've been a factor.
Woods was playing for the first time since the Wyndham Championship in August 2015. He had also played or practiced at Albany every day since last Saturday.
He dismissed the notion, however.
"I wouldn't say [I ran out of gas]. I just made some mistakes," Woods said. "I just made some really, if you look at it, some really silly mistakes, mistakes I don't normally make, but I haven't played in a while."
That he is able to play at all and at times as well as he did was as much a positive as anything, especially given an injury history that includes three back surgeries since early 2014 and his first competitive round in more than a year.
"All in all, I feel pretty good," Woods said. "I'm looking forward to another three more days."