News
Tiger Woods, a year removed from a medical milestone, celebrates with a bogey-free 66 at TPC Boston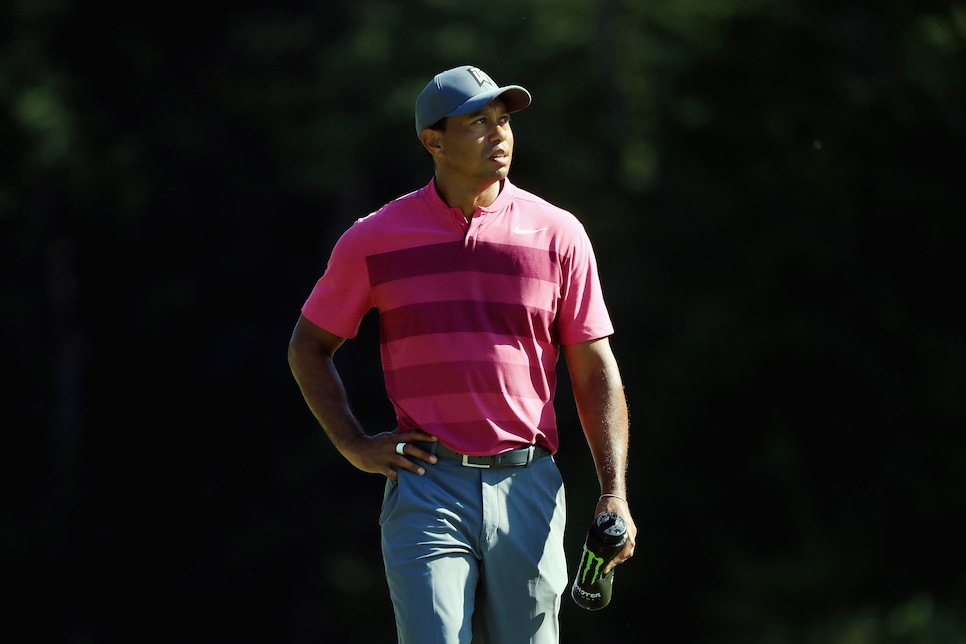 Andrew Redington/Getty Images
NORTON, Mass. — Tiger Woods looked in many ways a lot like his old self on what was one of those immaculate New England late summer afternoons Saturday at TPC Boston. The 14-time major champion was ripping drives, twirling clubs and hitting that stinger.
Along the way were five birdies, no bogeys and big crowds. The fans here are sports crazy to begin with, and Woods hadn't been in town since 2013, much of those last five years riddled with injuries, surgeries and struggle.
"You should hear the roars going out around the golf course when we're on the range warming up," he said. "That's pretty cool."
Once Woods was on the golf course he gave them a good bit to cheer about, too, starting with a birdie on the third hole, another on the seventh and three more sprinkled in on the back nine, dropping a 25-foot putt on 14, on his way to a tidy 66 in the second round of the Dell Technologies Championship.
It could have been even better—Woods birdied only one of the three par 5s on the course—and in the really old days it probably would have been but really who cares. Woods is also still seven strokes off the lead after Webb Simpson eagled the last to move to the top of the leader board by himself at 11 under.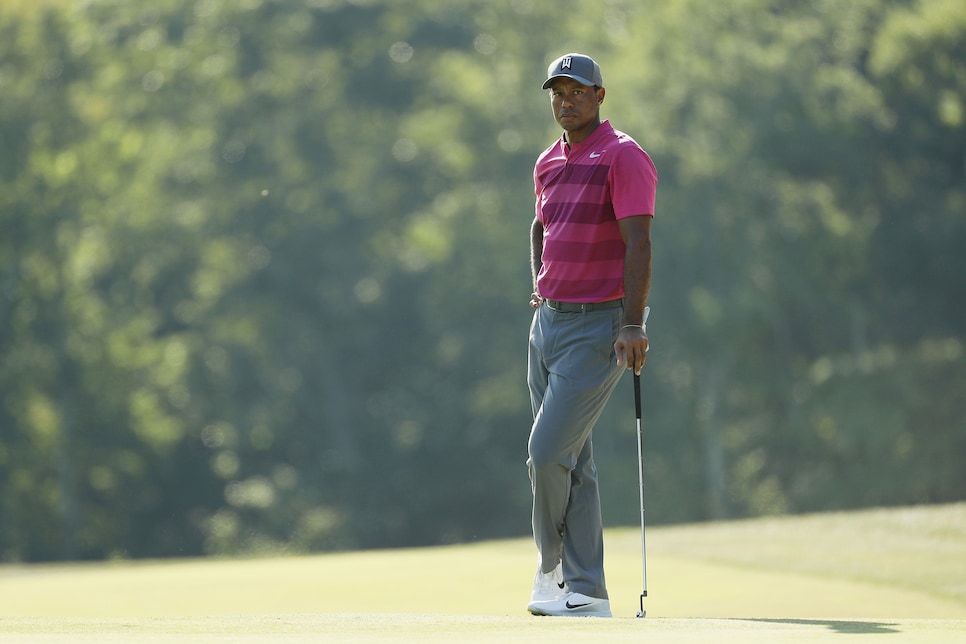 Patrick Smith/Getty Images
It is also necessary to remind where Woods was a year ago at this time. One year and one day ago, his doctors had just cleared him to begin chipping after a fourth back surgery earlier in the year to fuse his spine.
"Never would have dreamt that I'd be in this position," said Woods, adding that he has thought about the 28-second video he posted to his Twitter account just over 12 months ago throughout this season.
In the video, which was 28 seconds long and shot in slow motion, Woods was wearing black Oakland Raiders shorts, a white T-shirt with the sleeves cut off and hit exactly one chip shot.
"I was very nervous because I didn't want to screw it up," he said. "This is it. So if it doesn't fuse, there really is no other option.
"I remember when I was cleared to hit long irons. My first 4-iron probably carried about 90 yards. I was just so apprehensive to start letting it go."
This week, he hasn't had any trouble letting it go. In the first round on Friday, he piped one drive on the 14th hole 353 yards. Better yet was his accuracy on Saturday. Woods hit 12 of 14 fairways and 14 greens in regulation. The four he did miss? He got up and down every time.
"Absolutely," he responded when asked if he was happy with the round. "I played well today. I hit it well. I really rolled it on my lines."
It's worth noting, too, that Woods' third-round scoring average is second-best on tour. And he's got a favorable pairing on Sunday, teeing it up with his new best bud, Bryson DeChambeau.
"The only bad shot I hit today was my tee shot on 8," he continued. "I stuck it in the ground. But other than that, it was a good day."
The kind that 366 days ago didn't seem possible.