Ryder Cup
Tiger to play in 2023 Ryder Cup?!? It's a long shot, but Zach Johnson isn't ruling it out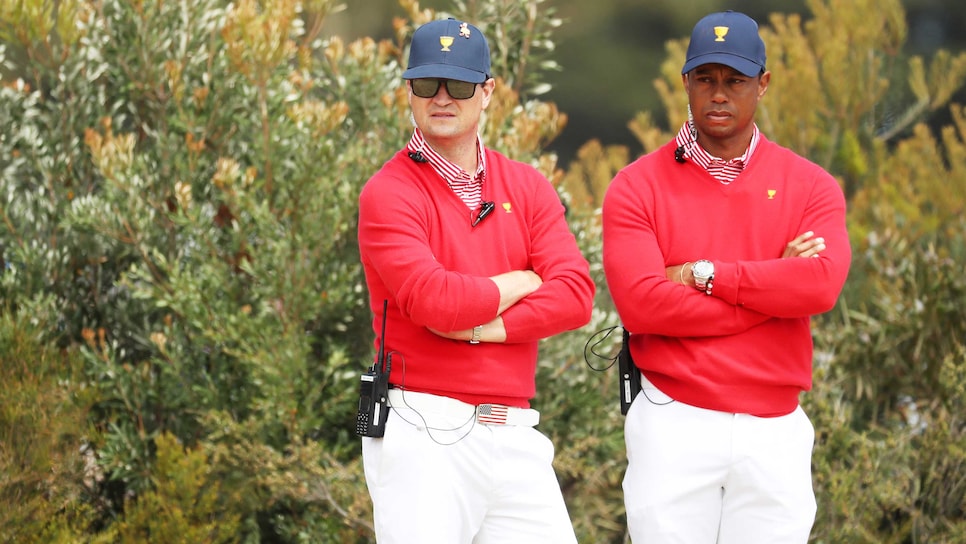 Vice captain Zach Johnson and playing captain Tiger Woods look on during the 2019 Presidents Cup in Australia.
Rob Carr
HONOLULU — Tiger Woods is a member of the U.S. Ryder Cup team that will attempt to win in Europe for the first time in 30 years this September in Italy. Whether or not he is holding a golf club during that week is still to be determined.
U.S. captain Zach Johnson said on Wednesday at the Sony Open in Hawaii that he wouldn't rule out selecting the 15-time major winner and recent World Golf Hall of Fame inductee to compete in the 44th Ryder Cup if he didn't qualify for the team automatically. Qualifying, of course, is long shot given that there is no way of knowing just how much—or how well—Woods will compete this year as he continues his rehabilitation from the right leg injuries he suffered in an car accident almost two years ago in California.
Woods made only three official starts in 2022, in three of the four men's major championships, and he completed 72 holes in just one of them, the Masters, finishing 47th. He also made the cut in the PGA Championship, but he was forced to withdraw after 54 holes at Southern Hills Country Club in Tulsa due to lingering issues with his surgically reconstructed leg. He missed the cut in the Open Championship at St. Andrews.
"I would only contemplate having him on the team if he felt … if he was putting up some numbers and some scores, No. 1, showing some sign of being competitive. And then No. 2, that discussion would be had with the other guys that are a part of that team, and specifically him," said Johnson, who served under Woods as a vice captain at the 2019 Presidents Cup in Australia, where Woods led the winning U.S. team as just the second playing captain in that event after Hale Irwin in the inaugural edition in 1994.
"If there is anything I trust in Tiger Woods is that he's extremely invested in this team and the future Cups. Extremely invested," Johnson added. "I can't speak to that enough. And then I think you would do anything and everything for the betterment of the team. I assume he would say—I don't like making assumptions—but I'm confident that he would say, 'Yeah, I can play, or no, I can't.'"
Last month, Woods had to withdraw from the Hero World Challenge in the Bahamas because of plantar fasciitis, a painful foot affliction that makes walking difficult, but he was able to play in the PNC Championship with his son Charlie because he could ride in a cart. He also appeared in a 12-hole televised exhibition match in which he and Rory McIlroy lost to Jordan Spieth and Justin Thomas, also using a cart.
In the Bahamas, Woods revealed that he underwent "a couple more" procedures on his leg because it "wasn't working properly." He said his plan this year, health permitting, was to "play just the major championships and maybe one or two more. That's it. I mean, physically that's all I can do. I don't have much left in this leg, so gear up for the biggest ones and hopefully, lightning catches in a bottle."
Given the question marks about Woods' physical status, Johnson pointed out that Marco Simone Golf & Country Club near Rome might preclude Tiger's participation. "Another piece is this golf course," he said. "It's fun in a golf cart. I don't think it's going to be a whole lot of joy just walking, because, you know, it's definitely hillier than Augusta National."
But make no mistake, Woods is part of the U.S. team, whether it's officially or unofficially. Davis Love III said Woods was an integral part of the U.S. Presidents Cup team behind the scenes. Johnson, in fact, said he was scheduled to talk to Woods on the phone Wednesday afternoon about some Ryder Cup matters.
"We're communicating with him quite a bit," Johnson said. "He's a part of the team. It's just a matter of to what degree."