News
Tiger Woods' lone Ryder Cup win included a dressing down from Payne Stewart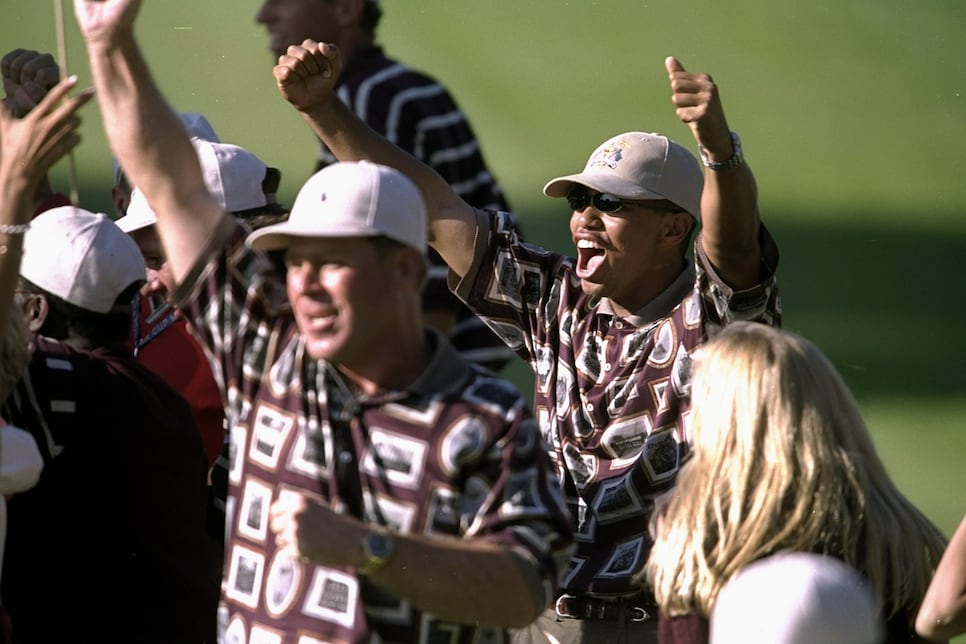 For Tiger Woods, the Ryder Cup has been something of a mixed bag. It's one of the few golf competitions he hasn't dominated—Woods has a 13-21-3 overall record across eight Ryder Cups and has actually only been on one winning American team.
But that one victorious week was special. Incredibly special. Woods recounts the famous Battle of Brookline in the latest Tiger Vault video.
In case your memory is failing you: the year was 1999, and the U.S. trailed Europe 8-4 heading into Sunday at The Country Club in Brookline, Mass. On that Saturday night, U.S. captain Ben Crenshaw told reporters that he wasn't giving up. "I'm a big believe in fate," he said. "I have a good feeling about tomorrow. That's all I'm gonna say."
The U.S. got off to a hot start and never looked back, erasing the four-point deficit and clinching the 14.5-13.5 victory with a 45-footer from Justin Leonard. The celebration was on, but Woods—then just 23 years old and fresh off a 3&2 singles win over Andrew Coltart—was tired, and tried to sneak some rest in before joining his teammates.
"I put my head down a little big longer than I should have," Woods recalls, "And I get this person jumping on me, and scaring the living crap out of me. And it was Payne Stewart.
"And Payne says, 'Get the hell out of bed. Get your ass down to the team room and experience what it's like to be part of a Ryder Cup.' And I said, 'This is awesome.'"
Awesome, and bittersweet. Stewart died less than a month later in a airplane accident, making that one of the last moments Woods ever had with Stewart.
For more of Woods' recollections of that day 21 years ago, check out the embedded video.