Presidents Cup
Tiger Woods accidentally ruined Webb Simpson's Presidents Cup surprise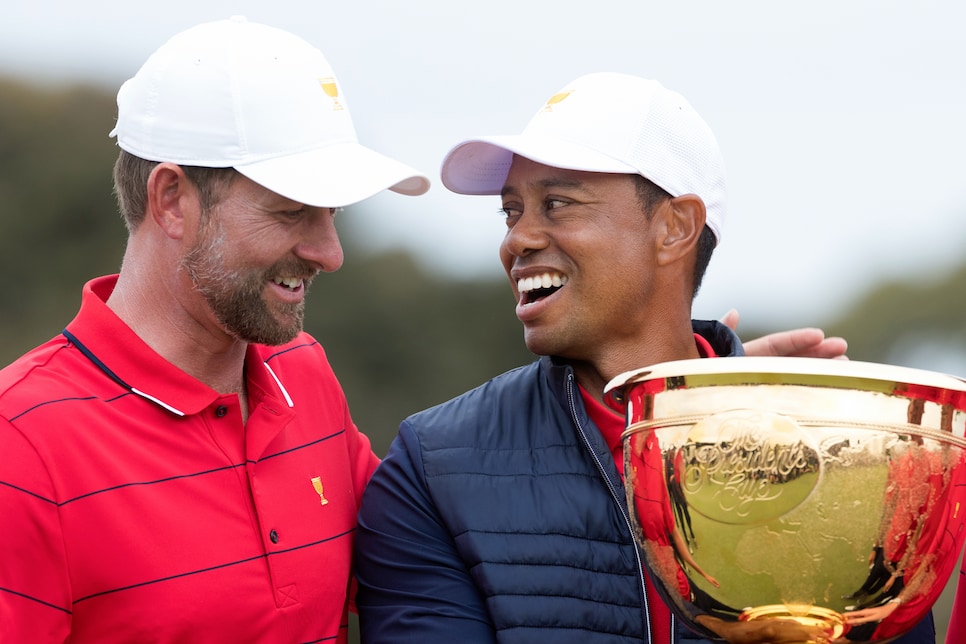 Both Simpson and United States captain Davis Love III spoke to the media at the Wyndham Championship Tuesday following Simpson's appointment. With all four assistant spots taken—Simpson joins Fred Couples, Zach Johnson and Steve Stricker on the American staff—Love was asked if Woods would be involved in any capacity for the upcoming match at Quail Hollow.
"Well, he's involved," Love explained. "He called Webb and spilled the beans early, so he's involved. He's been a resource since—really since 2015. Well, all the way back to our meetings on where are we going to go with this Ryder Cup thing, who's going to be the captain for '16 and how are we going to restructure the way we run these teams. Tiger's been a huge influence and a huge resource. He really has opened up and embraced that role."
Hold on; how did Woods "spill the beans," precisely? According to Simpson, the 15-time major was a bit premature in his congratulations.
Simpson explained that he was with his family at a hot-dog joint last week, dealing with the chaos that comes with being a father of five. "My kids had already made the owner mad because they continued to open the door, so I'm stressing, it's my turn to order, my phone rings, I looked down and it's Tiger."
Simpson told Woods he had to call him back—which takes a special type of conviction to tell Tiger Woods you have to call him back—to deal with the situation at hand. Once the hot dogs had been secured, Simpson returned the call, with Woods dropping the news on him.
"He just kind of referenced me being from—you know, living in Charlotte, Quail Hollow's my home, that he thought it would bring a lot to the team," Simpson said.
However, as Simpson continued, after the phone call he didn't know if it was official or not. "I don't know if he meant like he's rooting for me to be assistant or if I am assistant," Simpson said.
But Simpson heard from Love two days later, finding out what Woods had already known to be true. "Not that I feared not being a part of it, but there was a part of me that's like, if I don't make the team and Davis goes a different direction, that's fine, but it's going to be hard to see the Presidents Cup happen there and not be a part of it in some way," Simpson said. "So I was really, really relieved to get a chance to be a part of it."
The 2022 Presidents Cup begins Sept. 20 at Quail Hollow Club in Charlotte. The Americans are the defending champs.