The Loop
Tiger talks about his round with Obama, WGC Match Play
MARANA, Ariz. -- It's not often Tiger Woods can get a kick out of winning $15, but when the guy you're splitting the pot with is the President of the United States, a Hamilton ($10) and a Lincoln ($5) take on new meaning, even if Hamilton only made it as far as Secretary of the Treasury. Barack Obama isn't the first POTUS Woods has played golf with -- that distinction belongs to Bill Clinton -- but he's the first President who still had the nuclear codes handy.
Woods is famous for giving out nicknames to close, and sometimes not so close, associates. Did he come up with one for the President? "Partner," replied a smiling Woods. And how, exactly, does one go about giving the needle to the most powerful man on the planet? "Easily," Woods replied, well, easily. "Playing with the President was pretty cool. He's just a wonderful person to be around. And we won.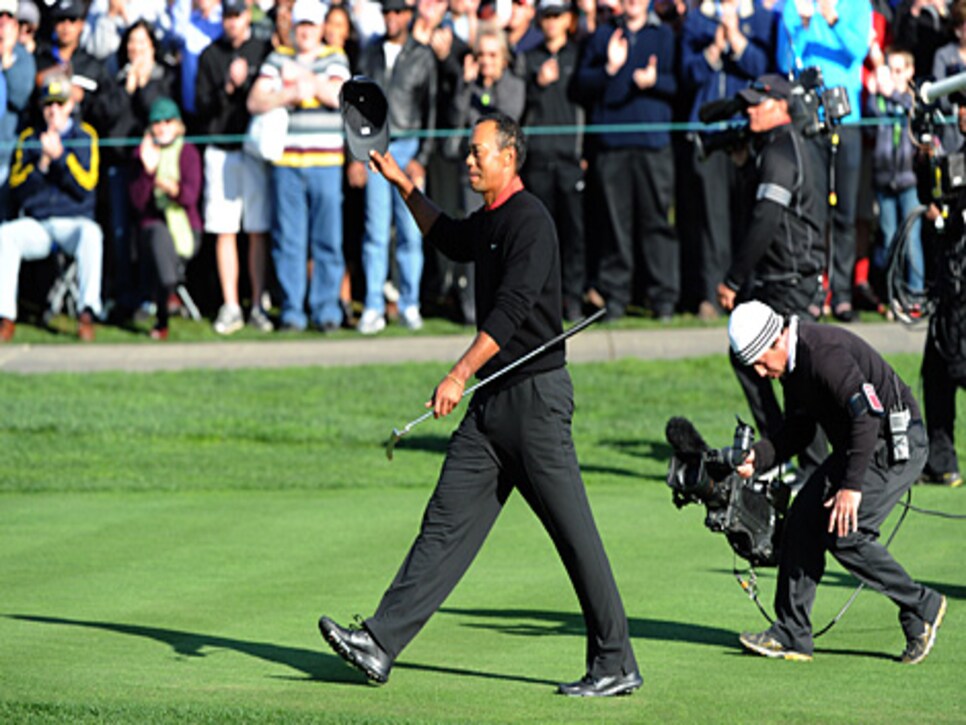 Woods will compete for the first time since winning at Torrey Pines.
"He's a pretty good athlete," Woods continued. "We all know he played a lot of hoops. I kind of forgot he's a lefty, but to see him out there hitting shots, he hit it well. And we didn't play under the easiest conditions. It was blowing harder than this (Tuesday at Dove Mountain) and it was a little bit cooler than this. He's got amazing touch. He can certainly chip and putt. If he ever spent -- after these four years -- spent more time playing the game of golf, I'm sure he could get to where he's a pretty good stick."
Butch Harmon, one of Woods' former teachers, spent the day before Woods played with Obama giving the President golf lessons. "It was just a nice day," said Harmon. "It was his (the President's) vacation and I'm going to leave it at that."
So, in just three days, Woods will go from playing with the man who authorized the mission to get Osama bin Laden to a head-to-head battle with Charles Howell III. About the only thing those two golfers have in common is that they're both skinny. "Well, I lived with the guy in Orlando," said Woods of his first round opponent in the WGC Accenture Match Play Championship. "You'd see him out there on the range and the putting green just grinding away. His work ethic has never changed, never waned. I admire guys who put in that kind of work. It's not easy to do."
Outside of his appearance before various members of the Secret Service, this is Woods' first outing since winning at Torrey Pines. "The first week, I didn't touch a club and just got away from it," said the three-time winner of the Match Play. "And the second week I started hitting balls, chipping and putting. Then the past week, I started playing quite a bit, got my playing feel and all that done."