The Loop
Tiger pulls himself into contention, then falls short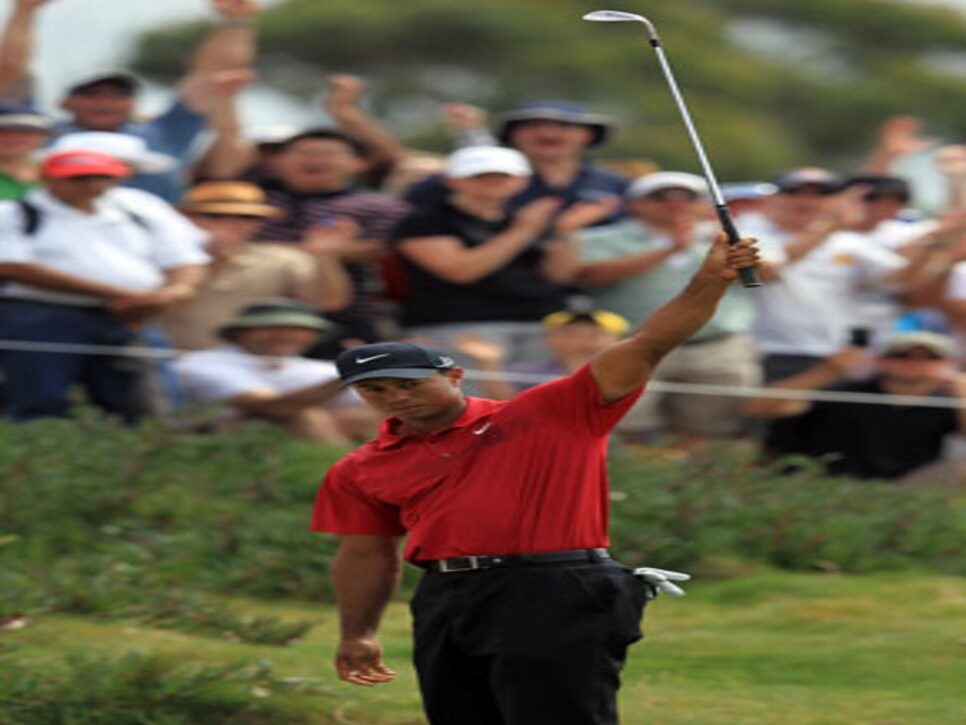 "75s are rarely interesting."
Tiger Woods' downbeat verdict on the disappointing three over-par third round that had just dropped him from the halfway lead into a tie for eighth place and seemingly out of contention for the Australian Open title was nothing if not accurate. Which is more than can be said for his "moving day" play, of course. A card littered with five bogeys and uplifted by only two birdies will only rarely get the pulse rate going, especially when it adds up to as many as 12 shots higher than the low score of the day.
What a difference another day, a session on the range and practice green and, presumably, a good night's sleep can make. So it was that, less than 24 hours later, a nifty 67, five under par, proved to be far more eventful both for the 14-time major champion and the thousands of spectators expectantly thronging The Lakes course.
In the end, Woods' 277 total wasn't quite enough to seal what would have been his first victory since he claimed the Australian Masters crown at Kingston Heath in Melbourne back in November 2009. But this strong effort contained enough good things to indicate that, given more of his famous "reps," Woods will surely find his way back to something like his peerless pre-scandal form.
Six shots back of 54-hole leader and 2006 champion John Senden, Woods found the fast start he had previously identified as a prerequisite of eventual victory. Three birdies in the first eight holes took him to nine under par the card, nicely tucked in behind a largely becalmed leading pack.
So far so good. But two bogeys in four holes from the turn - albeit interspersed with a birdie at the tough, uphill 12th - had Woods back in the pack and, for a second time, apparently just too far back to seriously worry the new leader, 1998 champion Greg Chalmers. Not quite though. The previous evening Woods had also commented that he would "need to take care of the par-5s" if he were to have a chance to win and over the next four holes he lived up to that promise.
An eagle at the long, water-strewn 14th courtesy of a deft chip-in from just right of the green was followed by a birdie at the penultimate hole, where Woods disappointingly two-putted after a magnificent long-iron shot finished maybe 15 feet from the flag. Suddenly, the world number 58 was right back in the hunt, even if Chalmers - whose previous victory in this event coincidentally came in the week before a Presidents Cup at Royal Melbourne - was showing no sign of flagging.
Still, what proved to be Woods' last dip under par for the week, was enough to see off the admittedly unlikely challenges of the last two Aussie Open champions, Adam Scott and Geoff Ogilvy, both of whom were in the clubhouse on 279. But it wasn't  - by two shots as it turned out - sufficient to catch the steady Chalmers.
"Today could have been really low," said Woods with some justification. "I hit the ball really good apart from two really bad shots - the tee-shots at 11 and 13. Otherwise I controlled my ball very well."
The key to his eight-shot swing over the weekend was apparently that work he did on the range and practice green Saturday evening.
"I found my stroke," he continued. "I rolled it good out there. And I got back on track with my swing too. When you play in a wind for a few days it is easy to get off, but it was a pretty simple fix as it turned out."
As for the brace of lapses that ultimately meant the difference between a play-off and third place - the once fast-fading Senden, courtesy of a rash of birdies on the back-nine, was the eventual runner-up - the errant drive that plugged on the edge of the water hazard on the right side of the drivable par-4 13th was clearly provoking the most angst.
"That's a tough tee-shot, but I shouldn't have gone for it (with a driver)," shrugged Woods. "I figured I needed to shoot 31 on the back-nine and get to 13 or 14 under to have a chance. So I had to go get it. In retrospect I should have hit a 5-iron off the tee and a wedge to the green.
"I'm happy enough though. I had two bad holes today and played awful yesterday, yet I was still right there. This was the first time since Augusta that I have been in contention and it felt great to have a chance to win. Unfortunately, I just couldn't post the number I needed to post. But I'll keep plugging along. I've seen some progress this week."
Next up for Woods, of course, is the Presidents Cup at Royal Melbourne. That won't be any easier though. Encouragingly for non-playing skipper Greg Norman -- T-53 here -- four of the five Australian members in the International squad that will take on the United States finished in the top-ten.