The Loop
Tiger pulls a page from his past
On a day the rest of us lost an hour, Tiger Woods gained a decade, turning back the clock with a timely reminder that his genius has not yet run its course.
A Tiger lead once meant that everyone else was playing for second, and so it was again this weekend, a month before he will resume his pursuit of the holy grail of golf records, Jack Nicklaus' 18 major championships.
Suddenly, the odds, though still long, four majors to tie, again don't seem insurmountable. A swing sound enough to support a putting renaissance that allowed him to overwhelm the best players in the world at least gives him a sleeve up on a green jacket.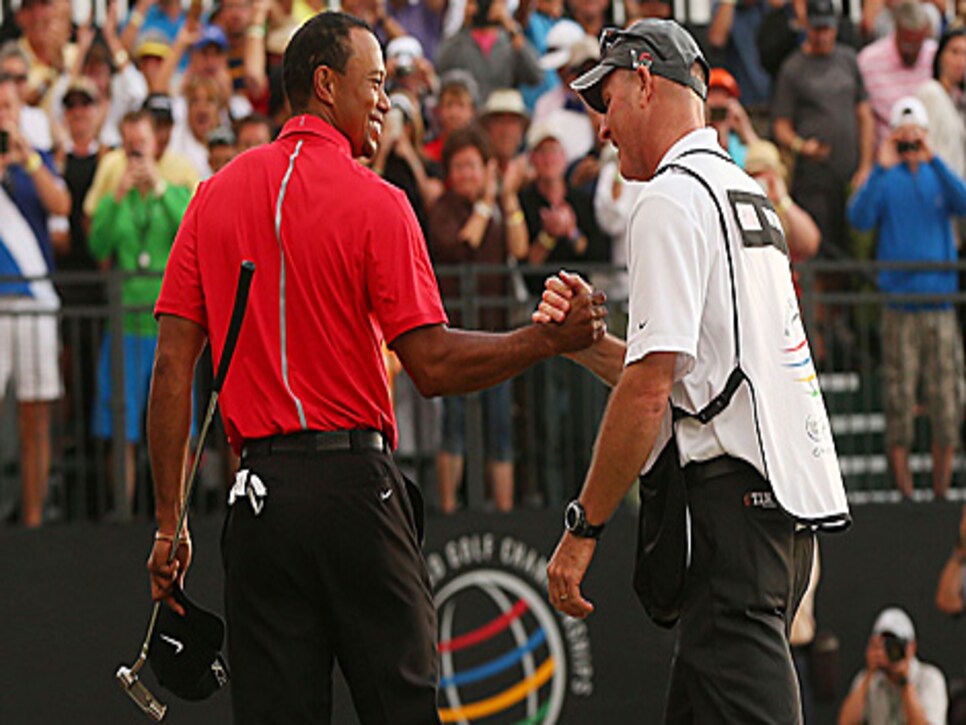 Woods pitched a complete game at the Trump Doral Resort in Miami, leading the WGC-Cadillac Championship wire to wire and winning by two. And it was over before it began on Sunday, as it typically is when Woods opens a 54-hole lead. "Looks like Tiger has this week taken care of," Ian Poulter wrote on Twitter Saturday night, conceding the point.
Poulter later claimed sarcasm, but whatever his intent, truth won out. Woods has 50 victories in the 54 tournaments in which he has claimed a 54-hole lead. When his lead is greater than two (it was four at the start of play on Sunday) through 54 holes, he has never lost, running his record to 22-0.
"The last time I felt I had a chance was yesterday, to be honest," Woods' playing partner Graeme McDowell said. "The way Tiger was playing, I was always in chase mode."
Woods stumbled at the finish line, with the only bogeys of his round coming on two of the last three holes, providing a false impression that it was close. He led by as many as five at one point on the back nine.
The pertinent facts in assessing the state of his game generally and in the run-up to Augusta specifically are these: The victory Sunday was his second in four PGA Tour starts, a percentage on pace with his greatest seasons, and it was his first victory in a WGC event since August of 2009.
WGC tournaments feature the best players in the world, the only incentive that Woods ever needed to raise the level of his game. He once routinely did so, to wit his 17 victories in WGC events, but his inability to beat them in more than three years prior raised questions that he answered at Doral.
"Big thing," NBC's Johnny Miller said, "100 putts for 72 holes was the fewest Tiger's ever had. He won it with the flatstick."
An assist goes to runner-up Steve Stricker, who gave him a putting lesson on Wednesday and might have regretted in on Sunday. "At times you kind of kick yourself," Stricker said afterward. "But, no. He's a good friend and we talk a lot about putting and it's good to see him playing well."
His 27 birdies was a personal best for 72 holes and helps justify Vegas odds that make him the favorite at Augusta, especially in the wake of Rory McIlroy's recent missteps.
Tiger has found the formula again: A hot putter and a 54-hole lead. Bringing them to bear in the heat of a major championship is the final hurdle, the one he has to clear before anyone unequivocally can declare him back.