The Loop
Tiger not budging on anchor ban stance
PALM BEACH GARDENS, Fla. -- Commissioner Tim Finchem may have expressed his opposition on behalf of the PGA Tour to the anchoring ban proposed by the USGA and the R&A, but he doesn't speak for Tiger Woods, who is sticking to his guns that golf's governing bodies should adopt the rule change.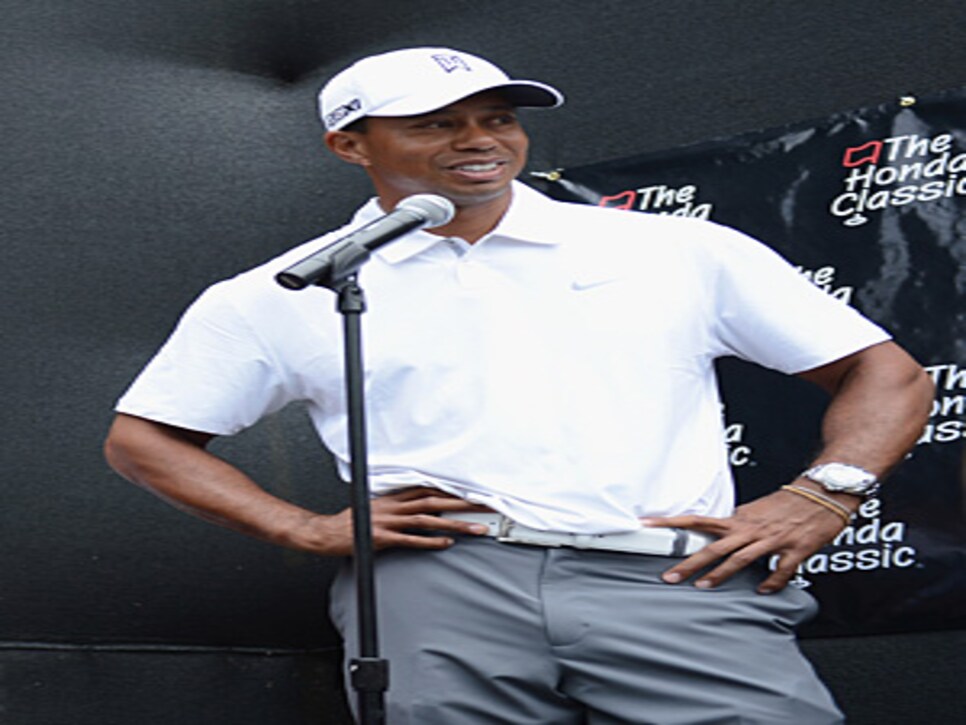 "My position hasn't changed," Woods said Wednesday at PGA National Resort as he prepares for the start of this week's Honda Classic. "I still think that it should be swung, it shouldn't be anchored, and that hasn't changed at all. . . . Hopefully, we don't have to bifurcate or adapt a local rule like we do sometimes out here on tour with the stones and bunkers and things of that nature. Hopefully we won't have to do that with our putter."
The No. 2 player in the world, Woods said he understood where Finchem was coming from. But that doesn't change his mind. "Yeah, I get it. I mean, the guys that play our tour, all three of them play our tour fullâ¿¿time (who) have won major championships with an anchored putter. I understand his position, but I still feel that all 14 clubs should be swung."
Woods, who won his 75th tour title last month at the Farmer's Insurance Open at Torrey Pines, is making his second start at PGA National's Champion Course after moving to nearby Jupiter. With a career-best final round effort, an 8-under 62, Woods surged up the leader board, but ended up T-2 behind Rory McIlroy. That effort served as a springboard to breaking a three-year victory drought three weeks later at the Arnold Palmer Invitational.
"I made a run, and I thought it might get me into a situation where I might have a chance at a playoff," Woods said. "But Rory made a couple birdies down the stretch and basically iced it."
Both Woods and McIlroy, the No. 1 player in the world, are coming off first-round losses in the WGC-Accenture Match Play Championship. That circumstance afforded the friendly rivals a chance to play 36 holes together Sunday at Medalist Golf Club.
"We thought we would play our own matchâ¿¿play final except it was over 36," joked McIlroy, who recently moved to Jupiter.
Woods won the first 18 holes, McIlroy the second.
"We figured, let's get a game sometime. We were kind of hoping that it wouldn't be that Sunday, but we were both free and went out and played," Woods said. "(We) played a quick 36, and he headed off to do whatever he needed to do, and I went back home and did some more training."
McIlroy, 23, and Woods appear to have struck up a friendship in recent months, and McIlroy in December joined Woods in the endorsement game by switching to Nike golf equipment. They trade text messages, and McIlroy has picked the brain of the 14-time major champion on occasion, but Woods said he doesn't consider himself a mentor to the youngster from Northern Ireland.
"I don't think it's quite the same level as I was with Mark [O'Meara] and Cookie [John Cook]. Back in those days, those guys really took me under their wing," Woods said. "Went out to dinner all the time and basically traveled together on tour, went fishing all the time . . . they were like my big brothers at the time. They basically still are. It's a different type of relationship.
"He's a friend of mine, who just happens to be the No. 1 player in the world. That's about it."