The Loop
Tiger leans on his Ryder Cup buds for confidence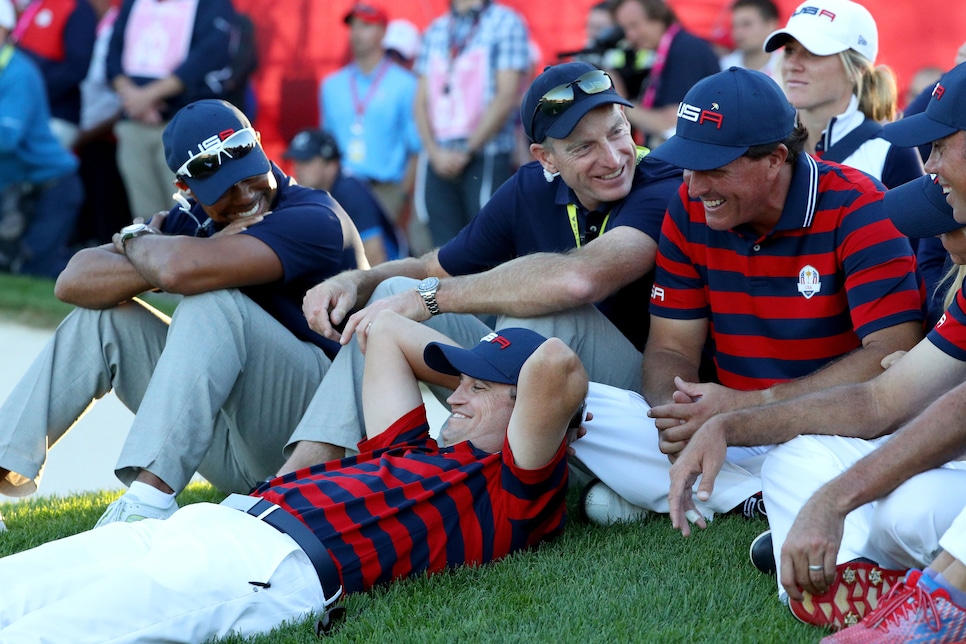 There was never a question of Tiger Woods being all-in on the Ryder Cup. "No one was more into it than Tiger was," said Steve Stricker of his fellow vice captain. "He was on it all the time. His enthusiasm was really cool."
The moment when it all came together for Woods in his new role was a dinner at the team hotel in Minnesota after the United States took a 5-3 lead on the opening day of competition. That's when Zach Johnson stood up with a surprise from the Donald Trump playbook.
"The gist of it was that this Ryder Cup was kind of a fresh start, a new beginning, a coming together as a team, how we're one big team," Johnson recalled. "But there's one guy that's not playing now that's very much a part of this team that we've always looked up to and admired that we want to come back strong."
With that, Johnson and the rest of the team unzipped their jackets to reveal t-shirts that said, "Make Tiger Woods Great Again."
"His reaction was pretty funny," Johnson continued. "He started laughing hysterically and obviously welcomed it, which I assumed he would knowing him well enough. I think he knew all of us sincerely meant it. We all wanted him back. We want him back healthy. We want him back on a high level."
There were moments when that high level showed through during Woods' return to competition two weeks ago at the Hero World Challenge. His 24 overall birdies, his 65 in the second round and his different body language was in part attributable to the boost he received from being a coach and strategist at the Ryder Cup.
At his opening news conference in the Bahamas, Woods used the word "fraternity" three times, talked about how his relationships with fellow players had grown closer and how that energy flowed into his comeback as a player. "It's hard to fathom how many of the players here have rallied and really tried to help me come back and offered any kind of advice, any kind of help," Woods said at the Hero. "These guys have been great."
With that sort of camaraderie and a six-point U.S. win, the skepticism over the Ryder Cup Task Force was laid to rest. While it's been cut back from 12 to six members, Woods remains a part of the now rebranded U.S. Ryder Cup Committee along with Phil Mickelson and the winning captain, Davis Love III.
"We all became closer over the last two years, and it's good for all of us, especially him," Love said. "But now we are trusted friends rather than teammates once a year."
As part of his motivation, Woods said it would be fun to be a playing vice-captain some day. Stricker and Jim Furyk—the favorite to be the U.S. captain in 2018—read this to mean Woods left Minnesota with one of his goals for the 2017 season to play on Stricker's Presidents Cup team.
"You get back what you put into things, and I think he got a lot back from it," Furyk said.
Stricker could speak from experience of what it's like to be on the inside but feeling on the outside as a non-player. Woods was feeling the same way, but was bucked up by the players.
"I think the guys who were playing provided a lot of relief and inspiration [for Woods] all at the same time," Stricker surmised. "Tiger was a huge motivational factor for our team."
Will it all ultimately help make Woods great again? It might, but we'll have to wait until the Masters to get a truer read.