The Loop
Tiger, fraternization and what it portends for Augusta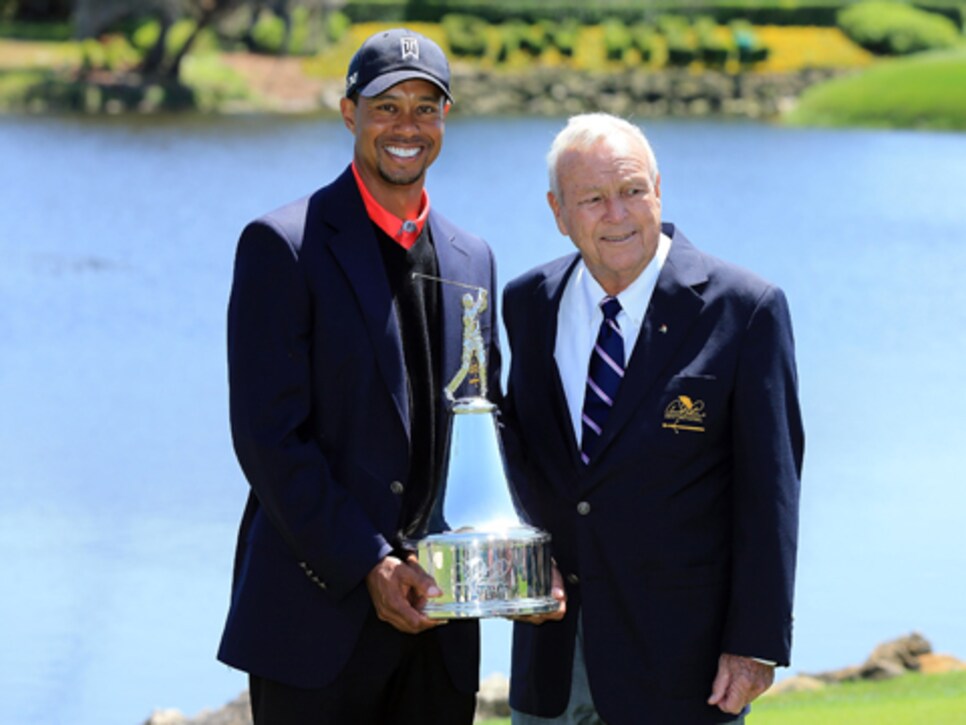 There was a time that an athlete detested his opponent, competitive nature trumping friendship. Magic Johnson and Larry Bird might have been friends in the off season, but...
"He was always smiling," Bird said once. "And as I told Magic, my goal my whole career was trying to knock out his two front teeth. Then he wouldn't be smiling so much."
Major League Baseball, meanwhile, even has a rule that prohibits public displays of affection. It states in part that "players of opposing teams shall not fraternize at any time while in uniform."
We bring this up, because in the wake of Woods' second consecutive victory (and third of the year), this in the Arnold Palmer Invitational on Monday, there might be a faction of the PGA Tour membership wishing that golf had its own rule against fraternization.
Two weeks ago, Steve Stricker gave his friend Tiger a putting lesson on the eve of the WGC-Cadillac Championship. What, the competition might be asking, was he thinking, a few weeks ahead of Augusta?
Woods' putting has been brilliant since, notably in Saturday's third round, when he had 18 putts inside 20 feet and made 17 of them, maybe "one of his top 10 putting rounds ever," NBC's Johnny Miller said.
He was locked in with the putter again in the final round on Monday, to wit the pivotal 27-foot birdie putt he poured in on top of Rickie Fowler's 38-foot birdie putt to maintain a three-stroke lead at the 12th hole at Bay Hill in Orlando.
"His putting is better than a machine," Miller said. "I've never seen anything quite like it. At Doral he had 100 putts for 72 holes, the least he's ever had. So he's in a total crazy time with his putting."
Whatever his other merits as a golfer, his putting prowess has been the linchpin to his greatness. Greg Norman once called Woods the "the best clutch putter I've ever seen." Paul Azinger wrote on Twitter that "there was never a better putter on the face of the earth as @TigerWoods."
The popular perception is that Tiger is again the dominating player he once was; the evidence cited are three victories in four stroke-play starts on the PGA Tour, his having regained the No. 1 spot in the World Ranking, and the return of his marksmanship on the greens. But here's where we bring out the caution flag: None of it matters until and unless he begins winning majors again.
"The Masters is so important for him," Miller said. "He needs a major. The more this goes on the tougher it is to get the next one."
Woods, 37, remains stuck on 14 majors, four short of equaling Jack Nicklaus' record, and it's coming up on five years since he last won one.
But the likelihood of his extending this streak much longer does seem remote. Woods surely will take with him to Augusta more confidence than he's had heading into a major than at any time in the last five years.
And for this, at least in part, the rest of the field has Stricker to thank.