News
Tiger Fatigue Syndrome, or why I want the comeback to fail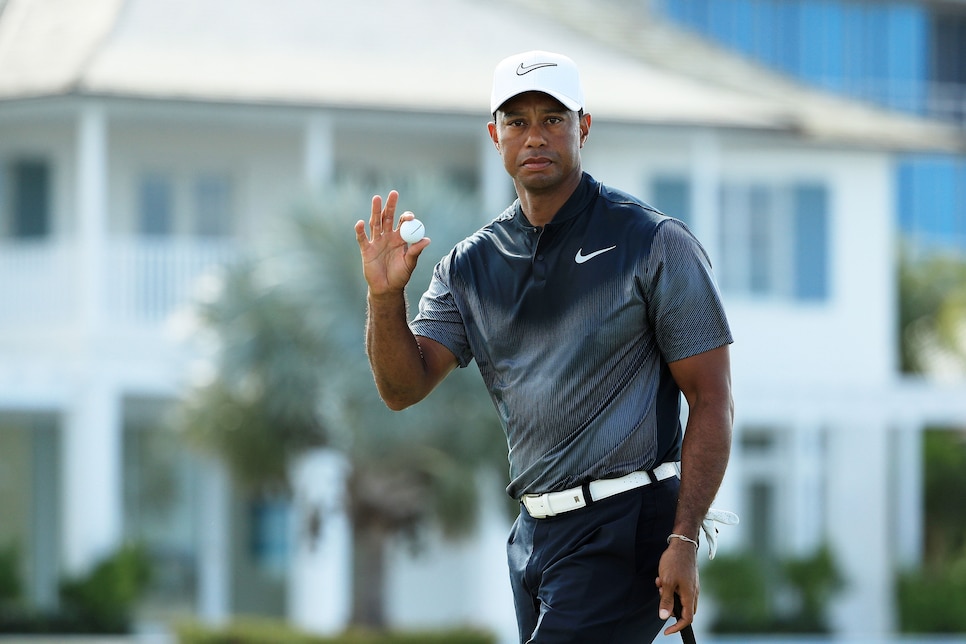 Photo By: Mike Ehrmann/Getty Images
I was never naïve about the outsize importance of Tiger Woods to the game of professional golf, but I received a surprising object lesson in 2014 at the Honda Classic. Co-leaders Rory McIlroy and Russell Henley were paired on Sunday's final round, and a passel of about 20 journalists, myself included, had ventured out from the media center to follow them. This was standard—some writers prefer to monitor the action from inside, others prefer to see it in person for as long as possible, before deadlines beckon. And barring a spectacular round somewhere ahead, almost everybody who hits the course stays with the final pairing.
On the ninth hole, as Henley closed the gap in a tournament he would eventually win, a clamor rose around me. Phones buzzed, mouths dropped, eyes widened. Within seconds, literally every other single media member had dashed away, leaving me alone with the leaders. I barely got the explanation before they left—Tiger Woods had withdrawn with an injury. So what?  I thought. I stayed, both because I had a mission to write about younger players and because I had no editor who would demand a Tiger story.
But I was very much alone. On the porch of one of the houses lining the ninth fairway, someone had hung a banner that read, "We still love you, Tiger!" It was like they knew.
On that day, I allowed myself a bit of secret pride that I had resisted the overwhelming pull of Tiger-mania. In the book I later wrote, I called the incident, "the latest, greatest instance of move-the-needle journalism." (Today, that line reads with more arrogance than I'd like—if I had been gainfully employed, I would have thronged with the rest of my colleagues.) But the lesson stayed with me. Even a star like McIlroy, in contention on Sunday, can't withstand the thousand-watt glare of the most minor Tiger news. I found it a little frustrating.
For those of us with TFS, the adulation goes beyond appreciation and into large-scale self-deception. It's the difference between loving Elvis Presley's music, and insisting that he is still alive and just days from blowing our minds with the concert of the century.
A year and change later, at the 2015 British Open, I watched Tiger struggle through an awful 36 holes at St. Andrews. He didn't come close to making the cut, and I began to notice a larger-than-usual volume of "Is Tiger done?" content rattling around golf media. It annoyed me again, not least because my book about the game's young players had been released a month earlier, and for reasons both pure and corrupt I would have liked the lion's share of the focus to be on their successes. Channeling that anger, I wrote a piece meant to skewer our collective, eclipsing obsession with Tiger Woods, which I thought represented a dangerous bubble, and which came at the expense of the game's new stars. Many read it as an insult to Woods himself—not true!—and it generated some antipathy.
What I didn't realize then, and hadn't realized in 2014, was that I suffered from a rare disorder called Tiger Fatigue Syndrome. It comes in stages—bafflement, anger, exhaustion. It only afflicts those odd ducks, like me, who are completely at peace with a golf landscape that doesn't include Tiger in a starring role. We are beset with psychic pain each time a Tiger comeback stops the presses, and we suffer spiritual ache each time its failure renews the "done or not done?!" debate cycle. We feel rooted in history, stuck in the past, like the sons of a rich tyrant whose name we can never escape. It's at its most acute on weeks like this—Tiger is playing his first official PGA Tour event in a year at this week's Farmers Insurance Open, and the eyes of the sport can't look away.
To sufferers of TFS, the preponderance of Tiger-mad journalists and fans are the crazy ones. The evidence feels overwhelming: Tiger was the greatest golfer of his time—and the greatest to ever live, in my opinion—but now his watch has ended. The ongoing fixation with a man who is clearly past his prime strikes us as bizarre and a little delusional. And the more time that passes, and the more quixotic his path to glory, the worse it gets.
Of course, there's a reason for this. There has never been a golfer who was more dynamic, more successful and more important to his sport than Tiger Woods. You can measure the fame of an athlete on a three-tier scale: Is he the biggest name in his sport? Is he, at times, the biggest name in any sport? Is he, when the right moment strikes, the biggest name in the news? Tiger hit all three, and nobody playing today goes beyond the first. That has an enormous economic impact, not least on the journalists who root on his return.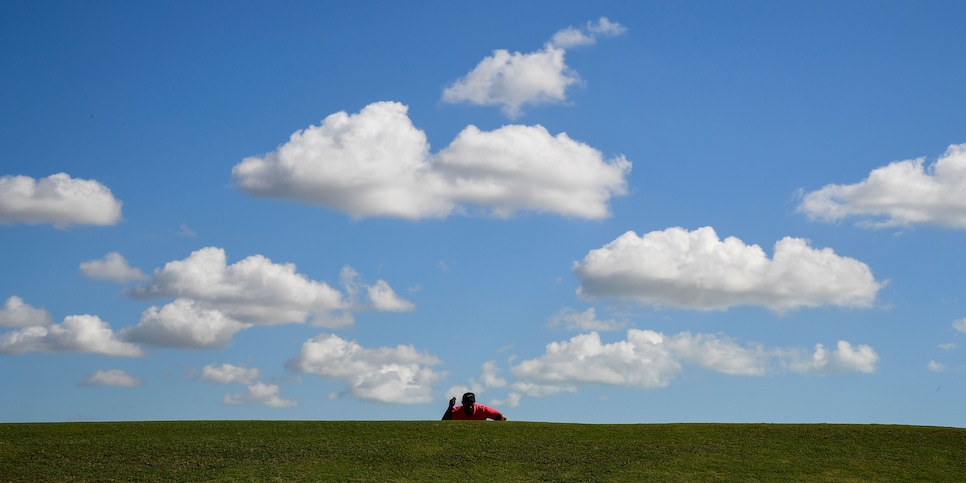 Tiger has imprinted his name on the game's conscious, and clearly its subconscious and superconscious, too. But for those of us with TFS, the adulation goes beyond appreciation and into large-scale self-deception. It's the difference between loving Elvis Presley's music, and insisting that he is still alive and just days from blowing our minds with the concert of the century.
Of course, that's a little unfair. Tiger is not dead. In fact, his performance at the Hero World Challenge was cause for limited optimism. The PR campaign designed to convince us of his terrific form beforehand was a little much, but his middle-of-the-field finish in the Bahamas was impressive. People who know way more about golf than I ever will think his impending comeback could be legitimate, and, as always, I feel some trepidation when I disagree. But I do disagree—I think this iteration of the Great Revival will fizzle out in injury and failure and possibly some transcendent humiliation, just like all the others. And yet cynicism, though sometimes mistaken for truth, is often just the province of people who don't believe hard enough. If Tiger returns to his former greatness, or anything approaching it, I'll look like a fool. Worse, like a gloomy fool, because who wouldn't want to witness that improbable rise?
Well, wait a second. Let me become the ultimate downer and raise my hand for that, too.
What would it mean for Tiger to regain his magic? Would it be nostalgic, like Nicklaus winning the Masters in '86? Would it prove that genius like Tiger's can't be tempered by age, even if it's temporarily waylaid by injury? Would it make us all young again?
I don't want it. My case of TFS is so severe that it goes beyond expecting him to fall short—I'm actively hoping for that result. Golf has done a nice job moving on from the Tiger era, and there are at least a dozen fascinating young players fighting for dominance in 2018. They should matter the most. Even divorced from the sympathies and loathings of my next-gen bias, I can't help but feel that when we flock en masse to Tiger, we somehow undermine his heirs. Tiger was ethereal, he was flawless, he was colossal, he was preternatural. Then he fell, and he's never stopped staggering since. Every era must end, and this one is long overdue—the memory is sublime, but the reality is exhausting.