The Loop
Tiger As He Pertains To Fantasy (Golf)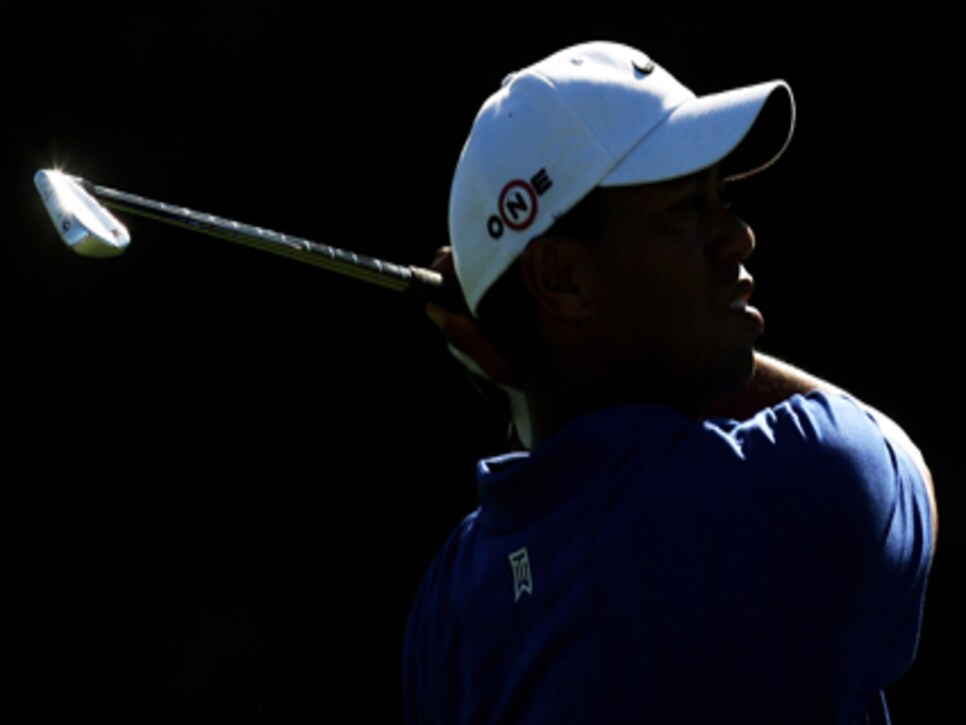 I'm a member of the "Longest-Running Golf Pool" in the country; it's celebrating its 25th anniversary this year. At the start of every season our league, run by The Czar, conducts an auction--ten teams buy ten players and each owner has $200 to spend. When you're out of money you wait for everyone else to spend their money and then you fill out the remaining roster spots via a draft.
In our league Tiger has gone for as much as $350. Woods is the only exception where the winning bid can go over $200. The year when he went for $350, the owner paid an extra $150 to the league on top of the $200 entry fee, and then he waited for the draft to start before he could fill out his nine other roster spots. In that case, Tiger drove the team bus, everyone else was along for the ride. (Not far from reality on the PGA Tour.)
This year five players went for more than Tiger, who I bought for $50. Mickelson went for $85. The other four who went higher than Tiger were: Furyk ($85), Ogilvy ($75), Mahan ($60) and Zach Johnson ($55). Sean O'Hair and Anthony Kim tied Tiger at $50.
The Show is going on, but the uncertainty about the return of the game's biggest name has him selling like a cheap ticket.
Curious how other leagues and formats are handling my favorite 14-major-winning-former-immortal, I made a few calls.
ESPN.com is doing a majors-only format again this year. "In terms of Tiger, we're going with a wait-and-see approach," said an ESPN rep. CBSSports.com got out of fantasy golf entirely. Yahoo, who joined forces with PGATour.com, does a week-to-week format and is considered the largest manager of fantasy golf leagues. In the Yahoo format each week you pick two A players, four B players and two C players. You start one A, two Bs and one C each day. Individual rounds by your four starters generate a daily score for your team, based on how they finish in relation to the best round of the day. If your guy gets low round of the day, your team gets 20 points. Still with me? I'm not sure it matters. The bottom line:
"We're not doing anything special to handle Tiger," says Ed Pankau, Product Manager of Yahoo Sports Fantasy Golf. "Once he plays, people can pick him. It's not any different than past years."
A quick spin through our hallways in Wilton, Conn., and I got some more answers. Colleague Stina Sternberg is in a survival pool—pick one player each week, you can only use a player once. If you pick a player and he doesn't finish in the top 25, you're off the island. "It will be risky to pick Tiger his first week out," says Sternberg. "I want to see what kind of form he's in."
What if he comes back at the Masters?
"I've been burned by picking him at the Masters the last few years," she says. "If it's not his first tournament back, I'd consider picking him again this year, assuming I'm still alive at that point in the season. Last year I wasn't."
Tiger doesn't have a good record after coming back from a break. Not the first time back, anyway. Mike Johnson, Equipment Editor for Golf World, points out that after Tiger's father passed away in 2006, Woods came back to play at the U.S. Open at Winged Foot. He missed the cut. He tied for second his next time out, followed by SEVEN wins in a row (including a British and a PGA).
After his knee surgery in '08, Woods came back at the Match Play and was eliminated in the second round. Then he tied for ninth at Doral, followed by a win at Bay Hill.
"This comeback is a different animal," says Johnson. "Picking him his first time out will be a huge risk, even if he's coming back at Bay Hill or the Masters. Could he win? Sure. But Tiger has always been a silver bullet. You don't want to waste him."
Sternberg and Johnson agree: if you're in a survival league, picking Woods at the U.S. Open at Pebble Beach, or the British Open at St. Andrews, is a better option.
"But not if it's his first event back," says Johnson.
As the proud owner of Tiger Woods and a vested interest in his return to golf, Finchem and I finally have something in common--both of our busses need a driver.
My complete 2010 roster: Tiger Woods (sore), Sean O'Hair (sore wrist), Y.E. Yang (post-major syndrome?), Nick Watney (had a good start to last season), Dustin Johnson (drives for show, hopefully he putts for my dough), Steve Marino (Dan Marino never won a big one, can Steve save the name?), Martin Laird (so straight he makes Fred Funk look like me off the tee), John Merrick (plays well in majors), Webb Simpson (efficient with the flat stick, but can he do it when it counts?), Troy Matteson (is this the year he stops playing like Helen of Troy?).
How is your league handling the Tiger scenario? Tell me about it in the comments box or  click here to send me an e-mail, and I'll post some of your responses.
(Photograph by Getty Images)