The Loop
Tiger and Phil and Ted and Troy equals one odd week
Tiger Woods and Phil Mickelson were headliners who left early, turning the stage over to Rod Stewart and John Bon Jovi, either of whom is better at carrying a tune than a bunker.
The hired entertainment was appropriate for a Greenbrier Classic that was better heard than seen. It came down to two nonentities, Ted Potter Jr. vs. Troy Kelly, who were wrestling over a winning lottery ticket, vying in a playoff for $1,098,000. Tiger vs. Phil, meanwhile, failed spectacularly, each missing the cut.
Potter, playing the weekend for the first time in his last six starts, won on the third playoff hole, defeating a 33-year-old less than two years removed from a hip replacement, a fitting finish to an odd week.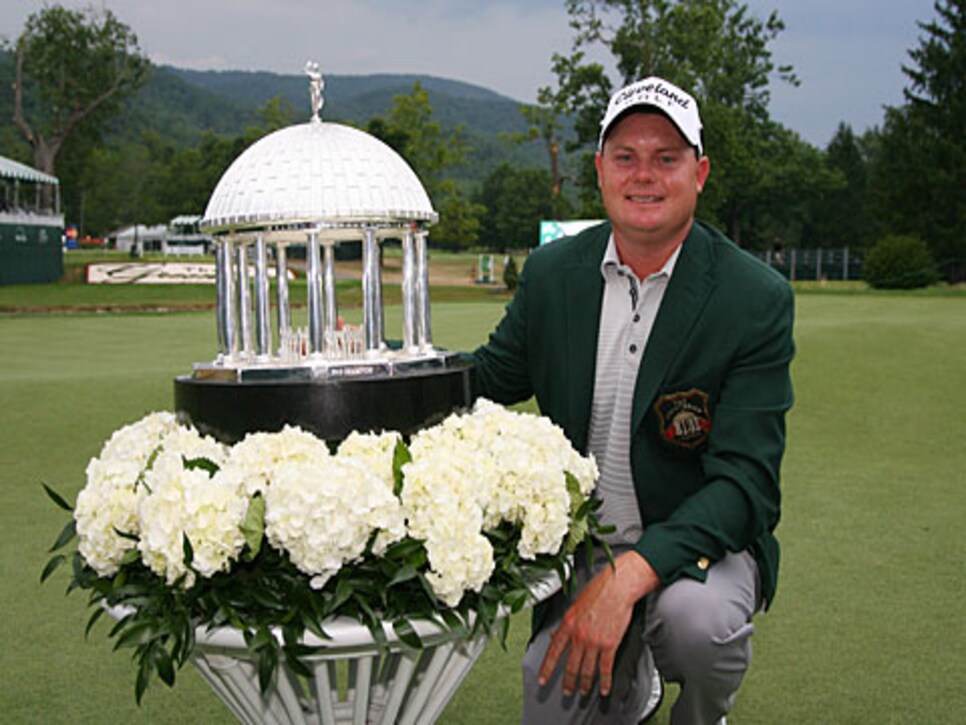 Ted Potter Jr. finished 4-under over the last four holes to make a playoff with Troy Kelly, en route to his first PGA Tour victory. Photo: Hunter Martin/Getty Images
It began with some early media handwringing over rumors that Woods and Mickelson might have received stipends from Greenbrier owner Jim Justice for unidentified services that would have circumvented PGA Tour rules against paying appearance fees.
If Justice indeed provided incentive to the two greatest draws in American golf to venture to West Virginia, it is less a controversy than business as usual, at inflated prices.
Sports Illustrated's Gary Van Sickle, a former Milwaukee sportswriter, once reported that Lee Trevino was routinely hired to participate in a corporate outing in Milwaukee two days before the first round of the Greater Milwaukee Open in which he coincidentally (or not) would hang around to play. Two decades later, Greg Norman reportedly was the recipient of similar Milwaukee largesse. Milwaukee, incidentally, wasn't alone.
The Tiger-Phil rumors raised a concern that if they indeed were somehow lured to a tournament they otherwise would not have played, Mickelson for the second year in a row, it creates an uneven playing field for other tournaments vying for the game's elite that don't have the wherewithal to finance seven-figure incentives.
But that would be ignoring the fact that had Tiger and Phil not played at the Greenbrier, they still weren't going to play, say, the John Deere Classic or any of the tour's other off-Broadway tournaments.
The dismal showings by Woods and Mickelson produced the Twitter equivalent of guffaws over the fact that Justice might have squandered $2.8 million ($1.8 reportedly for Woods, $1 million for Mickelson). The man is a billionaire who wasn't likely to feel the pinch.
So that's how the week began. Here's how it ended. Kelly shot 62 and 67 on the weekend and Potter finished birdie, par, eagle, birdie to wind up in a playoff that neither could have envisioned.
Potter, 28, a left-hander, wasn't even part of the story until he eagled the 17th hole to move within one of Kelly's lead. He was ranked 218th in the world and in 15 previous career starts on the PGA Tour, he had one top 25. He had missed five straight cuts prior to the Greenbrier. In 2004 alone, he made 24 starts on the Web.com Tour and missed the cut in all of them.
Kelly, 33, brought a less impressive resume to the Greenbrier. In 33 previous PGA Tour starts, he had never finished in the top 25. He was ranked 464th in the world. Less than two years ago, an arthritic hip required hip-replacement surgery. Then he shot 62-66 on the weekend, the latter score while playing head-to-head with reigning U.S. Open champion Webb Simpson.
Tiger vs. Phil would have been more compelling, of course, but they allegedly had taken their money and run.