The Loop
Tiger and Earl's Fist Pump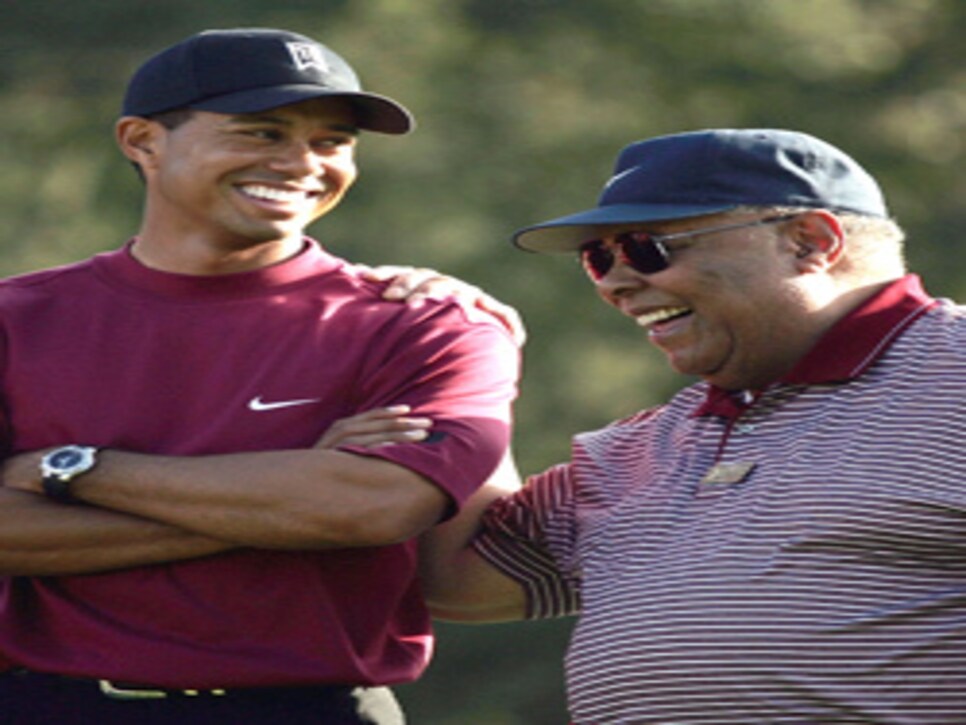 ANAHEIM, Calif.--Tiger Woods has announced the launch of Fist Pump Challenge, an online contest to help kids identify and share their greatest achievements. As part of the Challenge, he is asking young people to share their own Fist Pump Moments with the world on www.tigerwoodsfoundation.org.
"It is important for young people to celebrate their accomplishments," Woods said Monday at the Tiger Woods Learning Center. "The Fist Pump Challenge allows kids to highlight the moments in their lives that brought them closer to reaching their goals. I believe that small steps can lead to big changes."
For Woods, his first significant fist pump came at age 11 when he beat his father Earl for the first time on the golf course. He remembers it like yesterday.
"We were playing the back tees at the Navy Golf Course in Long Beach," he said. "I birdied 16 to get to even par. On the par-5 18th hole, my dad missed a 20-foot birdie putt and I made a 15-foot right-to-left uphill birdie putt. I clenched my fist, punched the air, and went crazy. He didn't know what happened, but it was the greatest thing I ever did in my life."
After children get permission from their parents, they are asked to submit a video with their name, age and accomplishment to www.tigerwoodsfoundation.org. Those without video access can e-mail their Fist Pump Moment for posting.
"Kids can inspire kids," said Woods. "That's where this program can be so successful."
Video and written entries will be voted on by website visitors and prizes include iPods, Tiger Woods '08 EA Video Games and gift cards. Later this year, the Tiger Woods Foundation plans to tie the Fist Pump Challenge into the Earl Woods Scholarship program, offering kids in the Washington D.C. and Orange County, Calif. areas the chance to earn a college scholarship.
Monday was also a special day for Woods and his mother Kultida, who dedicated a statue to celebrate the legacy of Earl Woods and honor his efforts to reach millions of children. An eight-foot bronze replica of Tiger and his father was designed by Elliot & Ivan Schwarz of Studio EIS.
A smiling Woods and his father are dressed in golf attire, and Tiger has his right arm around his dad's shoulders. The inscription reads: "I challenge you to make a difference in the world, to reach higher and farther then you ever imagined."
Fittingly, the statue was dedicated on Martin Luther King Day.
"This means so much to me as his son, my mother, and everyone who knows my father," said Woods, who was accompanied by his wife Elin and new daughter Sam. "I think about my dad every day. It's amazing how much smarter he has become. I have Sam now and keep reflecting on all the things he taught me."