The Loop
Tiffany's is selling a $1,000 tin can because it beats simply lighting the money on fire
Tiffany's — the fancypants rich-people store made famous by the band Deep Blue Something — is in the Internet's version of "news" today by offering a bedazzled, bejeweled, be-assholey $1,000 version of a tin can, part of its new marketing initiative: "Tiffany's: Now We're Just Being Dicks." Here are actual words written by the unloved twerps in the company's marketing department: "A classic tin can is upgraded in sterling silver and shining vermeil … with Tiffany Blue enamel accent, oh god my teeth, you broke my teeth, why isn't anyone calling for help" ahem sorry I just kept typing there, didn't I. Imaginations are powerful!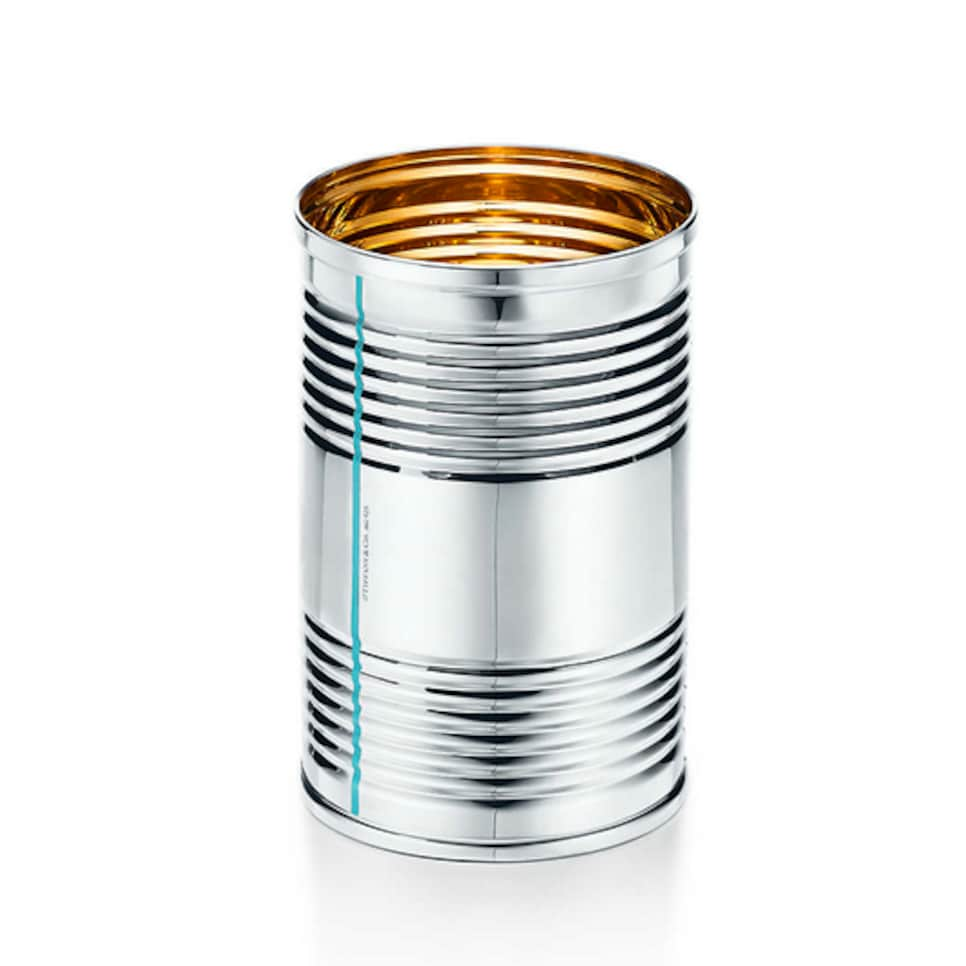 Anyway, the tin can is part of the unconscionably real Everyday Objects collection from Tiffany's, which "transforms utilitarian items into handcrafted works of art." (Its web site is full of personal insults to you and your college savings fund, but the tin can has become the symbol of choice, since nobody sees tin cans anymore, unless we need to urgently contact friends in other treehouses. Also, for an extra $45 you can get it engraved, which is good news for the suave gent who needs a way to tell his lady, "Darling, I thought of you when I saw this nice can.")
The collection comprises an uproarious 69 items, including — these are all real — $95 bone china paper cups, a $300 yo-yo, a $350 crazy straw and a $425 protractor, which, if you've forgotten, is an object assigned to you in 7th grade by an algebra teacher who would require three or four months of homelessness and unbroken fasting to purchase this $9,000 ball of yarn.
Tiffany's (official slogan: "Stop By After Your Toddler's $1,650 Checkup And Get Yourself Something Nice"), one assumes, is playing to the overarching sense of nostalgia that powers the Internet/consumerism/American life, the theme that dictates, "If it's a thing that existed before, we're happy to sell it to you again." (Related: Thor: Ragnarok is real good.) We use Mason jars as centerpieces in like 85% of our weddings now, go to old-timey barbershops to get our beards oiled and mustaches twirled and use Edison bulbs with such ferocity that I'm half waiting for him to come back and be like, "Guys, pump the brakes with my lighting." We have, in short, a deep and unquenchable nostalgia for stuff we never really used much in the first place, as though we're I don't know crying out for authenticity in something.
Obviously no one needs this can, but we do need the engraving. Tiffany's offers three letters, but we'll just need the F and the U. Done by hand, thanks.