The Loop
Throwback: When Tiger and Phil played in the Tour Championship -- and shared the stage
On Wednesday, Rory McIlroy's answer to a question about Tiger Woods and Phil Mickelson not being at this week's Tour Championship was completely overblown. "They're just getting older," seemed to be his central point, something that literally can't be argued.
But the absence of golf's two biggest stars -- McIlroy is No. 1 in the World Ranking, but at best, No. 3 for now in terms of being a draw -- from the festivities in Atlanta is odd. Especially since just last year Woods won the PGA Tour's Player of the Year, Mickelson won a fifth major, and the duo was ranked 1-2 for much of the season.
And of course, five years ago, they authored perhaps the most memorable FedEx Cup Playoff finale ever. Woods entered that week No. 1 in the standings and looked like he might end any drama when he played in the final group on Sunday, but his final-round 70 left the door open.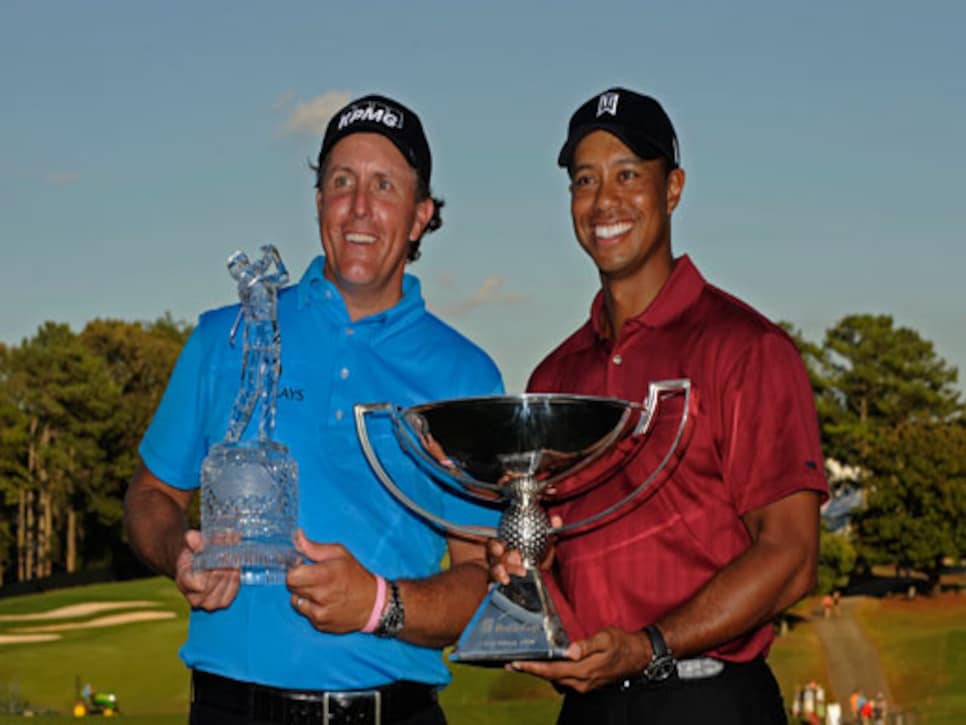 Phil fired a 65 to pass Tiger for the tournament, but with Woods holding on for a second-place finish, he held off Mickelson to win his second FedEx Cup and the $10 million bonus.
"I like the way today went," Mickelson said. "I was two back of him, I beat him by three. He gets the $10 million check, and I get $1 million. I've got no problem with that. I just love holding this finally."
Perhaps, Mickelson didn't fully understand how the FedEx Cup bonuses worked yet. He also took home a $3 million check for finishing second in points, although he remains the last player to win the Tour Championship and not claim the FedEx Cup also.
Woods, on the other hand, didn't seem totally comfortable celebrating a runner-up finish even though it came with a victory in sport's largest side pot.
"I'm sure I would probably be more happy tomorrow than I am right now, because you're in the moment trying to win this event," Woods said. "Winning takes care of everything. But when you're in the moment out there, I'm trying to win a golf tournament. I'm trying to beat Phil, he's trying to beat me . . . we're all there, and it was just a great leader board."
It certainly was. As McIlroy said, Tiger and Phil are getting older, but hopefully, we're still in for a few more finishes like that.