The Loop
The simple way golf pros used to interact with the press during the Masters
Unless you've got your scrapbooking under control, excursions into the family photos usually reveal some surprises, hopefully pleasant. Of course, the farther back you go, the more discoveries you find. I've been fortunate to have had close access to the photo archives of Golf Digest, and since the golf world comprises one big family, the pictorial record we have follows along that same line of surprises.
The Golf Digest founders loved the thrill of the game and the historical moments—something we still exhibit—and in the early years of the magazine were the photo-takers. Their shots at the majors are rudimentary by today's standards, but their current appeal revolves around how they captured the majors with a homespun look.
Such is the case of the two Masters photos presented here that feature Jack Nicklaus after his monumental 1965 victory. A pair of highlights from these photos stand out: Jack's personality, and the intimacy of media coverage at the time.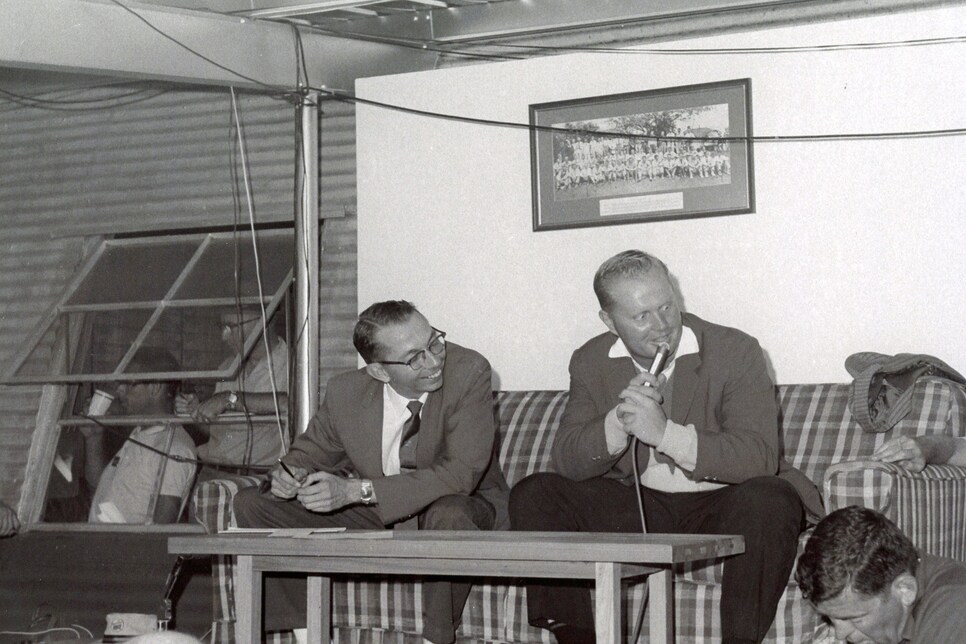 Point No. 1: Jack was not loved by the more Arnold Palmer-adoring public when he came on the pro scene in the 1960s. Ridiculed for his girth and machine-like power game, he was not given credit for having a personality. But following his record 17-under-par, nine-stroke victory, Nicklaus met the press in the interview area that was part of the fabled Quonset hut that served as media headquarters until the Masters made a state-of-the-art upgrade in 1984. Such a huge triumph, which caused Bobby Jones to give his Nicklaus is "playing a game with which I am not familiar" observation, would make anyone giddy, but Jack is seen aping at reporters over a give-and-take remark in one photo.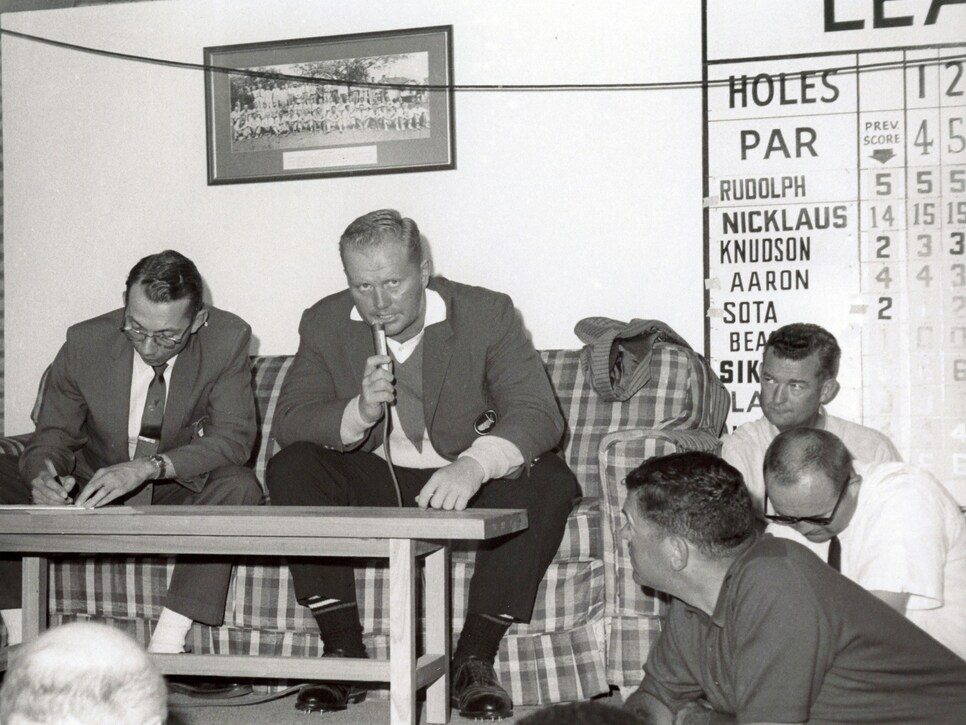 Point No. 2: The same lighthearted photo shows a broad view in which the side of the Quonset hut can be seen. Combined with the second photo, you can feel the intimacy of the interview session. The Golden Bear is sitting on a couch, scribes nearly in his lap around him, wires dangling overhead. Compared with today's press conferences where the interviewee sits on a dais facing a sea of media members several feet away, one can wonder if having the interviewers up-close encouraged more open responses.
And kudos to everyone who identified the moderator next to Nicklaus as Donald (Doc) Giffin, a former Pittsburgh Press sportswriter who at the time was the tour press secretary but who in 1967 became Arnold Palmer's personal assistant, which he still is today.