The Loop
Peter Alliss is known for accomplishing many things in golf, but this might be where he's most underrated
Peter Alliss, the former tour professional turned international TV golf laureate, will celebrate his 85th birthday on Sunday. An eight-time Ryder Cup player who compiled an accomplished record as a player, it was his body of work as TV's "Voice of Golf," course designer and administrator that got him into the World Golf Hall of Fame.
Known to today's generation as the venerable, expressive-speaking Englishman who did segments on ABC and ESPN's Open Championship broadcasts, Alliss, who never won a major, has a big distinction over several players who won many. In my quasi-official list of the most books written by a professional golfer, Alliss is the leader in the manner Jack Nicklaus is atop the list of major championships won.
On Golf Digest's decently stocked library shelves, we have 20 different Alliss books. Playing the Tiger Woods role is Gary Player with 19, followed by Jack Nicklaus (17), Arnold Palmer (16), Sam Snead (14) and Tom Watson (10).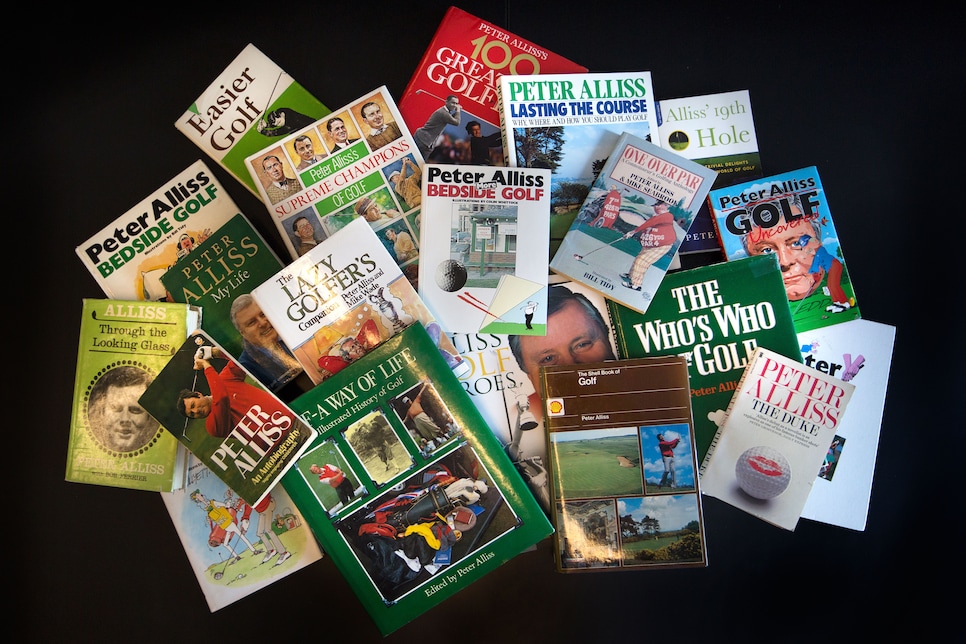 However, in using the treasured 2005 golf book bibliography, which is the combined work of Richard E. Donovan and Joseph S.F. Murdoch with Rand Jerris, plus Amazon.com's book list, Alliss' actual count of full-fledged publications is north of 30, comfortably ahead of Player.
(Among other golfers who penned multiple books are, most notably, Bobby Jones, plus Harry Vardon, Gene Sarazen, Ben Hogan, Byron Nelson, Johnny Miller, Henry Cotton, Seve Ballesteros, Billy Casper, Nick Faldo, Doug Ford, and Lee Trevino.)
No one is suggesting that each player didn't have some—or a lot—of help with their vocabulary and sentence structure. However, the great Jones is given the most credit for being able to match his strength of writing with strength of play, no doubt a reflection of his Georgia Tech/Harvard/Emory education and law profession.
And in either a demonstration of the decreasing importance of books these days, or his own personal disinterest in writing them, book authoring is not something Woods is trying to conquer. So far he has one title out, the substantial 2001 "How I Play Golf," assembled with Golf Digest personnel, released when Woods was nearly 26.
Nicklaus, had his first book out, a piece of instruction, when he was 24, and a second instructional book came out two years later. His first biographical book, "The Greatest Game of All," in 1969 with Herbert Warren Wind, was issued when Jack was 29. So, certainly, a second Tiger Woods-authored book is well overdue. And at age 40, a bio seems in order to balance his portfolio.