The Loop
Hazeltine National's coming out party 50 years ago gave U.S. Women's Open participants fits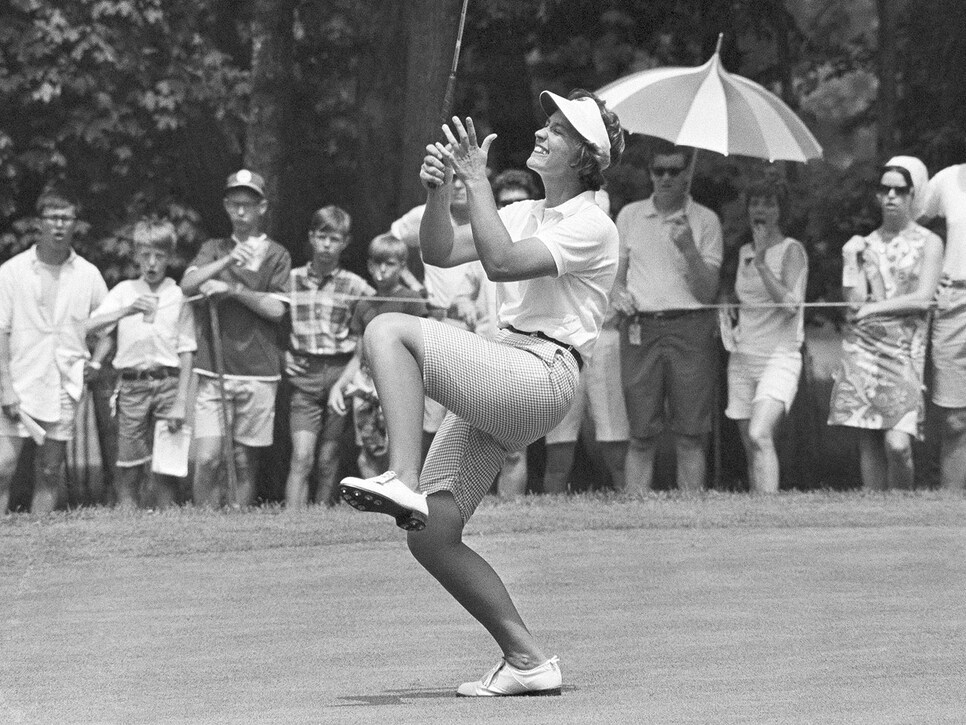 Rather than settle on a rota of courses, the USGA has done a more-than-adequate job of bringing the women's game to far-flung—and to some degree, obscure—locations by scheduling the U.S. Women's Open all around the country since it debuted the event in 1953.
This week's Open site, CordeValle in San Martin, Calif., is a case in point. It will be the 51st different course in 64 playings, a pretty strong dispersion ratio. The courses that have held the Women's Open more than once are a select group: Pine Needles with three playings, and with two each the C.C .of Rochester, Salem C.C., Winged Foot (East), Atlantic City C.C., La Grange C.C., Indianwood (Old), Oakmont, Broadmoor (East), Pumpkin Ridge (Witch Hollow) and Blackwolf Run.
It was 50 years ago that one other two-time site—which will be the focus of the international golf world this fall with the Ryder Cup—hosted the Women's Open for the first time. Hazeltine National, the Robert Trent Jones design in Chaska, Minn., opened for play in 1962. The notorious criticism the 1970 U.S. Open brought Hazeltine obscured the fact that the course actually debuted as a major championship site when it held the Women's Open in 1966 (it was also there in 1977).
If having the Women's Open prior to the men's was meant to head off any course issues in 1970, the women endured some strong body blows in 1966. On top of the course's many doglegs, trees and 103 bunkers on a 6,325-yard, par-72 layout, there was wind and complaints of slow, hard, spike-marked greens. No one shot in the 60s, and only one under-par round was posted, in Round 1 by four-time winner Mickey Wright with a 71. Round 2's best was 73, followed by 75 in Round 3 and a pair of par 72s in Round 4, which was played July 3, 1966.
Such a course setup can produce unpredictable results, and that's what happened with improbable winner Sandra Spuzich. At age 29, Spuzich was an Indiana University grad who had been a P.E. teacher prior to turning pro in 1962. Winless in more than 100 events, and recently let go by MacGregor from an equipment contract, she was not highly favored in the field of 52 pros and 47 amateurs.
But Spuzich tied Wright for the lead at 149 after 36 holes; an incredible 18-over-par 162 made the cut. Spuzich led Wright and defending champion Carol Mann by one after three rounds. After consecutive birdies on 16 and 17 in Round 4, Spuzich had a two-shot lead on the 18th tee. She bogeyed but held on to win by one over Mann. Spuzich's nine-over 297 is the fifth highest winning total in tournament history. Only Spuzich and Mann could shoot par in the final round; Wright, who had three-putted seven times in the first two rounds, had 73 to finish two shots behind.
Spuzich didn't win again for three more years, but would end up with seven tour wins before retiring in 1992. In 1982, she had set the current record of being the oldest player, at age 45, to win two tour events in the same year. Sadly, she died of leukemia in October 2015, at 78, nine months shy of being able to celebrate the golden anniversary of a gem of a victory.