The Loop
That time Golf Digest was prominently featured in "Seinfeld"
The beauty of an all-time great TV show like "Seinfeld" is that no matter how long it's been off the air, watching reruns never gets old. You also never know when you're going to catch something you missed the first, second, or even 17th time around.
Such was the case last week while I was watching "The Fatigues," which originally aired on Halloween in 1996. If you're not familiar with the sixth episode of the penultimate eighth season, it's the one where Elaine -- who is running the J. Peterman Catalogue at the time -- keeps promoting a guy wearing military fatigues because she's intimidated by him.
And since "Seinfeld" episodes always contain multiple plots that all seem to smartly weave together, it's also the one in which Jerry winds up mentoring hack comedian Kenny Bania, George has trouble reading a book about risk management, and Kramer urges Frank Costanza to come out of retirement as a chef to help him host a Jewish singles night in this classic scene:
Now that's product placement.
Of course, it was just a coincidence (we might think otherwise if creator Larry David, an avid golfer, hadn't left after the seventh season), but the January 1996 issue (we went through our archives) that touted the magazine's "50 Greatest Tips Ever" was/remains pretty useful to display. Here's a closer look at the cover: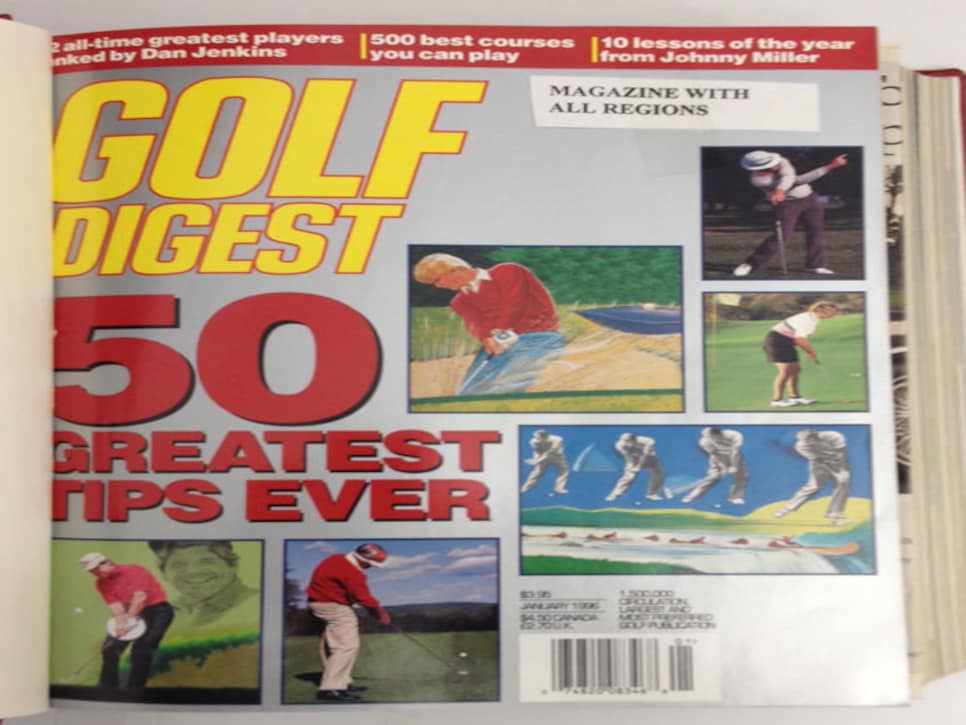 Surprisingly, not much has changed in golf in the nearly two decades since. That magazine only cost $1 less than it would today on newsstands, it contained a story about Europe beating the U.S. at the Ryder Cup, and it featured Dan Jenkins tweaking Tiger Woods by not listing him among the 72 greatest golfers of all time. OK, so Woods was still six months away from turning pro.
In any matter, Golf Digest appeared in an episode of "Seinfeld" and we have the proof. Now excuse us while we go celebrate like it's Festivus.